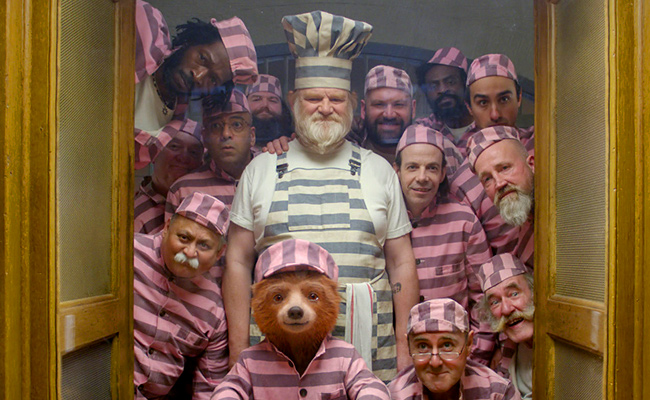 I came out of Paddington 2 with a big smile on my face, a feeling I didn't anticipate. It feels weird to enjoy a movie about a weird CGI bear — a sequel to a movie about a weird CGI bear, no less — but it's easier to understand if you know that Paddington 2 isn't good because it's about a weird CGI bear, but good in spite of the fact that it's about a weird CGI bear. Which is to say, it's not really about the bear.
We do get a glimpse of what it might have looked like if it had been. There are a few stray scenes early on in Paddington 2 that are more in line with my expectations, scenes that offered an alternate-universe view of what this movie might have been had its makers not realized that the weird CGI bear wasn't itself the draw, but merely its peculiar avatar.
Paddington, a small, near-sighted bear with funny hat, living in London with a nice upper-middle-class family, has taken a job at the local barbershop to try to earn enough money to buy his auntie (also a poorly sighted bear, but who lives in a forest) a pop-up book about London. He gets into some bother with an older gentleman demanding a haircut (Paddington is only supposed to sweep up, but Giuseppe the barber has stepped out and the man is insistent) that leads to a series of sight gags, with Paddington fiddling with assorted barber-y equipment (in Paddington, the clippers vibrate you!), culminating with Paddington licking marmalade off the gentleman's newly shorn scalp. Har har.
The movie has a few of these slapstick set pieces, whose guiding principle seems to be "Bears can't do people things!" Paddington as an ursine CGI version of the Three Stooges, basically. Occasionally they contain a mild gross-out element — earwax on a coin, a toothbrush up the nose, marmalade on a scalp, etc. — which someone probably thought they needed in order to keep the kiddies' attention. (It's easier to tell if an audience is still paying attention if they're yelling "Ewww!") Gross-out poo gags don't seem befitting a dapper bear, whose entire character is meant to symbolize civility and restraint, but I digress.
The slapstick bits range from mildly dull to mildly tolerable (with the gross-out bits being slightly degrading to the source material), for the simple reason that there's nothing magical about CGI slapstick. There's no element of surprise or spontaneity, no human choreography or acrobatics to appreciate. It's all literally drawn up ahead of time. It feels like an algorithm's book report on all the things it machine-learned.
Nonetheless, a collection of these types of scenes is about what we've come to expect from these kinds of movies. New beloved character, same half-assed pandering, and always with at least one scene where a cartoon character shakes their furry CGI butt at the camera. (Is cartoon butt-shaking little kid porn or does Hollywood just think it is?) The appeal to the investor is that you can make virtually the same movie over and over, but utilize an existing property's name recognition to capture a built-in audience. Madagascar 7: Paddington Takes London!
Thankfully, Paddington 2 only seems like that on the surface. While it does contain some of those elements (including one butt-shaking scene, that must've been in the contract), they feel like vestigial throwaways, rather than the raison d'etre.