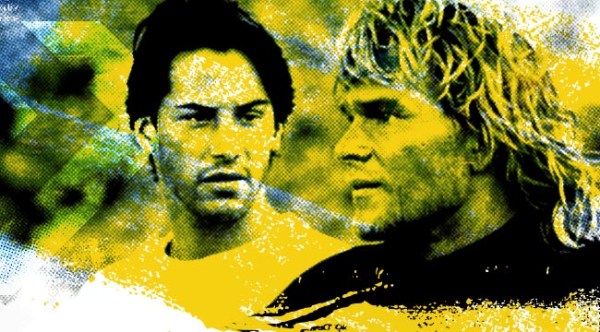 Point Break was released a little more than 25 years ago, becoming a weirdly-enduring pop culture touchstone from a time that wasn't still the '80s but didn't yet quite feel like the '90s ("Smells Like Teen Spirit" wouldn't hit for another two months).
No one could've known at the time. In fact, it was only the fourth biggest movie of that weekend, which also included Boyz In The Hood, 101 Dalmations, and Regarding Henry, and came just a week after the opening of Terminator 2, the biggest film of that year (directed by Point Break director Kathryn Bigelow's then husband, James Cameron, who also helped Bigelow rewrite the ending of Point Break). Point Break eventually grossed a respectable $43 million in the US, not quite double the budget, but it wasn't as if it had "legs," even by 2016 standards. By August 1991, it was out of the top 10. Even if we look back on it now as a kind of breakout role for Keanu Reeves, at the time it played second fiddle to Bill and Ted's Bogus Journey, which came out the very next weekend and had a bigger opening ($10.2 million to Point Break's $8.5). Maybe both studios screwed themselves by splitting the Keanu ticket? Who knows.
But even if it got lost at the time, Point Break feels like it's outlived anything else that was happening at the time, at least as a cultural reference point. Edgar Wright's Hot Fuzz included an extended Point Break homage.
Point Break Live, a silly stage production of the film, has been running for 13 years. Terminator 2 was still releasing sequels as of last year, you say? Well Point Break got a remake (which was better), and that's to say nothing of The Fast and the Furious, a billion dollar franchise currently in its eighth installment that began as a ripoff/homage to Point Break.
To what can we attribute Point Break's amazing longevity? Surely, part of it is novelty value. For all its merits, Terminator 2 doesn't have any B-movie lines as beautiful as "speak into the microphone, Squidbrain," or "I was taking shrapnel in Khe Sanh when you were crapping in your hands and rubbing it on your face!†"
I'd be lying if I said Hot Fuzz and Point Break Live didn't enhance my enjoyment of Point Break, but both bits rely on people's love of the original. The question that's much harder to answer: is Point Break a great movie or a great bad movie?