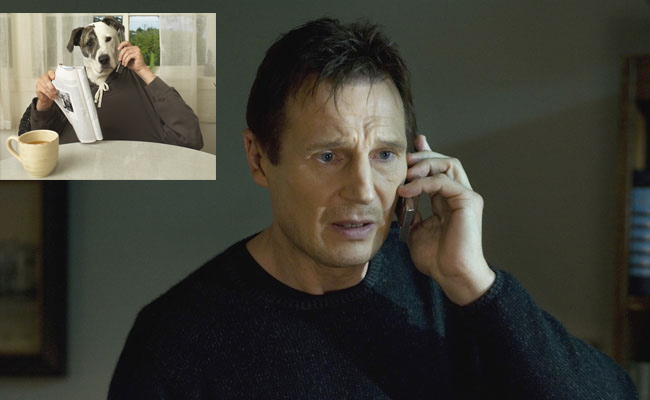 January is famously known as "dump month" in the movie business, a place where bad movies go to be quickly forgotten. But if January is a month for bad movies, Liam Neeson is the best at bad movies, and  Taken 3 was king of the trash heap this weekend, grossing $40.4 million and becoming the second-biggest January opening of all time. The first biggest January opening of all time? Ride Along, with Ice Cube and Kevin Hart. I dunno, man, January is weird.
Tak3n's $40.4 million is actually off 18% from Taken 2's $49 million opening in 2012, which still seems like a win to me. How many $40 million openings can you squeeze out of Liam Neeson beating people up? Way more than you'd think, no matter how you slice it.
Fox is reporting that the audience was 54 percent male and 65 percent over the age of 25. The movie received a "B+" CinemaScore, which is identical to Taken 2's grade. If Taken 3 falls off at the same rate, it will close with over $110 million. [BoxOfficeMojo]
That's on a budget of $48 million. I think I know how Liam Neeson is celebrating:
Coming in at number two was Ava Duvernay's Selma, which, disappointingly, opened at $11 million, less than half of The Butler's numbers. With 99% on RottenTomatoes and an A+ Cinemascore, people are hopeful for a long run and a significant Oscar bump. It seemed like a crowd-pleaser to me, but what do I know.
Expanding to slightly fewer theaters (645 to 2,200) was Paul Thomas Anderson's Inherent Vice, which grossed $2.9 million, less than either The Master ($4.4 million) or Her ($5.4 million) when they went wide. But hey, you can't expect your average Manny Mozzerella Stick to turn out for a two-and-a-half-hour Thomas Pynchon adaptation, no matter how much nudity it has in it. (A lot, incidentally).
Next week brings us Paddington, Blackhat, and The Wedding Ringer, starring the king of January, Kevin Hart, and America's sweetheart, Josh Gad . It's a Gad Gad Gad world. We're just living in it. In a few year's The People's Choice Awards will have an award for Best Performance In A Movie Co-Starring Josh Gad.