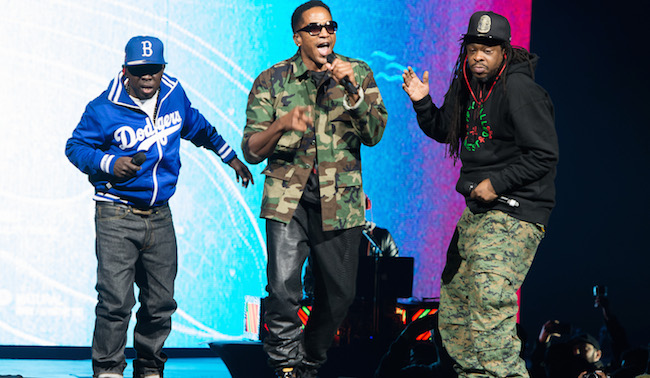 All good things must come to an end. Sad as it may be to accept, such is the case for the revolutionary hip-hop group A Tribe Called Quest. This has been a long time coming of course. Tribe had announced back in 2016 that their most recent album, and their last with original member Phife Dawg who died due to complications relating to diabetes, We Got It From Here… Thank You 4 Your Service would be their last artistic statement, and today, they've shared the final video for that project, a stunning, eight-minute long visual for the album's opening track "The Space Program."
Directed by Warren Fu, the video opens with a shot of Q-Tip passing time in an intergalactic spaceship, playing chess and passing the time. Along the way, several of the biggest names in music pop-up in short cameos on an old television in the ship. Erykah Badu flashes on the screen. So do Vince Staples, Questlove, Anderson .Paak, Ta-Nehisi Coates, Rosario Dawson, and more. The video concludes with the oxygen levels in the ship reaching zero, and a warning of "I Can't Breathe" in bright red letters flashing across the screen, echoing the last words of Eric Garner.
You can watch an Instagram clip from A Tribe Called Quest's final music video "The Space Program" above, and here if you have Apple Music.