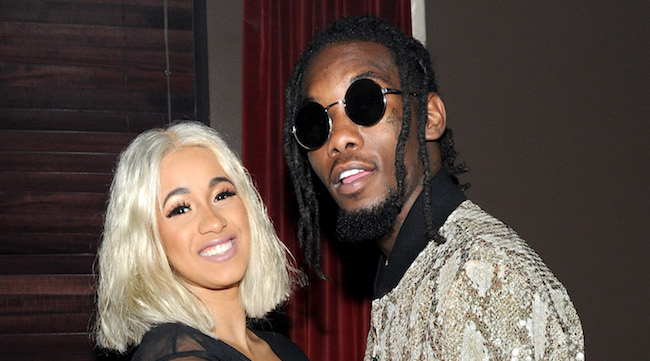 Offset and Cardi B have been trying their damnedest to have a healthy engagement, but things often just don't go that way when you're in the public eye. Sometimes a public relationship can feel like a plane in the air. When you're flying high, one little nick could rip the whole plane open and have it crashing down. First, there was whatever happened with Cardi B making a post about dumping Offset. Then, there was the speculation about Offset having a child with another woman. Of course, there was also a cheating scandal, complete with a NSFW video stolen from Offset's icloud and the couple's own NSFW video in response. Throughout it all, Cardi B is standing by her man – and doesn't want to deal with anyone's preconceived notions about her.
The in-demand rapper has a cover story with Cosmopolitan in their April issue, and delved into the cheating rumors head-on. "It's like everybody is coming down my neck like, 'Why are you not leaving him? You have low self-esteem,'" she told the magazine. Cardi further affirmed her self-esteem, noting, "I know I look good. I know I'm rich, I know I'm talented. I know I could get any man I want — any basketball player, football player. But I want to work out my shit with my man, and I don't got to explain why. I'm not your property."
https://www.instagram.com/p/BftMLl9B4zE/?utm_source=ig_embed
People have a tendency to want to be protective of women and feel like they know what's best for them when it comes to problematic relationships, but that mindset can actually be a little insulting. Cardi has repeatedly maintained that she's got her situation under control, so we should take her word for it – especially as she told Cosmopolitan, "People don't know what I did, I ain't no angel."
It's probably best for people to stop prying into their relationship and enjoy them for what they present, because Cardi isn't letting any outside perspectives sway her.