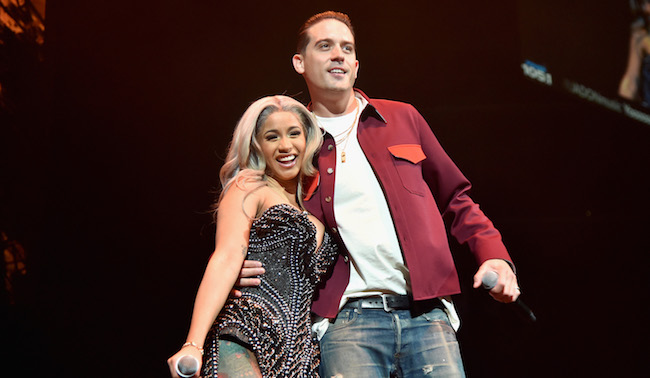 This week, when Billboard released its weekly Hot 100 songs chart, the status quo remained the same: Post Malone and 21 Savage's "Rockstar" still reigns supreme and even with some minor shuffling, the Top 5 songs are all the same contenders. Still, even as so many things stayed put, there was one huge but almost unnoticeable shift in dynamic, as G-Eazy's "No Limit" with Cardi B and ASAP Rocky catapulted its way into the Top 10 for the very first time.
Cardi has been a chart darling for the second half of 2017, topping the chart with her smash "Bodak Yellow" and making plenty of history in the process. Now, with another Top 10 song under her belt, even as a featured artist, she's making even more history. With "No Limit," Cardi becomes just the fourth female rapper to see her first two singles hit the Top 10, following Neneh Cherry, Lil Momma and Iggy Azalea.
If her next single, be it "Motorsport," with Migos and Nicki Minaj — which currently sits at 17 on the Hot 100 — or her forthcoming solo single "Cartier Cardi" wiggle their way into the Top 10 she would be the first female rapper to chart her first three singles into the Top 10.
With Cardi's chart dominance solidified, it's easy to brush aside the lead on "No Limit," but G-Eazy's launch into the Top 10 is significant as well. No, it's not as history-making as Cardi's presence — this is the rapper's second Top 10 track of his career — but it's interesting in the grand scheme of things as he's set to release his new album The Beautiful & Damned on December 15 against some stiff competition in the form of Eminem.
As a white rapper, it's only natural G-Eazy is compared to and held up against the legacy of Em, whether it's because of his skin tone, or his various cadences or whatever, it was bound to happen. But now, as they're set to go head to head, they seem to be trending in opposite directions, as Em's latest single "Walk On Water" hits a new Hot 100 low at 100 the same day Gerald peaks.
Sure, Eminem's Revival will likely outsell G-Eazy's LP, but it's a fascinating turn of events that Gerald was able to outperform Eminem just a week away from their dueling releases. Toss in the fact that Eminem had help from Beyonce, while G-Eazy got assists from Cardi and ASAP Rocky, it seems that no matter what the album sales say next week, Gerald is going up, while Marshall continues a precipitous slip in relevance.