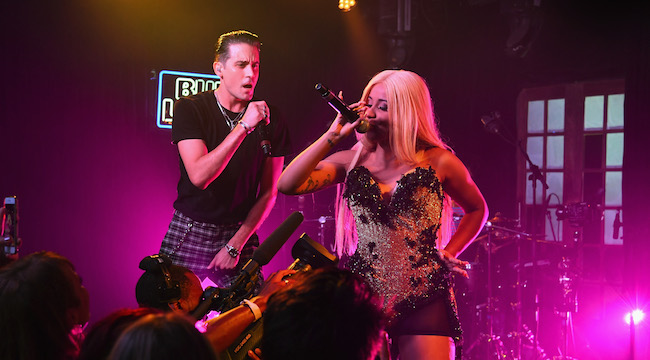 G-Eazy teased the release of his collaboration with Cardi B in New Orleans last week, and now he's officially released "No Limit," and this version includes an additional guest verse from ASAP Rocky. The release is iTunes-only for the moment, but a wider release is sure to follow. Check it out below.
The track owes a lot to the sound cultivated by Master P twenty years ago, with plenty of New Orleans bounce, as G-Eazy, Cardi, and Rocky deliver their usual unsophisticatedly entertaining signature styles on their verses. Cardi's verse is especially entertaining as she wittily compares her current charts success to "p*ssy popping." The topics are what you'd expect — getting money, having sex, and having fun.
G-Eazy, who is in the middle of his The Beautiful & Damned tour in promotion of his upcoming double album of the same name, raps "Always lit, never sober," perfectly summarizing not just "No Limit"'s concept, but also his overall mission statement as an artist so far. That may stand to change on The Beautiful & Damned, as he says that the album will be equally split between G-Eazy turn-up anthems, and Gerald Gillum introspection: "One is more fun in terms of not lighthearted necessarily, but like when the sun goes down and you start to drink a little bit of poison and you start to have fun and whatever… and the other side is a more introspective look at the lifestyle and the celebrity and the sacrifices you make to get to where you are and the compromises and what comes with it. Kind of like the daytime look at the night before."
The Beautiful & Damned is due Fall 2017 and will also feature Halsey.