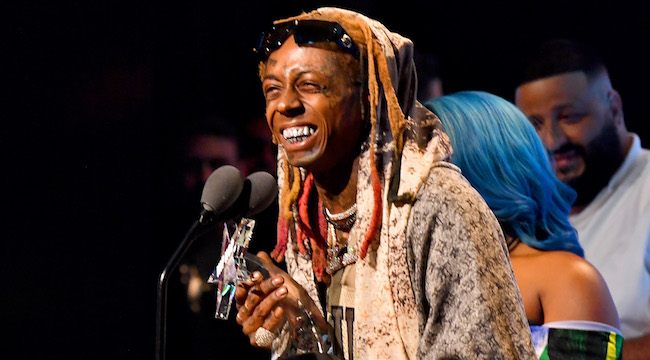 Lil Wayne may have had his big A3C show shut down by an altercation last night, but he still had a huge comeback after his album Tha Carter V was delayed for over seven years. According to a press release from Wayne's own Young Money Records, the album has netted Lil Wayne his fourth No. 1 Billboard 200 album, with the second-largest streaming totals of 2018 — over 433 million streams.
Of course, those streams weren't the only figures that determined the album's success. According to Nielsen, Tha Carter V ended its first week with over 480,000 sales. That's huge for anyone in 2018, but especially for Wayne, who hadn't had an album released at anytime since Billboard began counting streams toward its charts. The album was packed with features, including Nicki Minaj, XXXtentacion, and Travis Scott, but the tracks that fans have latched onto have all been his solo efforts.
It's a testament to the staying power of Wayne, who started his career two decades ago as a member of Hot Boyz on Cash Money Records. His previous method of releasing hundreds of loose tracks and two or three mixtapes a year helped make him a star in the early 2000s, but it was thought that when he slowed up his production, he'd fall out of public favor. Now, he's proved the opposite, raking in one of the biggest weeks of the year without offering so much as a single before the official release date. Wayne may or may not be the Greatest Of All Time as he says he is, but he remains a fan favorite, even after all these years.