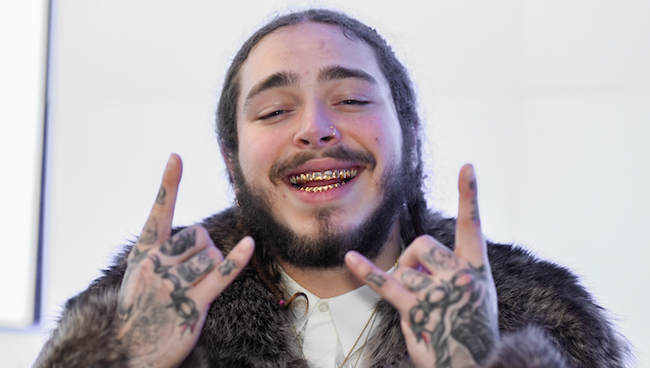 All week it was assumed that Cardi B and her smash hit "Bodak Yellow" would finally supplant Taylor Swift and her hit "Look What You Made Me Do" and top Billboard's Hot 100 songs chart. Taylor dropped the price of her song on iTunes, a move some thought was done as a last-ditch effort to still hold onto the No. 1 spot, but now they both might be surpassed by a surprise hit from an artist chasing his first ever No. 1 hit: Post Malone.
Post's new single "Rockstar" with 21 Savage arrived last week without warning, and served as a promising glimpse at what the 22-year-old has in store for his sophomore album, and though it may not have seemed like a hit right off the bat, Billboard is reporting it has a chance to debut on top of their Hot 100 songs chart thanks to massive streaming and sales numbers.
Billboard's calculations for the No. 1 song "blends streaming, airplay and sales data, according to Nielsen Music" and the projects of those metrics for all three records points to a tight race. The "Bodak" projections predict 35 million streams, 60 million radio impressions and 45,000 in sales while "Look" is on pace for 30 million streams, 75 million radio impressions and 45,000 in sales. However, "Rockstar" should come in with at least 40 million streams and 70,000 in sales, as well as what Billboard calls "a building first-week airplay sum."
All of that is to say it's going to be a razor-thin margin when the No. 1 record is finally decided and announced on Monday, just like the battle for No. 1 album between Tyler, The Creator, Meek Mill and Lana Del Rey back in July and August. Things were looking up for Cardi earlier this week, but hopefully for her sake her fans didn't hit the Nos too quick like Brian O'Connor before she actually won the race.