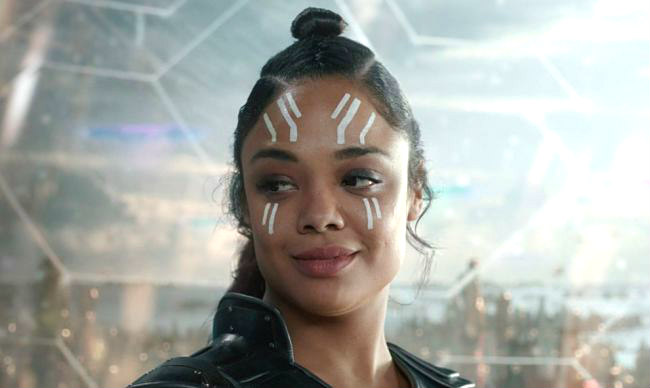 Ant-Man and the Wasp is the 20th movie in the Marvel Cinematic Universe, which began 10 years ago with Iron Man. It's also the first with a female superhero in the title. There has been talk of giving Black Widow, played by Scarlett Johansson, her own movie for years (in 2016, Marvel Studios president Kevin Feige pledged, "I would say certainly the one [movie] creatively and emotionally that we are most committing to doing is Black Widow"), but they came to nothing. Meanwhile, DC released Wonder Woman, the first female-led superhero film in more than a decade. That movie made $821 million.
If the all-but-certain success of Black Panther and Wonder Woman has proven anything, it's that people love Thor and Captain America, but they're also ready for an MCU film starring someone who doesn't look like Chris Hemsworth and Chris Evans. According to Tessa Thompson, we might be getting one soon.
When asked about an all-female superhero movie at Marvel, the Thor: Ragnarok star replied, "I'm not Marvel so I can't make it happen, but I can tell you that Marvel is hugely collaborative. I think our even our Thor movie was basically the product of conversations they'd had with Chris [Hemsworth] and with Mark [Ruffalo] about what they wanted to do next. I think [Marvel boss] Kevin Feige is really excited by the idea, and if you look at what's happened already in Phase 4 with me and [Thompson's character] Valkyrie and our story, and then in Black Panther the women rule supreme. There's an interest — they're doing Captain Marvel, they're doing a Black Widow — there's an interest in having women at the forefront of this phase. I feel like it's hopeful."
Maybe Thompson can get Doris Payne to help finance the film?
(Via IGN)