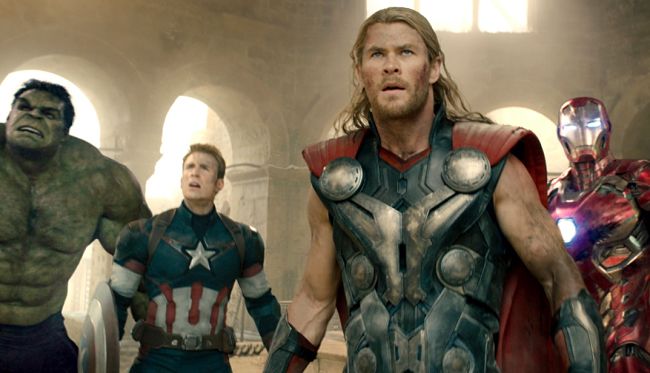 With the release of Ant-Man and the Wasp last week, the Marvel Cinematic Universe is officially 20 movies old. The multi-Phase franchise began in 2008 with Iron Man, and $17 billion later, Chris Evans, Chris Hemsworth, Scarlett Johansson, and Robert Downey, Jr. are all very, very rich. But which character in the MCU has logged the most screen time? It's a question worth asking now that Marvel is one movie away from being able to drink (I think that's how it works), and luckily, IMDb user "ninewheels0" has the answer. Hint: it's not Aunt May or Wong, although that's the buddy comedy Phase Four could really use.
Here are the MCU superheroes with the most on-screen action:
#10. Loki (1 hour: 17 minutes)
#9. Doctor Strange (1 hour: 28 minutes)
#8. Spider-Man (1 hour: 32 minutes: 15 seconds)
#7. Star-Lord (1 hour: 32 minutes: 45 seconds)
#6. Black Widow (1 hour: 34 minutes)
#5. Ant-Man (1 hour: 35 minutes: 15 seconds)
#4. The Hulk (2 hours: 15 seconds)
#3. Thor (3 hour: 3 minutes: 30 seconds)
#2. Captain America (3 hours: 31 minutes: 45 seconds)
#1. Iron Man (5 hours: 23 minutes: 30 seconds)
It needs to be said: that's a lot of white dudes. (If you stretch the list out to a top 15, things get a little better, with inclusion of Gamora, Pepper Potts, Black Panther, The Wasp, and War Machine.) By this time next year, though, the rankings might look very different: Captain Marvel should creep into the top-10 with her own movie and Avengers 4 (Thanos is currently in 25th place, behind even Jane Foster), and Spider-Man will continue to rise, as well. Unlike Loki.
(Via IMDb and Digital Spy)