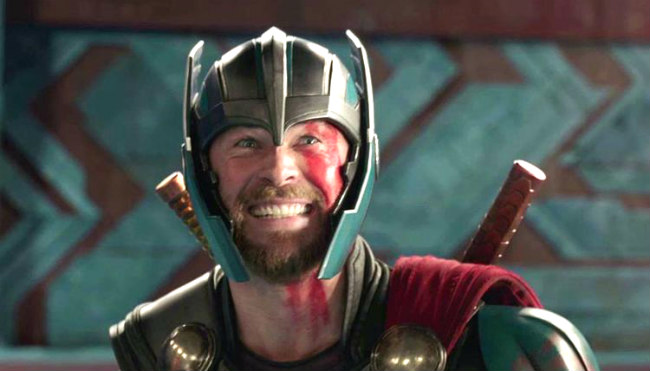 As if Avengers: Infinity War didn't already have an impressive enough cast, Avengers 4 is reportedly gaining one of the best actresses working today.
Tessa Thompson, who played Valkyrie in Thor: Ragnarok, was left out of Infinity War, leading many Marvel Cinematic Universe fans to worry that she died when Thanos and the Black Order destroyed the Asgardian refugee ship. The MCU wouldn't do Bianca like that. "There certainly were survivors," co-director Joe Russo confirmed. "Thor does say to the Guardians that [Thanos] slaughtered half his people, [but] prior to the start of that scene escape ships were deployed for Asgardians, including Valkyrie." Thompson, and her $10,000 wig, are safe.
It also sounds like she'll be in Avengers 4.
Thompson was spotted in Georgia with Chris Hemsworth, her Ragnarok and Men in Black spin-off co-star. The Atlanta Journal-Constitution reports that "after wrapping up some filming for Men in Black in London," the galaxy defenders "posted video of themselves boarding a private jet headed to Atlanta," where Avengers 4 reshoots are currently being shot. It's probably not a misdirect, either: there's visual proof of them getting off the plane together.
Hemsworth said: "Finished the London portion of Men in Black. We go to Morocco, a little bit of Italy, a little bit of Paree. But first, we're going to Atlanta for some Avengers additional photography." The next portion of Hemsworth's Instagram story, posted an hour later, shows him in front of a private jet with stuntman Bobby Holland Hanton, who is Hemsworth's stunt double… Then, on Tessa Thompson's Instagram story, we see another video in front of the same private jet, with the caption "BYE LONDON." Hemsworth appears in the video, as does Thompson herself. (Via)
This is more exciting than Thompson's last MCU appearance.
Avengers 4 opens on May 3, 2019.
(Via the Atlanta Journal-Constitution and the Wrap)