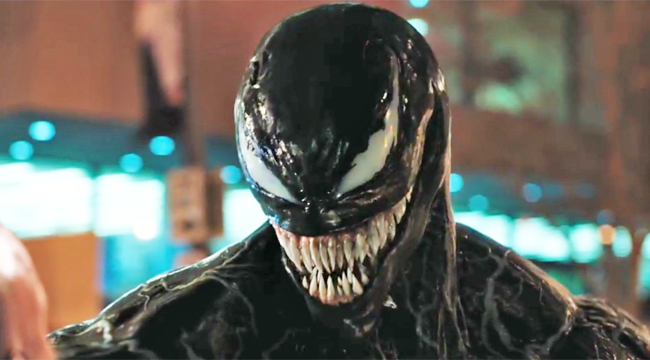 Warning: Venom (and possibly Spider-Man: Into The Spider-Verse) spoilers shall be found below, so proceed at your own risk…
UPROXX's Mike Ryan has declared that while Venom isn't a very good movie, it's still fun to watch, while Vince Mancini has determined that the antihero film's biggest battle is against itself. Many eyes are on the arguably larger war at hand — whether Bradley Cooper and Lady Gaga's A Star Is Born remake could actually trounce Venom on opening weekend — but what about those credits scenes? Both worth discussing for different reasons.
The Mid-Credits Scene: This scene plays as an odd one, for it's not entirely certain whether Sony stumbled during execution or was simply throwing slight shade at Marvel. That is to say, Marvel fans embrace such credits scenes as announcements for future films that also tie-in characters who either haven't been introduced in the movies yet or have disappeared for awhile. This scene aggressively lines up a direct sequel to Venom despite lacking some helpful groundwork within Venom itself.
Woody Harrelson appears as Cletus Kasady, a psychotic San Quentin State Prison inmate (serial killer) who's wearing a silly red wig. He will only allow Hardy's journalist character, Eddie Brock (who's still fused with the Venom symbiote), to interview him. There's a "Welcome Eddie" message scrawled on the wall in blood, and Kasady declares, "When I get outta here … there's gonna be … carnage." So yeah, it couldn't be more obvious that Kasady will continue as Carnage, a villain from the comics. There's some unspoken history here, given that Brock and Kasady are former cellmates, and the comics revealed that the Venom symbiote fused with Kasady, but none of those events occur in Venom. It's unclear whether Sony was being intentionally sloppy with these details, or whether that matters, depending on how the box-office goes.
The Post-Credits Scene: Even though this scene doesn't technically involve Venom, this is clearly an attempt to lay Sony's groundwork for an intricate universe in manner of Disney's Marvel Cinematic Universe or the DC Extended Universe. Unironically, the clip is introduced with a "meanwhile in another universe" exposition box … and viewers are treated to a 5-ish-minute clip of Spider-Man: Into The Spider-Verse, the upcoming animated feature film that's all about Miles Morales (Shameik Moore), the Spidey of an alternate universe, during a chase scene.
It's important to note that this Spider-Man (actually, Sony's film contains multiple Spider-People) stands completely separate to what Marvel's doing with their version of the Peter Parker character. Parker (Jake Johnson) also appears here (he's no longer a teen), and Miles knocks him unconscious with his Venom Blast. Yet since Peter managed to web Miles before that happened, the two flee the police "together" while departing from Peter's grave. The entire clip is infused with biting humor and gives fans more of a glimpse of how this Spidey film looks like a blast, and why wouldn't it? Nic Cage will voice Spider-Man Noir, and there's a Spider-Gwen (Hailee Steinfeld) on board. Spider-Man: Into The Spider-Verse should be a guaranteed hit, but it remains to be seen how Venom will be received by audiences at large.