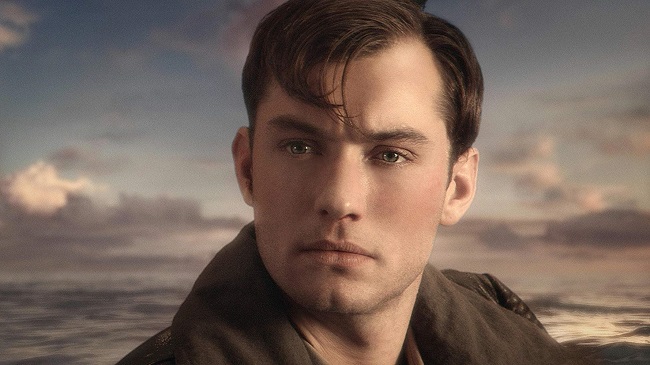 Unless you were one of the many billions of living beings that Thanos wiped from existence at the end of Avengers: Infinity War, chances are you've heard about Captain Marvel, Marvel Studios' next superhero saga to grace cinemas. The cinematic universe's version of the character, ace fighter pilot Carol Danvers, will be played by Brie Larson (Room), and according to the first look provided by Entertainment Weekly on Wednesday, her introductory onscreen adventures will occur decades before Tony Stark (Robert Downey Jr.) donned the Mark I suit.
Oh, and the film also stars Jude Law, who spoke to EW on Thursday about his role as an unnamed character who mentors Larson's Danvers. Judging by what the Sherlock Holmes and Fantastic Beasts actor told the outlet, and what the initial rumors surrounding his casting suggest, however, we're pretty sure we know who Law is playing in Captain Marvel. And in case you wanted a brief hint, his character's name sounds a lot like "barbell."
Yes, that's right — it's becoming crystal clear that Law will be playing Mar-Vell, a member of the Kree alien race first seen in Guardians of the Galaxy, and the first character from the comics created by Stan Lee and Gene Colan to bear the "Captain Marvel" moniker. Sure, he isn't blue like Ronan the Accuser (Lee Pace) and other Kree seen in Guardians and Agents of S.H.I.E.L.D., but he's what the comics dubbed the "pink Kree," a race whose skin tone and biological appearance is closer to that of Caucasian humans than their blue brethren.
While EW never explicitly names Law as such, all the clues they provide pretty much guarantee it. Describing him as the leader of Starforce, a sort of Kree special forces, the article notes he is "Kree to the core" and devoted entirely to his people's betterment. "He is driven by a belief in the divine leadership of the Kree people," said Law in their interview. "He's almost a devout warrior — unquestioning, conservative, but inspirational."
As for his relationship with Danvers, Law said his character "sees [her powers] as something of a blessing and something that she has to learn how to control." As a result, the pair is "particularly close" throughout the film. It's a relationship or mentorship of sorts that, to those familiar with the comics, bears a striking resemblance to the one shared by Mar-Vell (then disguised as the human Dr. Walter Lawson) with Danvers. Whether or not the earthbound elements of the pair's relationship will be explored in Captain Marvel remains to be seen, but judging by the evidence available, it's safe to assume that Law is Mar-Vell.
(Via Entertainment Weekly)