The RX is Uproxx Music's stamp of approval for the best albums, songs, and music stories throughout the year. Inclusion in this category is the highest distinction we can bestow, and signals the most important music being released throughout the year. The RX is the music you need, right now.
Laetitia Tamko digs into a grain bowl at Honey Hi in Echo Park, and stares thoughtfully out the window across the busy Sunset intersection before responding. "I think I'm asking fans to be on the journey with me, not with an album," she comments. "Songs are the ways I feel most comfortable connecting to myself, so that connecting point is what puts all the music under the same umbrella." She's responding to a question about the different textures, sounds, and sonics that inform her second full-length release as Vagabon, a self-titled album that follows up her independent, lo-fi debut, 2017's Infinite Worlds, and does so with eagerness between bites of veggies and rice.
Tamko's debut record was recorded when she was working her full-time job as an engineer, and made with a couple hundred bucks at most. The album struck a nerve in the indie world, was heralded as one of the year's best releases, and earned her offers to open for the likes of Tegan And Sara. It also yielded Tamko a whole host of label deals for a second album. Armed with plenty more resources, and instinctually taking the songs that she wrote on guitar to synths and digital software, Vagabon is a strange and billowing album, soaring where Infinite Worlds dipped, and revealing Tamko's considerable skill as a producer, too.
As we sat down at that busy cafe near Echo Park Lake on a recent sunny afternoon in Los Angeles, Tamko walked me through some of the early steps that led to the writing process for this new album, breaking free of traumatic cycles, and how she's slowly but surely coming into confidence and the many versions of herself. Read a condensed, edited portion of our conversation below.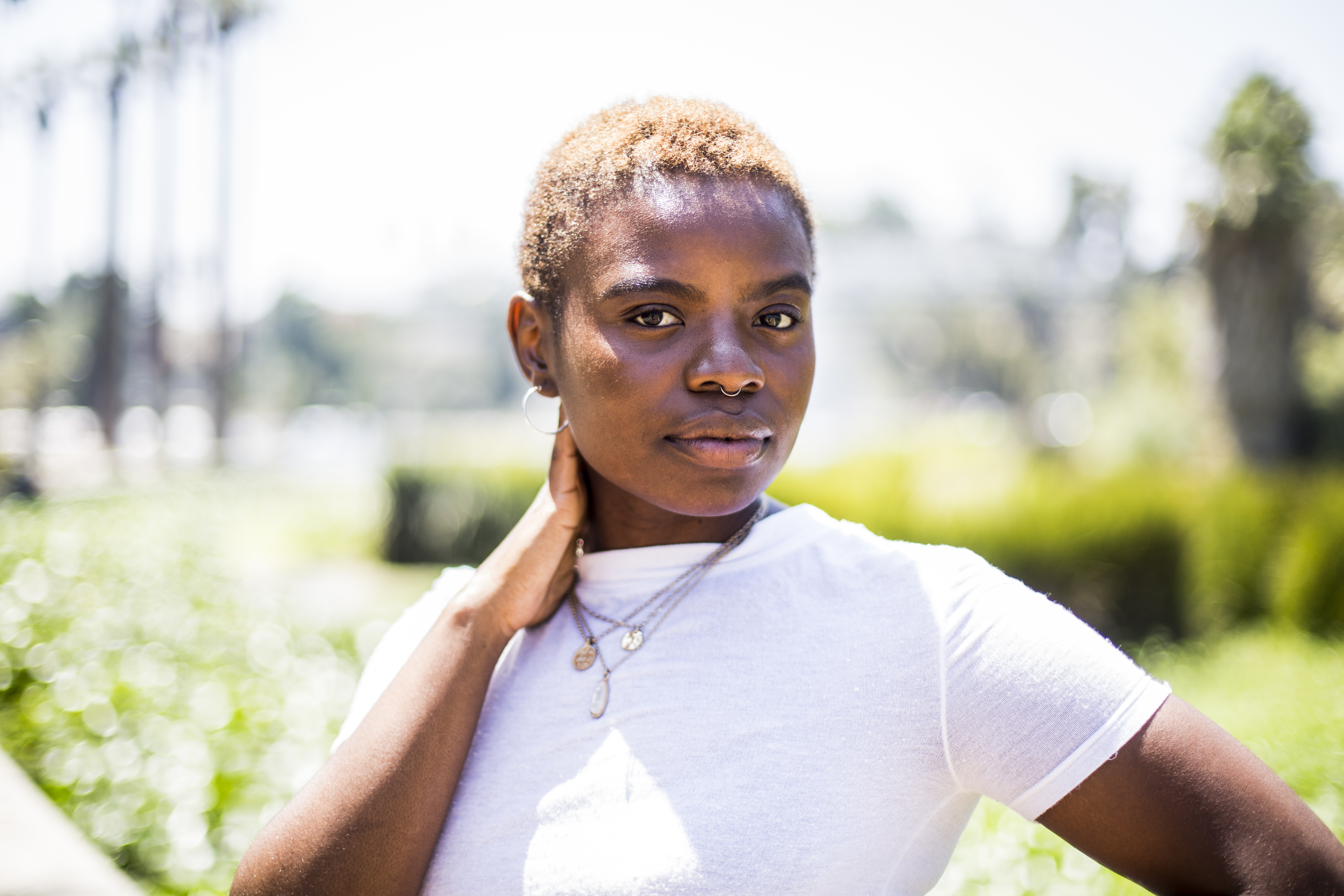 You're on a new label for this album, Nonesuch Records. Let's start with that transition.
After Infinite Worlds being a larger success than I could've thought, I knew that whatever I did next, I'd need more resources. For the debut, I did it all by myself. And I feel really proud of what I did on Infinite Worlds, but I knew if I could dig in a little more and not have to work at my engineering job… then I could explore a lot more of what my music could sound like.
I was fortunate to have a lot of offers, and sifting through all of them I wanted to find a place that was really about artists. Because I get it, it's a business, everyone wants to sell records, but I want people who have that, of course, because I don't think I could have the resources without people who are invested in how it does. But I also wanted to have creative control, who would trust my creative vision, and help me see it through, instead of telling me how I should be and what I should make. All those talks are so court-y sometimes, and Nonesuch was the least like that. It's such a label of artists, career artists. Thinking long term. I know there's a lot of labels I could be on that are like "cool" and I respect those labels, but I wanted to think long game. I wanted to pick shoes I could grow into, not shoes that were tight for me after one album.
Walk me through the process after touring behind Infinite Worlds and how you started working on the songs for this self-titled record.
I had been on tour for two years behind Infinite Worlds, which is a long time. My life was planned out and I was just going, going, going. I wasn't really think about doing another album, because I didn't have a deal that forced me to do one, and I didn't have that history as a musician to think about when you start doing another album. I was kind of beginner's mind for the whole thing.
I had written little things here and there, but once tour started dying down I realized I really had to get serious, because to keep touring you need to keep making albums. Tegan And Sara asked me to write a song for their album, and it kind of put me in this mindset of writing again. I wanted to do a good job for them, so I wrote a song I felt really good about, and it kind of broke me open. I was almost thinking, if I tried to write songs again, it would all go away. You know, you're only good as your last thing, and people were saying this album was good, so I wanted to stay on it.
But once I sat down and wrote something it was like okay, I know how to do this. I kind of got in my head that I had gotten lucky, or that I'd won some sort of lottery, or gotten into this position just by chance. Even though I don't believe that. So for this one, I just wanted to make something that I was impressed by. I wanted to showcase the timestamp this time of my artist victory, and Infinite Worlds was timestamping another time. I just want to timestamp all the growth I go through in making music. And it's still so early.
Tell me about some of the moments on this album that feel like that — that are impressive to you.
I'm really proud of "Please Don't Leave The Table." It's so weird. It wouldn't let me keep it off the album, so I kept working on it even though I was like 'this is weird, I don't know if anyone is going to like this.' It seems a little inaccessible? To me, even. It was like a mystery to me. So I'm really proud that I put it on anyway, because it's one of the faces of me. None of this album was me trying too hard.
I found that if I could write songs like "Secret Medicine" that feel very much like Infinite Worlds to me, but once I switched over to playing keyboards and messing around with my computer, the things I was coming up with were more geared toward the music I used to listen to when I first moved to the US versus the music I was watching people play in New York, at like, Shea Stadium. And both felt true. So I'm proud of "Wits About You," "Secret Medicine," and "Every Woman."
Love that you brought up "Every Woman," because it feels like there is a multiplicity of selves on this album. Are there specific selves who are getting a say on Vagabon that maybe weren't as much in the spotlight on Infinite Worlds?
A bit more confidence. A lot of really dark sh*t was going on in my life around the time I put out and wrote Infinite Worlds, and a lot of that energy and that color and mood is in the album. And it helped me process a lot. But in touring, I found this confidence in performing, and turning these really dark times into living out a dream. It made me trust my gut so much. I can see myself a little clearer, and see who I am right now. I can confidently explore the different parts of myself.
The albums are sonically very different, but I'm wondering what similarities you feel between them?
I've asked myself the same question. It's just my full self, it's very honest. But also, lyrically and melodically, if I was to arrange these songs on guitar, they would sound more similar. I think it's the textures I decided to use that make them feel very different.
"Water Me Down" is another one of my favorite songs on this new album, because of the struggle in the lyrics versus the happiness of the melody. I wanted to hear about writing that one, and working with that contrast.
I'm glad you picked up on that! It's the comfort of knowing I can deal with it. Like, when something really bad is happening, even as it's happening, I don't feel victimized. For the first time in my life, I feel like I can move past being the victim or the survivor. And I still feel so tiny in those hard moments, that's why the lyrics are introspective and looking inward.
But it was an obvious moment where I was like 'Aha, I don't have to be stuck in this. It doesn't have to be you did something to me.' Through all the processing and healing I've done, I wanted to put that work into the music. So the song feels triumphant, that you can feel happy that something is ending. There's never been a time in my life where I didn't feel like one bad thing was a threat to my whole life.
I want to talk about "Full Moon In Gemini," since it both opens and closes the album.
As someone with Scorpio all over my chart — I'm a double Scorpio with a Gemini rising — I wrote this song on a full moon. I have so many thoughts about astrology, and Geminis are this two-sided, misunderstood, kind of mischievous and loving sign that draws you in. I felt like this album, while it's going to be a Libra, there is a multi-sided energy to it. Like bizarre choices and rogue choices. So I definitely wanted to start the album off with that energy. Even if people don't get it, I get it: sequence-wise, this is my thesis for the album.
Vagabon is out 10/18 via Nonesuch Records. Pre-order it here.