It's hard not to think of Kentucky when you think "bourbon." The American whiskey was born in shady Kentucky hollers and is inextricably linked to that state's culture. Still, bourbon doesn't have to be made in Kentucky to be called bourbon. There are a lot of great bottles of bourbon out there (all meeting strict requirements to actually be called bourbon) worth celebrating … and drinking.
Before we dive into our ten favorite bottles of bourbon (not from Kentucky), let's review what it takes to be a bourbon whiskey. For a whiskey to be designated a bourbon it has to meet five basic requirements according to the American Bourbon Association:
The Mash Bill (recipe of cereals and grains for fermentation) has to be at least 51 percent Maize (corn).
The whiskey has to be distilled within the borders of the United States (this is more of a U.S. trade rule and less a universal one).
The initial distillate can be no higher than 160 proof (80 percent ABV).
The whiskey has to be aged in newly charred American oak barrels at no more than 125 proof (62.5 percent ABV).
The bourbon has to be at least 80 proof (40 percent ABV) when bottled.
So, that's what makes bourbon bourbon. One small phrase to add to that list is "Straight." If bourbon is labeled "Straight Bourbon," that means zero additives have been added to the whiskey. It's, essentially, pure. Another phrase you'll run into is "Bottled-In-Bond." This refers to a government regulation that requires the bourbon to come from a single distillery and single distillation season and then aged for at least four years to 100 proof (50 percent ABV) in a federally "bonded" warehouse. In short, it's a specific whiskey from a specific time and place with government oversight at the storage facility.
The ten bottles of bourbon whiskey below are some of your favorite bourbons being distilled and bottled across the United States (but outside of the Bluegrass State) right now. A few of them you're going to have to travel for, as they're still smalltime, local operators. The rest might take a little hunting to track down at specialty liquor stores and online. Either way, these are the best bottles of bourbon not from Kentucky to drink right now.
Belle Meade Bourbon Cask Strength Reserve — Nashville, TN
Story: The Nelson brothers reanimated the Belle Meade and Nelson's Green Brier family brand after about 100 years of inactivity thanks to American Prohibition. The young brothers started out by bringing Belle Meade whiskey back to the public with recipes adhering closely to originals from the 1800s. Today, Belle Meade's bourbon (distilled by MGP in Indiana and aged and bottled in Nashville) is some of the best non-Kentucky bourbon on the market with their Cask Strength Reserve leading the pack in taste and awards.
Tasting Notes: There's a lot to take in here. The opening of this sip ambushes your olfactory senses with candied apples, musty barns, roasted peanuts, rich caramel, and ginger snaps. Then the liquid hits your tongue and explodes with spicy Red Hots, dark chocolate, buttery caramel, candied blackberries, roasted corn ears, oaky vanilla, and a peppery-by-way-of-Cherry-Coke backend.

FEW Bourbon Whiskey — Evanston, IL
Story: FEW Spirits takes small-batch, hands-on distilling very seriously. The Evanston operation takes its time in sourcing quality ingredients and then takes even more time to assure those ingredients become fine whiskey. This is a grain-to-glass operation. FEW was also the first distillery to open in Evanston after prohibition and the master distiller was instrumental in helping to overturn the city's century-old dry laws.
Tasting Notes: FEW Bourbon has corn and rye sourced from within 100 miles of the distillery, with a higher rye end on the mash bill. That high rye content leads to a spiciness right up front. There's an almost curry-like spice mix at play here with a lean towards cinnamon. Ripe apples and peaches brighten up the taste before the dark and stormy spices take over again. It's a soft sip with a nice spicy edge.
Woodinville Straight Bourbon Whiskey — Woodinville, WA
Story: Woodinville Distillery out in Washington is a grain-to-glass operation that keeps everything local. The corn, rye, and barley are all grown on a single farm in Quincy, WA. The grains are mashed, fermented, distilled, and barreled in Woodinville. Then, the barrels are transported over the Cascade Mountains to rest in an open-air barrelhouse in Eastern Washington. The big swings in temperature on the leeward side of the mountains help the whiskey extract all sorts of goodness from the charred oak over the years. This is a special, local bourbon.
Tasting Notes: Oak is the biggest factor at play here. From the outset, you're hit with charred oaky vanilla, dark berries, and light touches of caramel. The wood carries through the taste to a finish that's full of sharp spearmint and dank oregano with a mild peppery alcohol burn. If you love oaky whiskey, this is going to be your jam.
Kings County Distillery Bottled-In-Bond Straight Bourbon Whiskey — Brooklyn, NY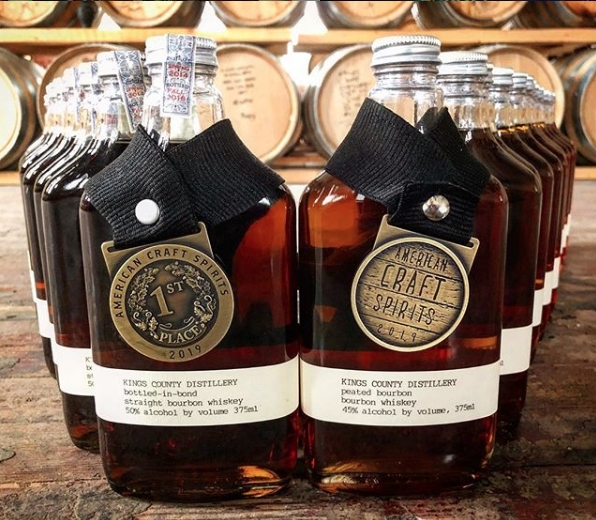 Story: Kings County Distillery was the first distillery to reopen in New York City after Prohibition. Since 2010, the distillery has been putting out some serious whiskey that wins awards and new fans with every new expression released. Their Bottled-in-Bond Straight Bourbon is a serious whiskey with deep roots in local organic corn from Upstate New York and English barley malts rounding out the mash bill.
Tasting Notes: Corn is front-and-center on this sip of bourbon. At first, it's fresh off the stalk with a caramel tree sap flourish. Next, that corn sweetens to an almost cornbread taste pinned to molasses, vanilla, and plenty of oak. Finally, fall spices like cinnamon and ginger rush in on the finish and tie the whole thing up in a nice, velvety sip.
Sonoma Bourbon Whiskey — Rohnert Park, CA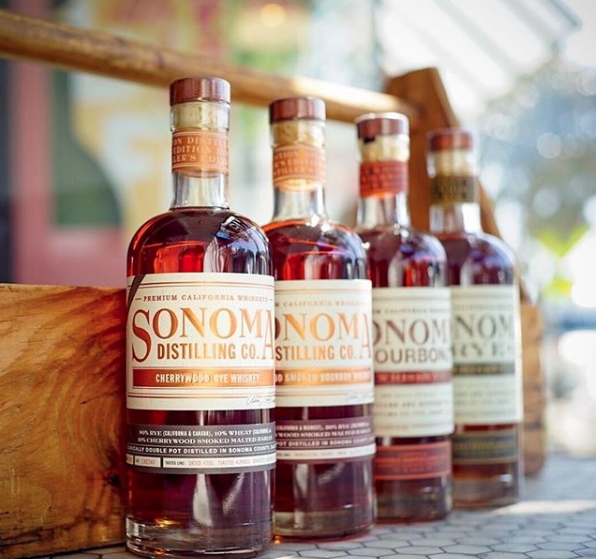 Story: Out in California, Sonoma County Distillery is working some unique magic with their bourbon. Sonoma Bourbon has a mash bill that eschews the usual rye and instead uses local wheat. The bill ends up at 70 percent corn, 25 percent wheat, and five percent barley. The wheat adds a new dimension to the final product that's worth checking out.
Tasting Notes: There's a grassy nature here. Think of a field of grass at the very end of summer when everything is amber gold and the sun is scorching the earth. Then rushes of buttery and brisk toffee come into play alongside oaky vanilla, bitter roasted coffee beans, and wonderful echoes of almond-heavy marzipan. There's a mild alcohol spice on the backend that leaves you wanting another sip.
Cedar Ridge Reserve Iowa Bourbon Whiskey — Cedar Ridge, IA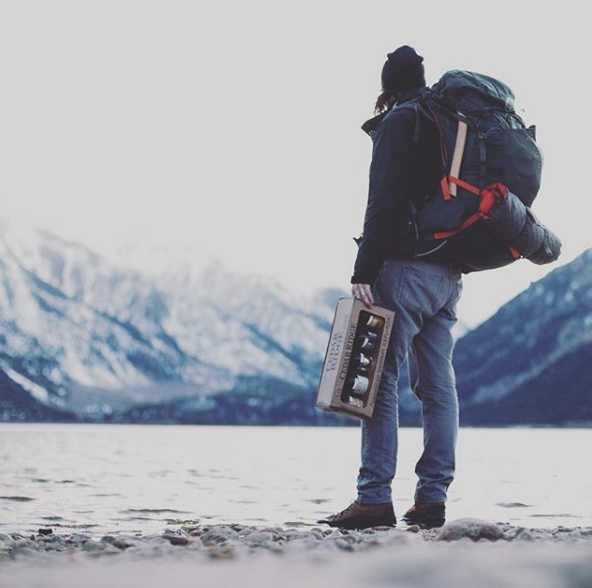 Story: Iowa's first distillery planted itself right in the middle of America's grain belt. They're making a product that requires corn, rye, and barley, so there's really no better place to set up a distillery. Cedar Ridge's Reserve Iowa Bourbon wins awards pretty much everywhere it drops a new expression. The corn-fueled bourbon spends five years aging, adding a deep complexity that'll help you fall in love with bourbon in general.
Tasting Notes: This is a big whiskey with a lot to ponder. It opens with a flourish of freshly cracked black pepper, warm honeycombs, and fields of blooming jasmine. There's a dry nature to the sip with fresh herbs — dill and fennel predominately — hitting first. Then the corn arrives. You can almost taste the fresh green husks in the whiskey. This is a spring farm in full bloom distilled into a glass.

Wyoming Whiskey Small Batch Bourbon Whiskey — Kirby, Wyoming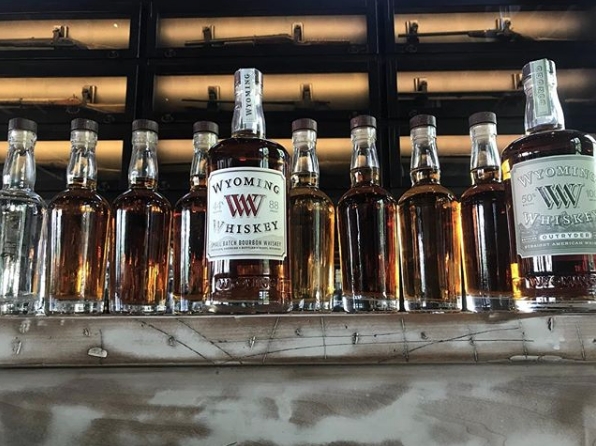 Story: Wyoming Whiskey is a family-run operation (the Meads) that takes the fruits of Wyoming's Big Bend basin and crafts them into a bottle of bourbon. The grains come from the countryside surrounding the Mead's cattle ranch. The spirits are fermented, distilled, and aged on site. Their Small Batch Bourbon takes its time and ages in oak for up to four years before it's released.
Tasting Notes: There's a roughness to this whiskey that isn't a bad thing. It's refreshingly gruff. There's a real sense of worn ranch ropes and weathered barn shakes up front. The char comes through with a spicy vanilla oakiness that leads to pepper, dark cherries, and burnt orange zest. Finally, there's a big alcohol push with heavy spice at the end. This is a great bourbon to use as a base for your next old fashioned.
Wigle Pennsylvania Straight Bourbon — Pittsburgh, PA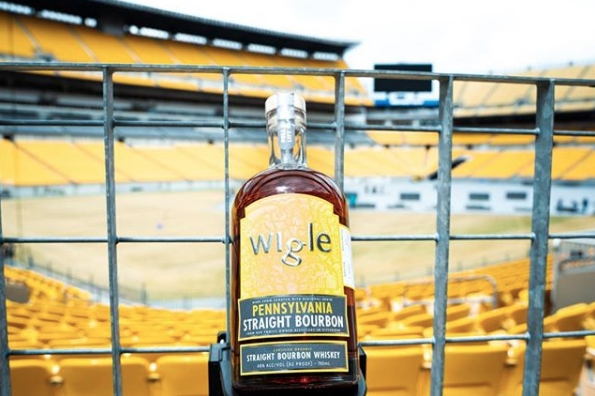 Story: Wigle makes an organic Straight Bourbon in Pittsburgh that spans the style and agriculture of America. The local distillery uses mash bill of winter wheat, malted barley, and Wapsie Valley corn. The Iowa corn is distinctive and said to be the some of the best corn out there for making bourbon. After sampling Wigle's Pennsylvania Straight Bourbon, it's easy to agree with that sentiment.
Tasting Notes: Corn is what hits you first. It's fresh, bold, and accompanied by classic notes of oaky vanilla and rich caramel. Then things take a turn from the ordinary. Whispers of smoke creep into the sip with hints of dark cocoa, burnt brown sugars, and meaty strips of salty and peppery jerky. Finally, the oaky spiciness returns with another whisper of that age-old smokiness.
Dry Fly Straight Washington Bourbon 101 — Spokane, WA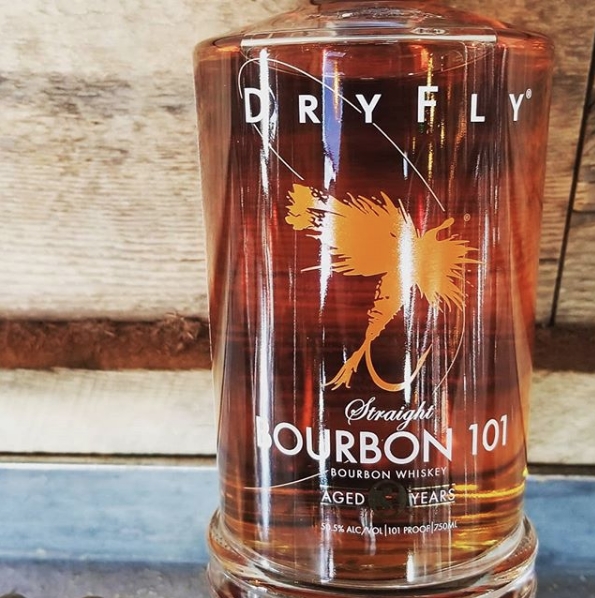 Story: Dry Fly makes a mean whiskey. Situated in the far eastern reaches of Washington's agricultural basket, the small distiller utilizes the best of the best around them. Their Straight Washington Bourbon 101 uses 55 percent corn grown by the local Hutterian Settlement (similar to the Amish) alongside 45 percent triticale in their mash bill. Triticale, by the way, is a rye and wheat hybrid, which adds a nice ripple to this whiskey.
Tasting Notes: Freshly baked Southern biscuits welcome you to this sip. Now, imagine those biscuits smothered in butter, cinnamon, honey, and nutmeg. Then the sip turns on its heels towards oaky vanilla, spicy black pepper, cloves, and freshly harvested corn. At the end, it shifts again, this time towards a cedar essence alongside plenty of oak spice.

Balcones Texas Blue Corn Bourbon — Waco, TX
Story: White and yellow corn tend to dominate the corn conversation in the U.S. whiskey world. That's fine. Balcones is changing that conversation by adding locally grown blue corn to the mix. The blue corn adds a whole new dimension to the whiskey thanks to a richer, earthier, and less saccharine nature. It's a fascinating departure from the norm that still feels familiar.
Tasting Notes: This bourbon bold and subtle at the same time. The dark color from the charred oak leads you to believe everything is going to be amped up. It's not. There are hints of charred oak that feel like part of a fire-roasted blue corn cob. Smoke is a factor but it doesn't overpower. Notes of burnt cream, black tea, and spices are all in play. Then it mellows to a clear finish with whispers of mesquite smoke, earthy corn, and vanilla oak.