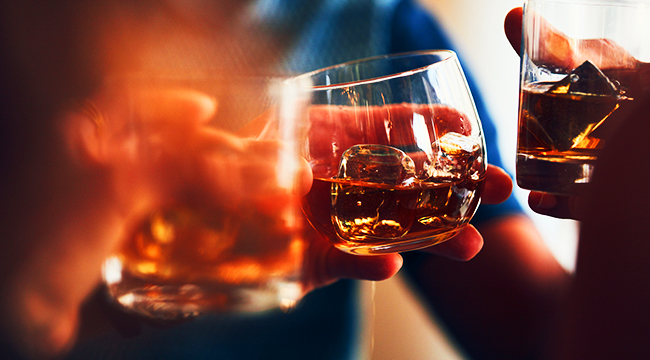 There's a surprising amount of research involved in writing about alcohol. It's easy to make a mistake about a flavor profile, a style, or — most commonly — a producer. Sometimes you think that you're supporting some small upstart only to find out that they're owned by a conglomerate like Diageo or InBev. Does this mean that the cool little brand is no longer indie? Not exactly, but it does mean they're not as desperate for a writeup as some of the unaffiliated brewers or distillers out there.
My goal in creating this list was to ask our best whiskey writers — Zach Johnston and Chris Osburn — to shout out their favorite independent distillers here in the US. We aimed for true small-time operations, with no parent companies (though big brands make this notoriously difficult to discern). Check out our picks and add your personal favorites in the comments.
– Steve Bramucci, Editorial Director UPROXX Life
Balcones Baby Blue, Texas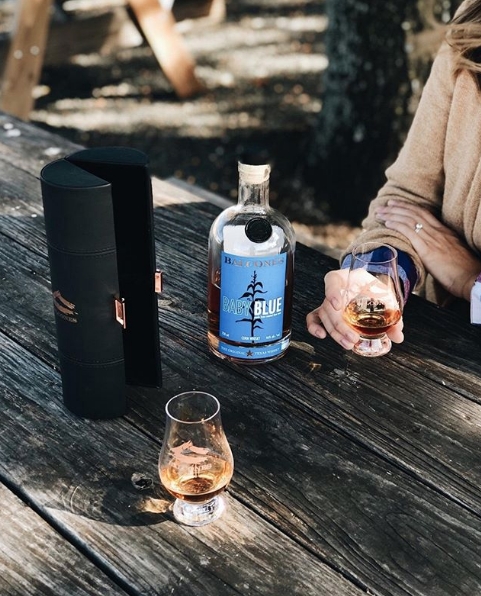 Story: Balcones is making whiskey magic happen in Texas. The small distillery prides itself on using local, sustainable ingredients for every part of the whiskey making process. Their Texas bourbon is a great place to start your journey with Balcones. But for us, it's their unique Baby Blue Corn Whiskey that really shines as a must-try example of whiskey that no one else is making right now.
Tasting Notes: Baby Blue gives you a rush of rich, earthy corn right away. That corn feeling starts to lean towards a caramel kettle corn nature, with a spiciness next to slight roasted coffee bitterness. Next, fruit overtakes the palate with highlights of sweet apricots and tropical fruit flavors.
A slight citrus note comes in before a rich toffee and corn sweetness take over at the end. There isn't another whiskey like this. –ZJ

Port Cask Finished Virginia-Highland Whisky, Virginia
Story: Virginia Distillery is doing something special in the whisky world. The small and very local distillery distills a special Virginia whisky and then blends it with Scotch from Scotland, creating a unique whisky elixir. This is the sort of process that purists will balk at, but hear us out: the blending of two great whiskies can be a stellar drinking experience and Virginia Distillery is knocking it out of the park, especially with their Port Cask Finished expression.
Tasting Notes: Port Cask Finished Virginia-Highland Whisky was awarded Best American Blended Malt by World Whiskies Awards. So, yes, this a great bottle to have on hand. Expect a dark, fruit-forward sip here. There's a real sense of dried figs, raisins, and plums. Next, a wonderful roll of buttery toffee comes into play with a nice Christmas spice edge. There's a subtle alcohol burn on the back end that gives way to a hint of dark port sweetness.
It's complex yet approachable, and it'll give you a gateway into bigger Scotch whiskies. –ZJ
Templeton Rye, Iowa
Story: Templeton Rye is an old-school prairie whiskey from Iowa. The small blendery and bottling company is family-owned and operated and focuses on making tasty American rye. Currently, they're aging and bottling Indiana rye at their Iowa facility. They're about to launch their first Iowan distilled rye (it's still aging right now), so stay tuned for that. Still, their propensity for detailed aging and bottling make this a must try rye.
Tasting Notes: There's a nice simplicity at play here. The spiciness of the rye is front-and-center but it doesn't overwhelm. There are grassy notes that feel like a stroll through the Great Plains on a sunny day. Notes of creamy butterscotch and sharp allspice come next. Finally, a nice alcohol burn is punctuated with toffee sweetness. This is an easy drinking rye. –ZJ
American Oak Single Malt Westland Distillery, Washington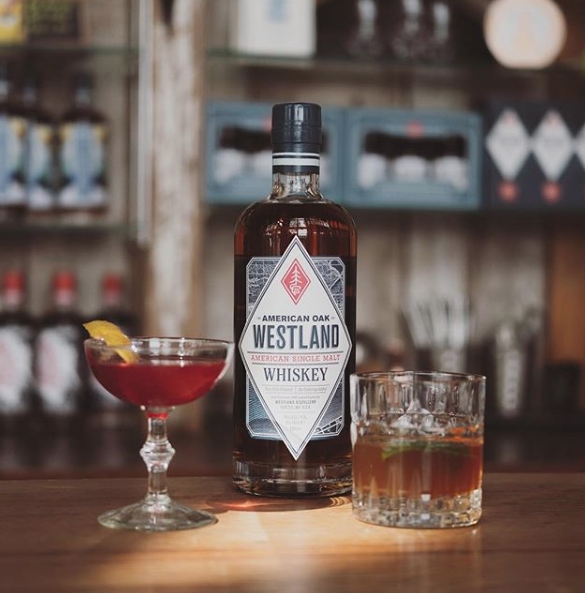 Story: Westland Distillery is taking the idea of what a single malt can be to new levels at their Seattle distillery. The still masters are using local barley to create a distillate. Then, they're putting that into new American oak barrels, which is unheard of if you're talking Scotch single malts (they tend to use re-fabbed bourbon or sherry casks). The result is a uniquely American single malt whiskey that brings new flavors and ideas to the whiskey table.
Tasting Notes: There's a nice wave of creamy citrus up front with a hint of fresh jasmine fields and burnt, sugary cream. Next, tart cherries, dark chocolate, lush marzipan, and a mellow banana essence flow over your tongue. Finally, a rich coffee bitterness note arrives to finish the taste. –ZJ
Cedar Ridge Iowa Bourbon, Iowa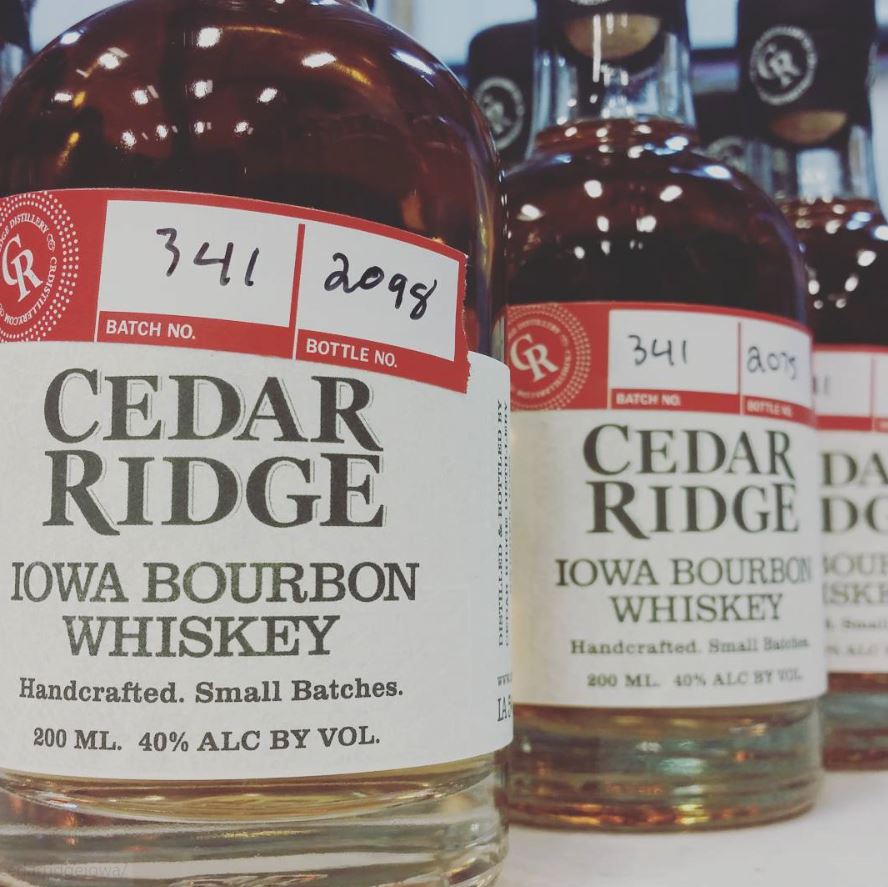 Story: We all know that to be considered a bourbon two of the main rules are that the spirit must be made in the US (not just Kentucky) and must be made from at least 51 percent corn. There are a few other rules, but those are the biggies. Bourbon is made all over the country — from Oregon to Alabama and even in Iowa. Cedar Ridge Iowa Bourbon is definitely not a whiskey to overlook. This family-owned distillery's bourbon has won numerous awards, including Gold at the 2018 San Francisco International Spirits Competition.
Tasting Notes: Iowa is well-known for its corn-producers so it should come as no surprise that this bourbon takes its corn base quite seriously. It's not just 51 percent, it's actually made with a base of 74 percent corn, 14 percent malted rye, and 12 percent 6-row malted barley. The result is a smooth, evenly-balanced bourbon with the subtle corn sweetness bourbon drinkers have come to expect, along with dried fruits, cinnamon, and vanilla.
The perfect whiskey to fully encapsulate the essence of the heartland. –CO

New York Distilling Ragtime Rye, New York
Story: In the last few years, enthusiasm for rye whiskey has reached epic levels. It's not that people are tired of bourbon and other forms of whiskey, but the spicy, peppery rye is so hot right now. If you love rye whiskey, a great example is New York Distilling's Ragtime Rye. This 72 percent rye whiskey was matured for 3 plus years in American oak barrels. Made solely from New York State-grown rye, it was created to pay homage to the speakeasies of Prohibition-era America.
Tasting Notes: Fans of bold, unapologetic rye whiskeys will greatly enjoy Ragtime Rye. It's everything you're looking for. The spice is there, but it's not so prevalent that you miss out on the other aspects of the whiskey. The subtle peppery spice makes way for a complex, warming finish that will leave you wanting more. –CO
Koval Single Barrel Bourbon, Illinios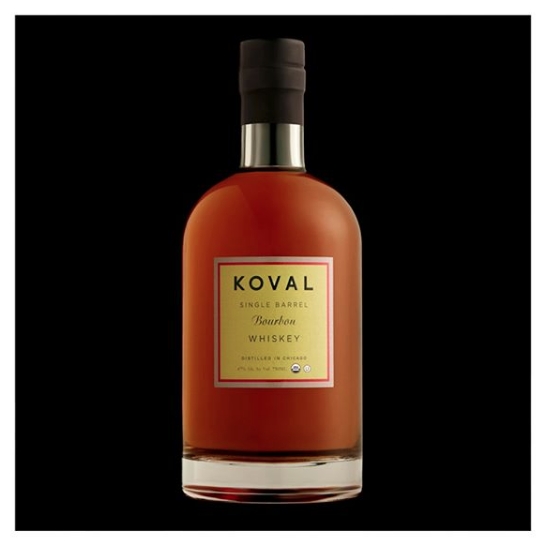 Story: In just over a decade of distilling, Chicago's Koval has garnered its fair share of acclaim and awards. One of its best offerings is its Single Barrel Bourbon. Proving once again that great bourbon can be made outside of Kentucky (even though "Blue Grass State" citizens might not agree), Koval Single Barrel won a Gold Medal at the 2014 International Whiskey Competition. It's 94 proof and contains an ingredient bourbon fans might not be used to: millet (as well as the prerequisite corn). It's unique, delicious, and well worth a try.
Tasting Notes: This literal small batch (as opposed to some who claim that term without verifiable proof) bourbon is unfiltered smooth and rich in a way that makes you wonder why you were afraid to venture outside of Kentucky-based bourbons before. Notes of dried fruits, oak, and vanilla are prevalent, and it's all tied together with a subtle tobacco and caramel finish. –CO
Garrison Brothers' Texas Straight Small Batch Bourbon Whiskey, Texas
Story: If Balcones is the original Texas whiskey, then Garrison Brothers is the classic Texas outlaw. This family-owned brand doesn't like to play by the rules, and this has led to a legion of hardcore fans. It wants you to know that its bourbon is made in the "Lone Star State." It's even in the name. This small batch bourbon is even made from corn grown in its home of Hye, Texas.
Tasting Notes: This bold Texas whiskey is known for its rich, smooth, highly-sippable characteristics. In fact, the brand prides itself on these qualities. Made from food-grade corn, locally grown winter wheat, and two-row barley, this bourbon is complex with rich caramel and vanilla flavors as well as cinnamon and Christmas spice cake. It's perfectly suited for slow sipping on a front porch or back deck overlooking an amber sunset. –CO

EDITOR'S PICK: Burnside Oregon Oaked Bourbon
Story: This is a true American indie story, as Eastside Distilling has gone from a tiny startup in 2008 to a publicly traded company since 2018. Still, the products to come out of the Portland (OR) distillery — which, full disclosure, is only ten blocks from my mom's house — are crafted with care and without the lurking influence of a parent company.
This bourbon blend stands out, making use of lightly charred Oregon oak — enough to draw out sugars but without too much smoke or deep woodiness.
Tasting Notes: This bottle is about as close as you can get to rum in a whiskey. The vanilla notes are strong and highly resonant throughout the dram. You get a lot of stone fruits here — probably why I like to pair this one with 10-year aged Tillamook cheddar. At the end of the taste there's a certain minerality at play. For me, and again I'm biased, it leaves the sensation of water sipped straight from an Oregon stream as it cascades over the moss.
The other selling point: It's easy to manage for the novice and has enough fruit and vanilla to combo for a breezy old fashioned.
–SB