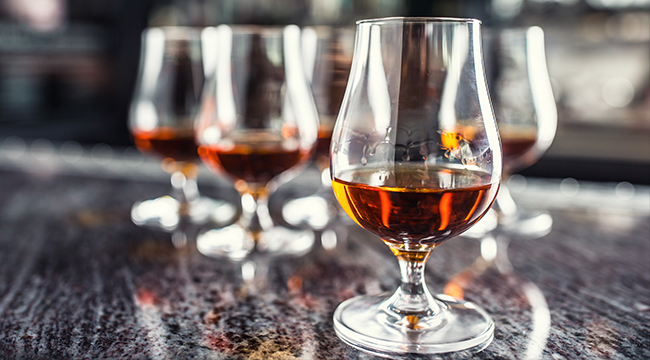 Even though applejack and Maryland rye whiskey might be older, there are few spirits more connected to the American-spirit and psyche than bourbon. Bourbon is as American as the designated hitter, apple pie, and Uncle Sam wrestling a bald eagle wearing jorts. And though it technically doesn't even have to be distilled and aged in Kentucky, its homegrown roots are impossible to deny.
Just because bourbon is pretty much America in a bottle doesn't mean that every drinker is born a rabid fan of the juice. It takes time to develop your palate and feel out your favorite bottles. Of course, you have to start somewhere. That's why we asked some of our favorite bartenders to tell us their go-to bourbons for novices.
Four Roses Yellow Label
Phil Testa, beverage manager at The Rickey in New York City
I would tell them to start off by drinking Four Roses Yellow. It's such a delicious bourbon that's decently priced and is balanced well-enough to offset the alcohol. The finish is super smooth and it mixes with anything. It can hold up in a complex cocktail but also mellows out in a spirit-forward cocktail to remind us all that we're drinking bourbon.
Super good, go get it.

Eagle Rare
Daniel Condliffe, bartender at JSix in San Diego
I would recommend grabbing a bottle of Eagle Rare out of Buffalo Trace. A staple in value bourbon drinking as well as being readily available and a great representation of the Buffalo Trace line. This mooth drinking bourbon taps into all the flavors of a well-rounded whiskey.
Bulleit
Laura Mitchell, bar lead at BEER PARK in Las Vegas
Bulleit Bourbon is a smooth, easy starter bourbon whiskey. You can enjoy it straight up, in an old fashioned or mixed with ginger ale. They will all taste yummy and won't give you that dreaded, cheap liquor hangover.
Blanton's
Ilan Chartor, spiritual advisor at KYU in Miami
I would tell a bourbon novice to buy Blanton's Bourbon because its affordable, great juice, comes from a great distillery, and has won tons of awards.
Four Roses Small Batch
Evan Danielson, beverage director at City Winery in Nashville
Four Roses Small Batch is an awesome bourbon and displays a lot of classic bourbon flavors. I find it's a great intro to the bourbon world and a few solid clicks up from bottom-shelf whiskey.

Hudson Baby Bourbon
Nikki McCutcheon, beverage director at Magic Hour Rooftop Bar & Lounge in New York City
I would tell them to check out Hudson Baby Bourbon, it's a local whiskey that drinks really great and competes with a lot of the bigger well-known brands. Hudson's Bourbon is also versatile in that its affordability and quality make it great for drinking solo neat or on the rocks but also mixing in cocktails.
Maker's Mark
Eva L. Caló, head bartender at Officine Buona Forchetta in San Diego
My favorite beginner bourbon is Maker's Mark. It's not too expensive but has a great smooth taste, is easily mixable. It's my favorite for Old Fashioneds.
Knob Creek
Darren Fabian, national beverage manager for Moxie's Grill & Bar
If I was to tell a novice bourbon drinker to purchase one bottle, it would be a solid, classic bourbon like Knob Creek. It's great straight and mixes very well.
Russell's Reserve 10-Year
Josh Cameron, head bartender at Boulton & Watt in New York City
Every chance I get, I introduce drinkers, novice and pro alike, to Russell's Reserve 10 Year Bourbon. Even this past weekend I introduced the juice to my friends' parents, and they were floored. It is such a great, all around, strong, drinker's bourbon. It may be the only bottle you need.

Buffalo Trace
Sarah LM Mengoni of Double Take in Los Angeles
Buffalo Trace. It's yummy to drink on its own but is also versatile in cocktails. It's sold at a price that isn't scary to somebody not wanting to put a bunch of money on something they aren't sure if they like.