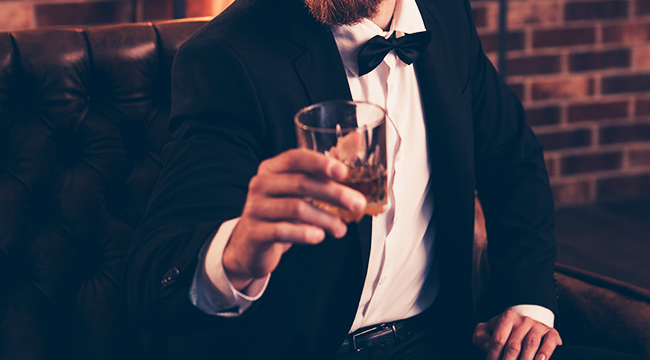 This article has been republished because it's winter and we're all sipping whiskey.
Whiskey is timeless. The popularity of the drink has risen and fallen over the centuries but, man oh man, has it reached a fever pitch. That means there's a lot of a great whisk(e)y on the market right now. Naturally, there's lots of cheap stuff in the mix — much of which will surprise you with its complexity and all of which is sure to get the job done. But there are also some very expensive bottles gracing shelves. Whiskeys that create an entire experience with every sip.
Below we've compiled a short list of ten bottles of whiskey — all priced over $50 — that are totally worth the outlay of cash. If you're going to drop some coin on whiskey, don't go just for labels. Find one of these bottles, they're all worth hunting down.
Peerless Kentucky Straight Rye Whiskey Barrel Proof
There's an earthiness to Peerless that hinges on an almost high-desert aromatic spice. The peppery rye is so smooth and fascinating that you'll stop worrying about the $100-plus price tag almost immediately.
The spice gives way to a smooth maple, burnt brown sugar, and a whisper of citrus. It's complex, to say the least. More simply, it's a delicious drink that's perfect as a neat sip or a killer Sazerac.
Belle Meade Bourbon 9-year Sherry Finish
Belle Meade — from Nelson's Green Brier — is a fantastic bourbon on its own. Lately, the master distillers have been experimenting with their whiskeys by aging them in an array of casks from sherry to port to Madeira.
The results have been stellar. One of our favorites is their 9-year-old Sherry Finish Bourbons. The subtle sweetness of the sherry infuses itself into the meaty bourbon. You'll get a real sense of Spanish sunshine alongside the bold corn-fueled Tennessee distillate which has an almost grassy edge.
This is the perfect sipping whiskey for the end of the day.