Name a better side order than French fries. Go ahead, we'll wait. Still nothing? Yeah, we're not surprised, because nothing beats French fries — they're the quintessential fast food side order. That's why just about every fast food brand (even Taco Bell, when they feel like it) has French fries on the menu. That and the fact that potatoes are dirt cheap and freeze easily.
Since our favorite part of a fast food meal is often the fries, we've written about French fries a lot. We've ranked as many as we could, we've sought out the best-dressed fries and we've argued about whether or not In-N-Out's spuds are good or not. We've even made fries — a couple of different ways. But the one thing we haven't done is put fast food French fries to a blind taste test.
Until today! We're pitting five of the most famous fast food French fries against each other (blind!) to see which are the best and which fries should never be ordered by human beings ever. Does that sound harsh? Good! If a fast food brand f*cks up fries — the easiest food ever (you need potatoes, hot oil, salt, and literally nothing else) — then that's a big red flag. Let's get into it!
PART I — Methodology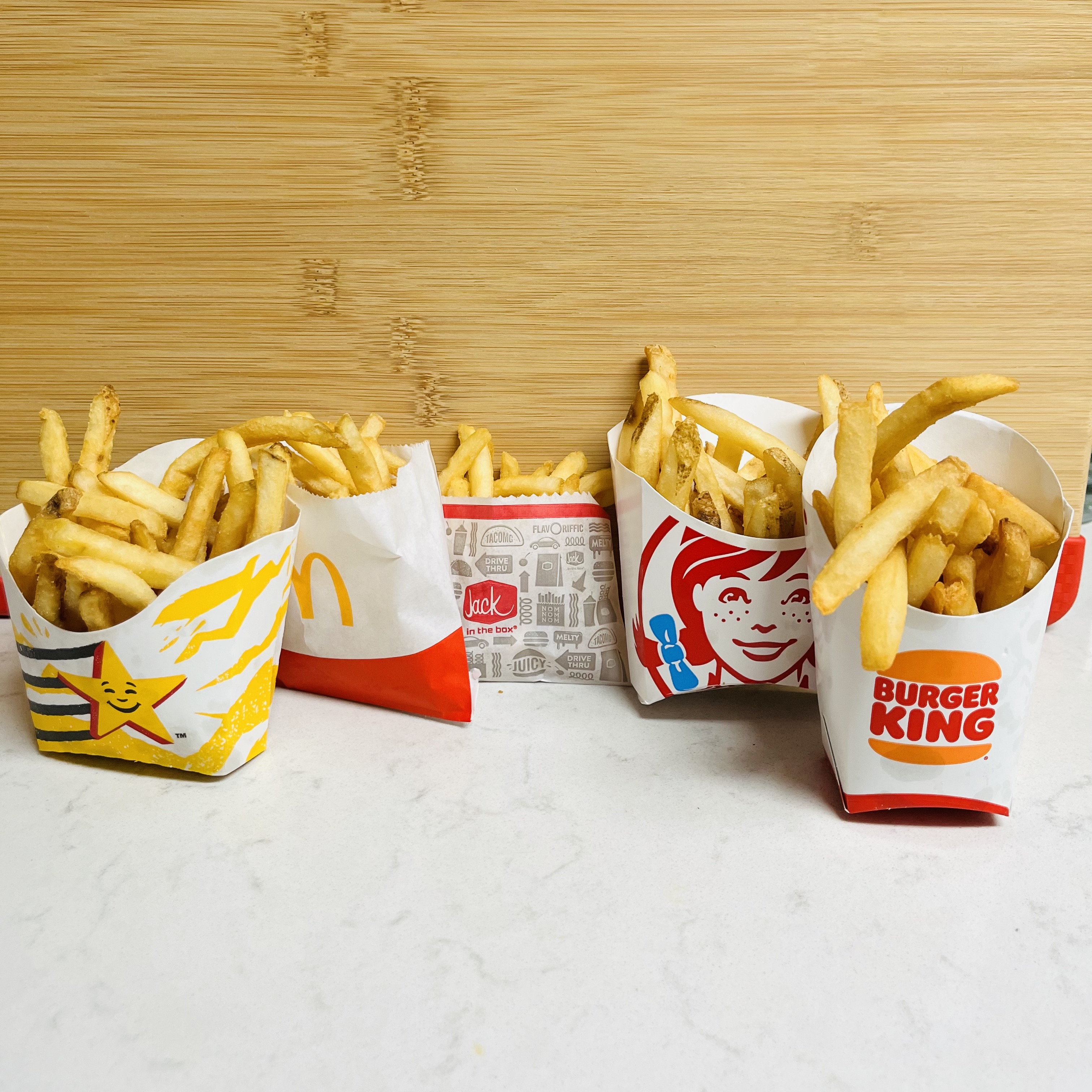 Because the fast food universe has a lot of different types of French fries — you've got salted fries, seasoned fries (curly, cajun, Rally's), and the natural sort you'd find at fast-casual spots — we decided to filter it down to the most famous form, salted. I'm obsessed with making these blind taste tests as fair as possible and since I live in a place where a Carl's Jr, McDonald's, Burger King, Wendy's, and Jack in the Box are all relatively close to each other (hell, I live in hell), I knew I could pick up all five French fries and test them without them getting too cold.
Have you ever had French fries cold? They're inedible! Four of these fast food restaurants are across the street from one another, making this test easy, but Wendy's was the exception. So I drove to my nearest Wendy's, placed an order for a small fry, alerted my girlfriend to hit up Carl's Jr, Jack in the Box, McDonald's, and Burger King (all ordered simultaneously via each brand's app), and meet me back at home. From when I left my apartment to when we arrived back in my kitchen, 15 minutes had passed (beat that Uber, Door Dash, and Postmates — which all take an average of 45 minutes for some reason). Each bag was still warm.
I had my girlfriend serve me one random plate of fries at a time, ate a handful, and moved on to the next plate (I also mixed all the fries together at the end into a single bag, and ate them all. This was a bad idea, unfortunately). Anyway, here are the results"
PART II — The Tasting
Taste 1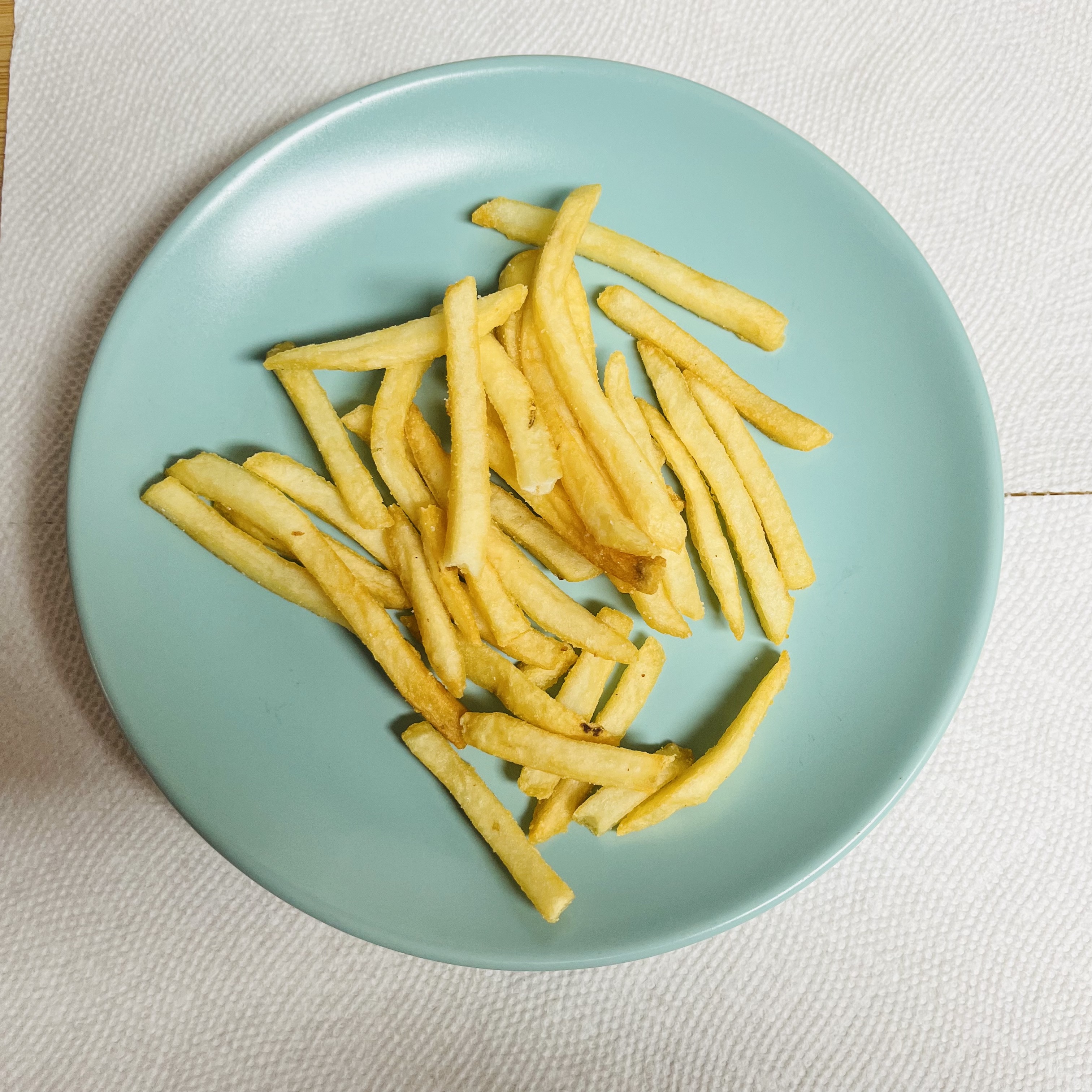 God damn, I love French fries. These fries are perfectly salted, bright, and crispy. The outer portion of the fry provides the right amount of crunch, and the inside of the fry is soft, fluffy and flavorful. They're the sort of fries you can eat without any sort of dipping sauce.
Taste 2
Eck, texture like cardboard. These fries have a sort of dirty flavor to them, like the skin wasn't properly scrubbed, and have a strange stale aftertaste that sits on the tongue. They are in desperate need of some sauce.
Not inedible, but aside from the dirt flavor, way too bland to be enjoyable.
Taste 3
Addicting. These fries offer a similar experience to Taste 1, they're crispy on the outside and fluffy on the inside, but there is just something about the flavor here that tastes elevated. There is a sort of buttery aftertaste on the back end and a tinge of sweetness that hovers just above the primarily salty flavor. I could not stop eating these, I didn't want to give up the plate.
Taste 4
Taste 4 offers what I think Taste 2 was trying to go for but failed at — a natural flavor. These French fries taste like someone actually cut a potato in-house and fried them soon after. They don't have that neutral flavor that peeled fries have, I'm getting a lot of earthy bitterness… but in the best way.
These fries are also a bit thicker than the others, I'm tasting a lot more potato here overall but they can't quite hit the heights of Taste 3. These are very good, but not addicting.
Taste 5
I had my girlfriend try a few of these because I thought my taste buds were fried. I drank water between bites and even had some sips of soda and I've come to the conclusion that these are absolutely flavorless (she confirmed). All I'm tasting is straight oil! All this fry offers is texture, they're crunchy on the outside and mushy on the inside, like someone breaded mashed potatoes in cornstarch.
If you love mashed potatoes that might sound good to you, mashed potatoes are great, but these fries don't have any of that buttery and creamy mashed potato flavor, just the texture. Fries should be fluffy inside, not mushy. I wish I could say these taste bad, because I don't like them, but they simply don't taste like anything.
PART III — The Ranking
5. Burger King (Taste 5)
If you've ever had Burger King this shouldn't come as a surprise to you. Burger King sucks. I'm sorry to say that — though I'm not really sorry to anyone because there's no one who likes Burger King enough to be bothered by me saying "Burger King sucks."
Anyway, Burger King fries generally have one of two problems — either they're over-salted to the point of burning off your taste buds or they aren't salted at all and therefore taste like nothing. With this trip to BK, I got the latter. I'm not sure which I would've preferred.
The Bottom Line
This blind taste test's worst French fries and quite possibly the worst fast food French fries of all time.
Find your nearest Burger King here.
4. Wendy's (Taste 2)
Wendy's is having a bit of an identity crisis when it comes to its French fries. Most recently the chain launched a new recipe of fries they call "Hot and Crispy," and claimed that the fries would hold up in heat and flavor longer than the competition. We took that claim to the test and didn't find them to be particularly enjoyable after 20 minutes or so.
There is also no consistency with these fries, in my experience, sometimes they taste good, and sometimes they just don't. For this blind taste test, I got a set that tasted particularly dirty. Maybe that was the oil, perhaps the fries were sitting around for too long under the heat lamp, maybe the quality of the potatoes just wasn't very good — I'm not sure, but what I can tell you is that if you get fries from Wendy's, you never really know what you're going to get. And for that, it's going to have to rank fourth.
The Bottom Line
In-consistent, bitter, and dirty tasting.
Find your nearest Wendy's here.
3. Jack in the Box (Taste 1)
I was surprised by how highly Jack in the Box ranked, I almost gave this one the second-place spot. They have that same bright and buttery taste that makes McDonald's famous, but they taste a little bit too much like oil. Still, it's very hard to not enjoy these and whether you like them or not will come down to how much you're turned off by greasy fries.
For me, the greasier the better! If only Jack in the Box fried these in quality oil (doesn't have to be peanut, but at least clean it out every few hours) they'd have something truly magical on their hands.
The Bottom Line
If you always reach for the curly fries instead, give the salted fries a chance, they're better than you remember. While it ranked third, this was the biggest surprise of this blind taste test. I've been sleeping on JiB.
Find your nearest Jack in the Box here.
2. Carl's Jr. (Taste 4)
Carl's Jr. gets the award for having the most natural-tasting fries in fast food. These taste like real potatoes in the best way possible. They're earthy, salty, fluffy, and perfectly crispy on the outside. I've long been a fan of Carl's Jr's criss-cut fries, but after having the Natural Cut I may have to switch over permanently.
These don't hold a candle to our number one spot, but depending on what you look for in French fries, these can easily be your personal favorite.
The Bottom Line
The most natural-tasting fries in fast food. If you want your French fries to have a bit of that bitter and earthy skin-on flavor, this is your best bet.
Find your nearest Carl's Jr. here.
1. McDonald's (Taste 3)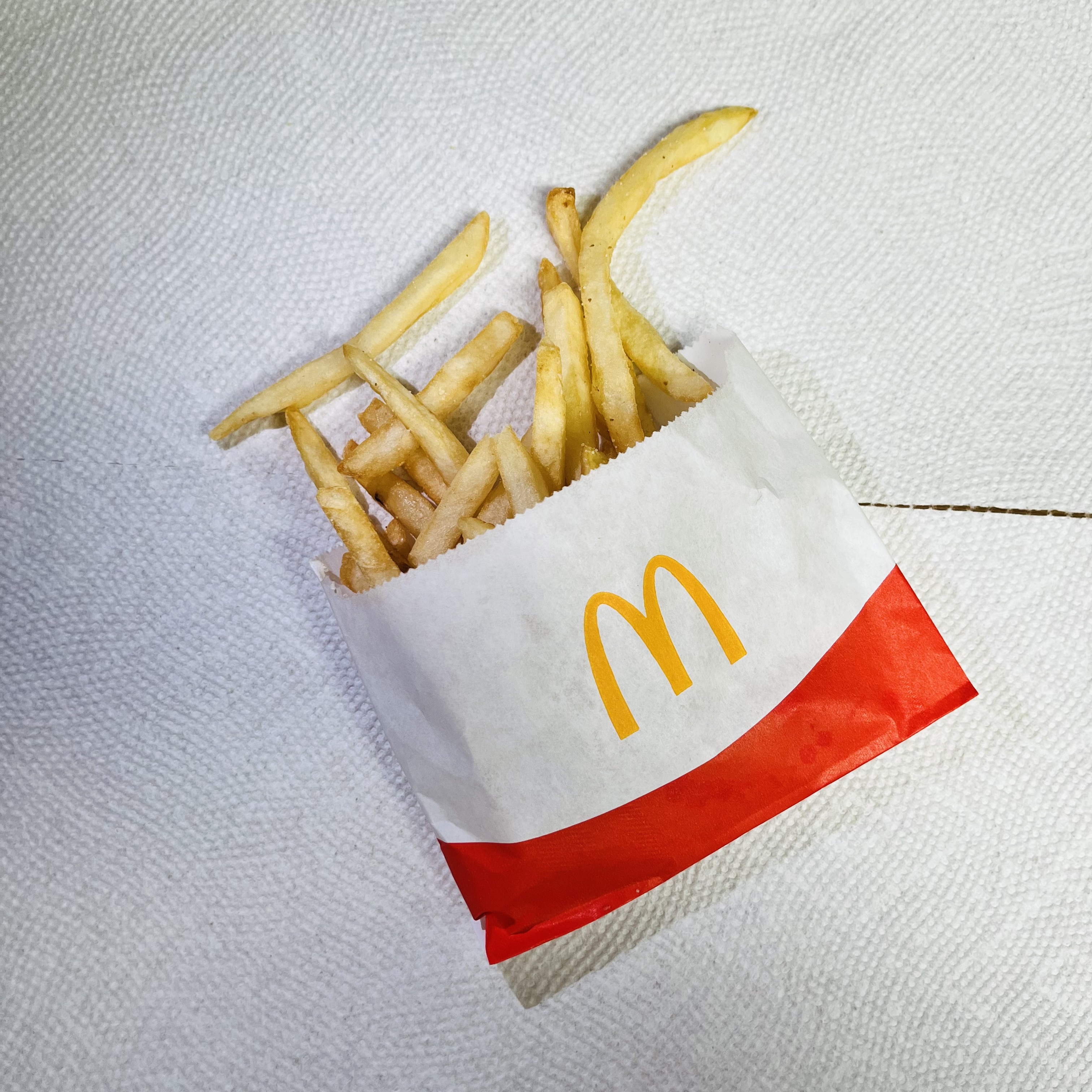 It feels a bit basic to give McDonald's the number one spot but the blind taste test made it clear as day. These are far and above the best French fries you can get from a drive-thru. I don't know what McDonald's is doing to their fries to make them so addicting (I suspect it's a pinch of sugar???) but whatever they're doing… it's working.
It's telling that of the five fast food chains we tasted in this blind taste test, McDonald's is the only one that hasn't really changed their French fry recipe. Sure, there was a time when McDonald's fried their potatoes in beef tallow, and we desperately long for those days, but aside from that, they haven't f*cked with the recipe at all. Even with the rise of fast-casual chains like Five Guys — a brand so serious about their potatoes that they list what farms they come from daily — McDonald's has stayed unwavering in its fry recipe.
These fries didn't just land the number one spot, they absolutely dunked on the four other tastings. I didn't know it was McDonald's when I tasted it blind, but it didn't surprise me that it landed at number one.
The Bottom Line
McDonald's is the sort of place you eat at for the fries. Even the burgers and nuggets don't have anything on these golden spears of perfection. The real question is, how do these fries stack up against a place like Five Guys? We'll let you know when we put them head to head.
Find your nearest McDonald's here.