Here at Uproxx, we spend a whole lot of time thinking and arguing about French fries. And it's no wonder: Fries are delicious (certified hot take!). We recommend you eat them as often as possible, at least as much is appropriate… if not slightly more. All you need is a dash of salt and pepper and your fried potato is ready to stuff into your face.
Of course, every experience that's "good" can stand to be made great. Some people like to dip fries in condiments, others dunk them in milkshakes. But why just dip a single fry when you can douse a whole tray of them in cheese, bacon, and sauce? Slather them in chili! Pile them with peppers! In a world where pain is ever-present, why limit your fry joy? Go big or go home, we always say.
Today we will be ranking dressed fries. Our metric is Desiigner rocking a salmon suit at the VMAs. Get it? Best. Dressed. Fries. Stay with us, fam, and get ready for bickering in the comments.
7. Shake Shack – Cheese Fries
https://www.instagram.com/p/BeWeYjmnGMf/?hl=en&taken-at=424081172
The fries at Shake Shack are puzzling to us. On one hand, Shake Shack is obviously an establishment that values flavor and quality, but that somehow doesn't extend to their fry game. Shake Shack uses fries of the frozen crinkle-cut variety and they taste just like market brand Ora Ida. They're crispy and golden brown on the outside and radioactively greasy and hot on the inside.
To add insult to injury, Shake Shack thought they'd pour some 'cheese sauce' all over these basic-ass-Frenchies and call it a day. Sure, you can add bacon to them and — as always — the bacon does make the whole experience better. But it's simply not enough. They look as unappetizing as they taste.
SCORE: 1 Desiigner in a salmon suit at the VMAs

We bet Shake Shack never thought any of their food would make it to the bottom of a ranking. Maybe it's this brand of smugness and self satisfaction that got them into this mess in the first place.

6. Wendy's – Baconator Fries
Wendy's Baconator Fries are good, but a little misleading. When one hears the name "Baconator" we imagine a Schwarzenegger sized mountain of bacon is involved. Wendy's Baconator Fries have maybe one single strip of bacon atop a tray of fries and nacho-cheese sauce. And that strip of bacon is good — but we want more, much much more. Wendy's bacon appears broken by hand. This may sound unappealing to you, but it ensures all of the juicy rendered fat (the flavor) of the bacon is kept intact.
Still, as delicious as Wendy's sea-salt fries are, the combination of bacon, fries, and cheese sauce leave you with a dish that's too salty.
SCORE 2 Desiigners in a salmon suit at the VMAs
It might be a good idea to ask for this dish with salt-free fries. It sounds like an annoying request but not only will it make your Baconator Fries much better, it ensures that you get them fresh from the fryer. Double win.
5. Jack In The Box – Bacon-Cheddar Potato Wedges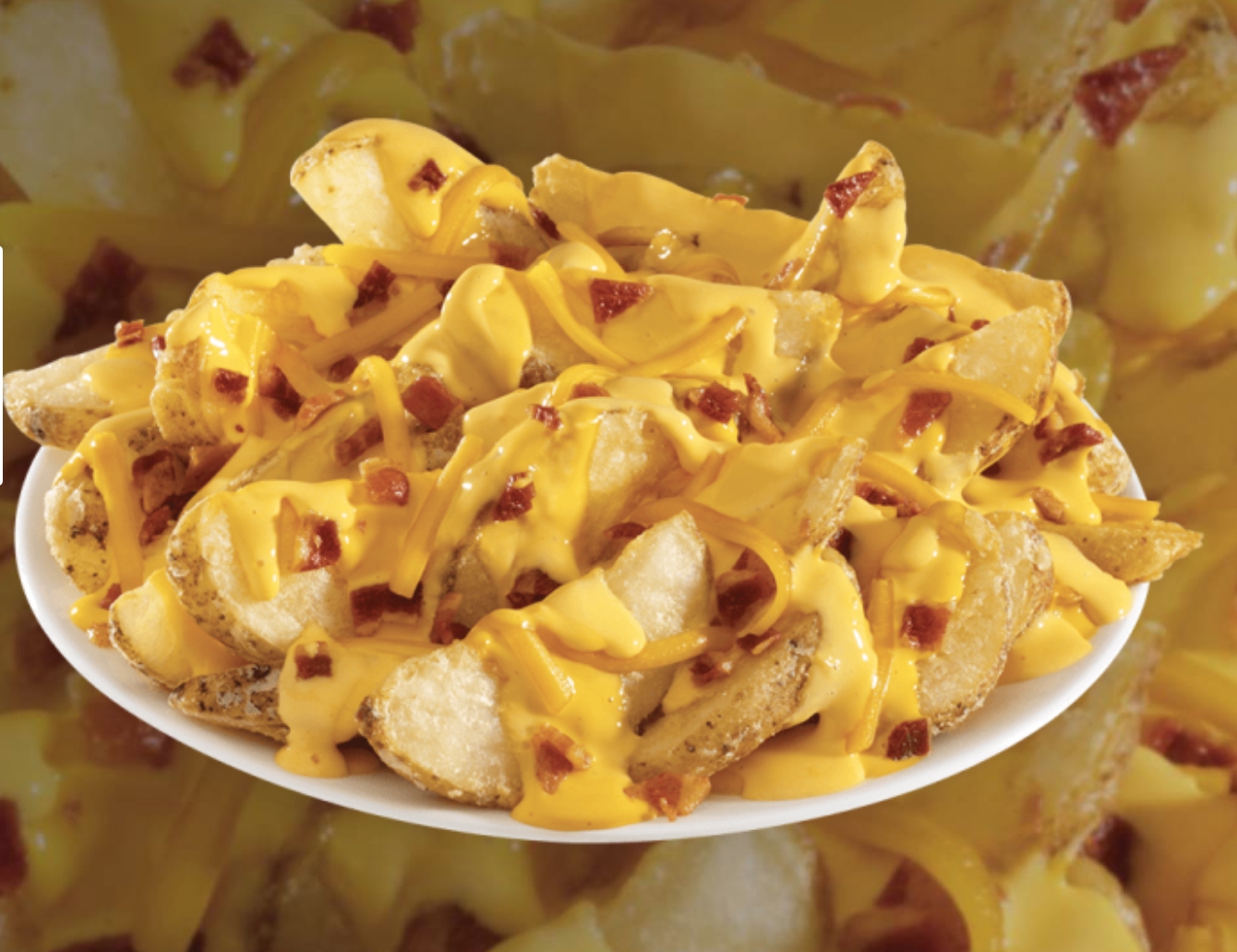 It is almost impossible to find a good picture of Jack In The Box's Bacon-Cheddar Potato Wedges. Even on their Instagram they won't photograph the fries alone. That's because they look pretty disgusting. The above photo from Jack in The Box's website is misleading, as the fries are almost always a mess. The box they come in is slippery and greasy and the combination of glowing cheddar cheese atop cheese-sauce and laughably small bacon bits just doesn't look appetizing.
But god damn are they delicious. Jack in the Box made the wise decision of not just throwing their regular fries into a tray and showering them in cheese. They went the extra mile by giving this menu item its very own variety of fried potato — the potato wedge. Thick and fluffy and structurally sound enough to handle the weight of cheese sauce, the Bacon-Cheddar Potato Wedges are fantastic. If only someone at Jack in the Box could make them look as good as they taste.
SCORE: 3 Desiigners in a salmon suit at the VMAs
We wish a few of the other establishments on this list would go the extra mile by changing up the fries they use for their loaded fry options. If Jack in the Box put as much effort into their bacon as they do crafting bizarre stoner-combination meals they'd find themselves even higher on this list.
4. Arby's – Loaded Curly Fries
Arby's Loaded Curly Fries are a straight-up flavor bomb. Crispy battered seasoned curly fries, with cheddar cheese and cheese sauce, bacon and, get this, ranch make every bite of these fries cause a full-on dance party of the taste buds. Arby's know they're bad for you, they just don't care and they're going as hard as possible on these fries.
The ranch compliments the bacon and cheese sauce really well, setting it apart from the competition by adding that extra little complexity of flavor. But it's Arby's curly fries that really steal the show, with their extra crispy exterior and savory flavor profile.
SCORE: 3.5 Desiigners in a salmon suit at the VMAs

While we'd like to see Arby's incorporate some of their other meat options to this plate, it's hard to find a lot to complain about here. Eat these fries and prepare to immediately pass out, they take quite a toll on the body.

3. Sonic – Chili-Cheese Fries
Messy and full of flavor, when it comes to fast food chain french fries Sonic's Chili-Cheese fries are some of the best. They offer multiple sizes, which is nice if you want just a taste of chili-cheese fries and don't want to make the dish the centerpiece of your meal.
Our biggest gripe with these fries is that they go heavier on the cheese than chili, but that's only because the chili is so good. A nice level of heat is delivered with every bite and the crispy fries hold up quite well, despite the absolute mess that is chili cheese fries. Like Jack in The Box's Bacon Cheddar Potato Wedges, it's almost impossible to take a flattering picture of chili-cheese fries but that doesn't stop true fans of the messy dish from indulging in all the goodness.
SCORE: 4 Desiigners in a salmon suit at the VMAs

An absolute mess but the effort here is astounding. This is what we expect when we hear the words 'dressed fries.' Sonic didn't just pour some cheese on their fries and call it a day.
2. In-N-Out – Animal Style Fries
Everybody knows, like Shake Shack, the fries at In-N-Out are lackluster. While the company wisely opts for fresh potatoes over frozen, they still fail to have almost any redeeming qualities. Yet In-N-Out routinely ranks highly amongst fast-food rankings, despite having so few menu options.
That's because people know Animal Style Fries are where it's at. A tray of french fries under layers of melted American cheese, grilled onions, and In n Out's housemade spread make an item that is almost as legendary as the burgers themselves, despite being relegated to 'secret-menu' status. The combination of flavors and sensations leave you reaching for fork-full after fork-full of hot and fresh fries. Pro tip: You can add peppers to your Animal Style Fries. Get them chopped — it takes the fries to a whole new stratosphere of flavor, adding a bite of spice and upping the complexity.
SCORE: 4.5 Desiigners in a salmon suit at the VMAs
If you could order your burger chopped up on top, this would be an easy win. Someone try it and report back.
1. Burger City Grill – City Style Fries
Burger City Grill is a small-chain in southern California but it's unlikely to stay small for long. Burger City Grill's fries are very similar to In n Out's in flavor, but an added thickness makes them much more enjoyable, and if you get them 'city-style' you can load them up with applewood smoked bacon, cherry pepper relish, BCG's own spread mix, grilled onions, chopped jalapenos, avocado, mushrooms, chorizo, or any of their six cheese options.
Burger City Grill is taking the loaded fries game to the next level, and we love this degree of customization. Not only do 'city style' fries make a great meal themselves, but they're also perfect for sharing, which can't be said for a lot of the dishes on this list. They have a slight edge over In-N-Out because of the bacon and wide-range of different combinations. Get as creative as your imagination will allow, but be sure to take pictures because we want to see!
SCORE: 5 Desiigners in a salmon suit at the VMAs.

This is a dumb homer pick, but we predict Burger City Grill ends up expanding soon.
Bonus Entry: Carne Asada Fries
It's not fair to include these on this list, but at the same time, we'd feel wrong if we didn't. We can't point to any specific place to order Carne Asada Fries, they're available at a lot of Mexican-food establishments and we wouldn't want to pick a non-chain that our readers might not get the chance to experience. But if you're ever so lucky to see carne asada fries on a menu, get them, they're delicious.
French fries, beans, carne asada, cilantro, onions, guacamole, sour cream, salsa — this is where it's at. A million Desiigners at the VMAs.