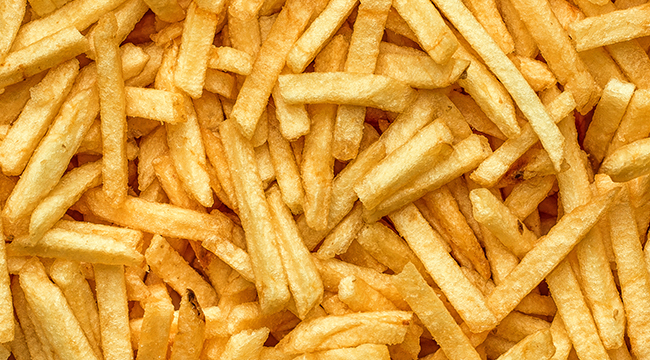 French fries are probably the best side there is. There's a bewitching pull to that combination of salt, fat, starch, and crispiness. However, fries are usually ordered and rarely made (from scratch) at home. Why? Well, first of all, it's the world's easiest food to share at a restaurant as a snack. So, there's that. But also, making french fries at home is a pain in the ass.
Cooking fries at home takes a lot more effort than just julienning some potatoes and throwing them into oil until they're brown (if you do that, by the way, you'll get soggy sticks of potato). An order of fries will take you, conservatively, an hour or more to make. That's not something that's exactly practical after you've spent the day working and just want to tuck into some comfort food.
Cooking french fries takes time, a little skill, and patience. That's why we'd say to save this recipe for the weekend when you can have fun making it and take the time you need to do it right. When you do, you'll have a basket of french fries that'll best every fast food french fry out there and rival the best fries from any restaurant.
I: Ingredients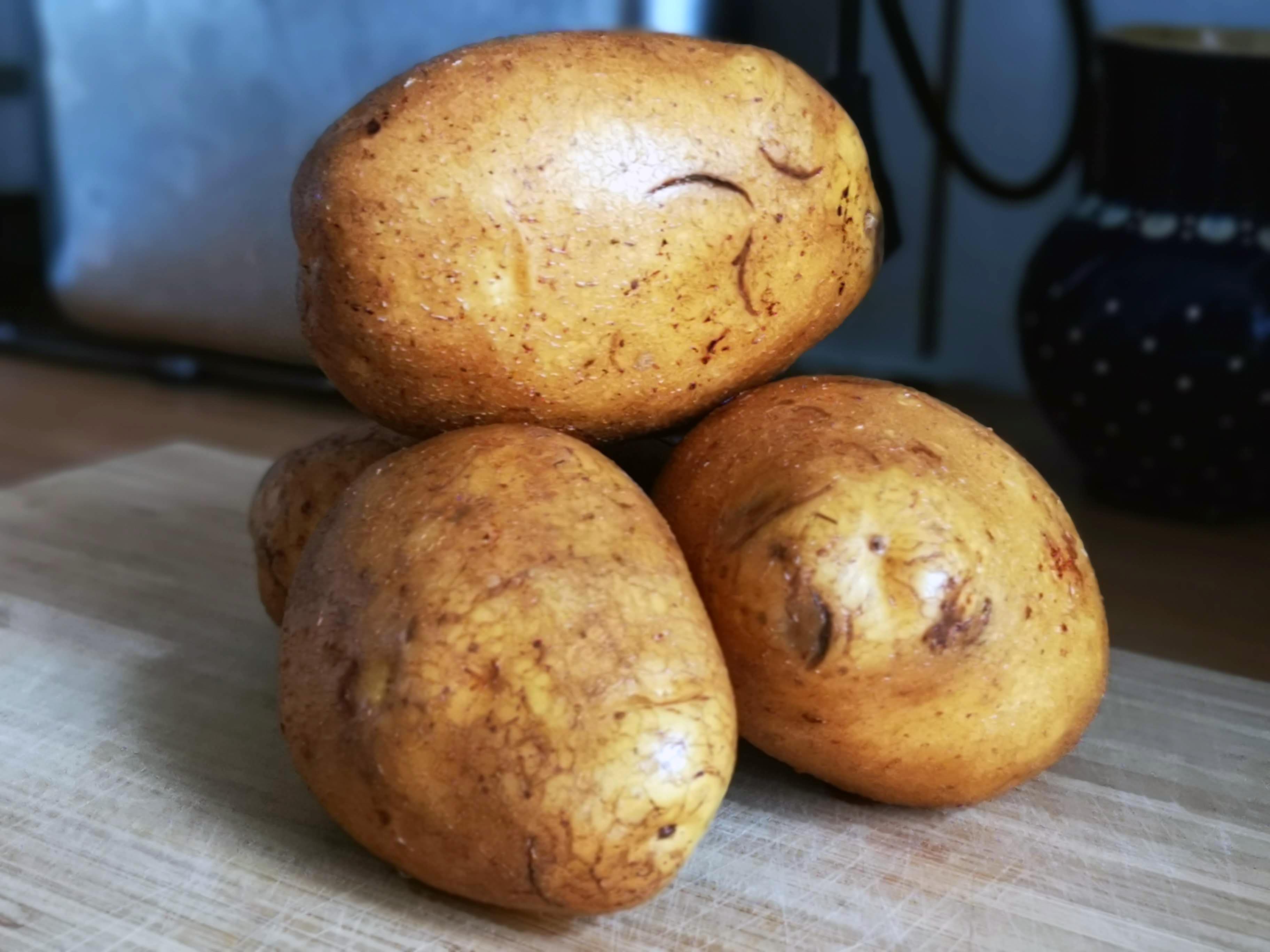 Potato choice is key here. Russet Burbanks are the best play. In a pinch, you can also use Maris Pipers — those are large white potatoes. I'm using Russets. Basically, you want three medium-sized potatoes for two full baskets of fries.
You'll also need fat. I'm using peanut oil, mostly because that's what a lot of old-school steak frites places use and I like the taste (it keeps things vegan too). It's also less expensive than beef tallow or duck fat. My recommendation, use peanut oil first and then start experimenting with the animal fats once you've dialed in your fry. That way you're not wasting perfectly good (and expensive) animal fats on trail runs.
Of course, you'll also need a high-quality salt. I'm using a nice Alpine Salt here with a medium to fine grind. Lastly, I grab some Kewpie Mayonaisse and Sambal Olek for my dipping sauce.
II: Prep
Scrub the potatoes to assure all the dirt is off the skins. I like to keep the skins on as a nod to my hometown fast food chain, Ivar's. Their fries are the best in the game (if you ask me).
I use a chef's knife to julienne (French cut) the potatoes. I like my fries a little on the thick side. So I cut 1/2-inch wide disks length-wise along the potato. I then lay the disk flat and cut about 1/2-inch sticks. It's a pont-neuf cut if you want to get super technical and French about it (and these are french fries so, why not?). I repeat that process with three potatoes.
Side note: I'd argue that when you're making french fries at home, you don't want to go under 1/4-inch width (batonnet cut). Any smaller than that and you'll need to use a different cooking method than what we're talking about here.
Next, I fill a large bowl with cold water and a good punch of salt. I drop my potato "pont neufs" into the bowl and use my hands to stir them around a bit.
Then, it rests. I tend to keep the potato in the water for a minimum of 30 minutes. What you're doing here is drawing out excess starch. If there's too much starch, it'll hold too much fat. That equals soggy, listless fries. Nobody wants that.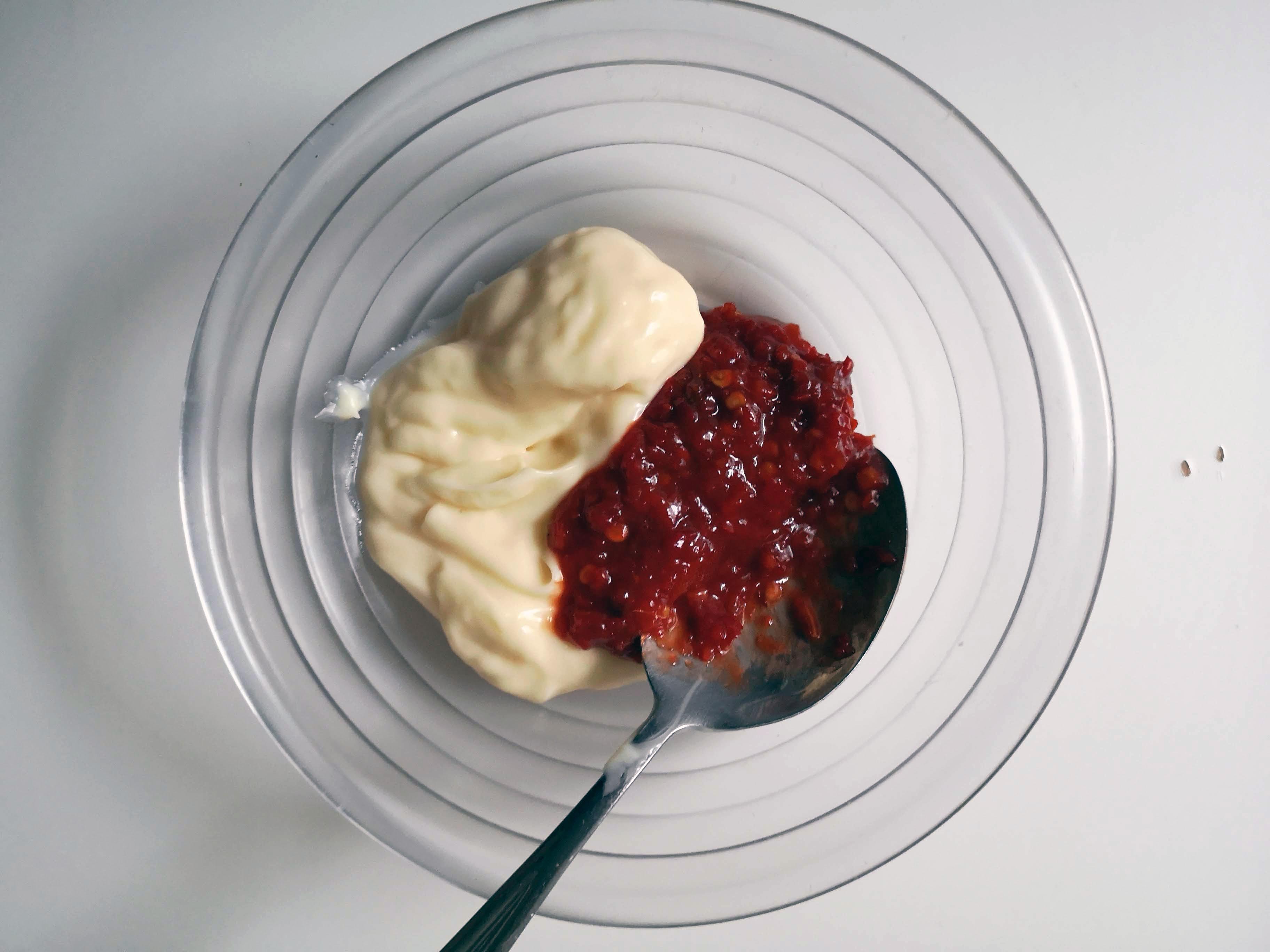 While that's sitting, I make my dipping sauce. You do you here. Ketchup, great. Mayo, all the better. Barbecue sauce, dope. I'm mixing a tablespoon each of Kewpie Mayo and Sambal Olek. This will give the dipping sauce a tangy funk with a solid level of heat. I mix it in a bowl I can put a lid on. Then I place the dipping sauce in the fridge to let it settle while I make the fries.
After about 45 minutes, I drain off the water and fold a towel under the potatoes to seep up the rest of the water and pat dry the sticks. They're ready to cook!
III. Cook
You want to blanch your fries at 260f for ten minutes. I would recommend buying a high-heat safe thermometer so you're not guessing your temp. This low cooking temperature allows the fries to thoroughly cook without browning them.
Important: You can't just dump your fries in the oil and walk away. I put in half of the fries and immediately give the wok a little shake. Every minute or so, I come back to the wok and use my slotted spoon to jiggle the fries. If you leave them to sit, they'll start to stick together.
While this is cooking, I get my french fry baskets ready for serving. That's basically just a red fry basket with a piece of white food paper placed in it. Whatever you're serving your fries on, have it ready to go.
After ten minutes, I use the slotted spoon to scoop the fries onto a baking sheet that I've lined with a new towel. Don't stack the fries, make a layer. I set that aside and start the ten-minute cook on the second half of that batch.
So, all the fries have been blanched. They're cooked but still soft. I heat my oil up to 340f. Once I hit the sweet spot, I add half of the fries back into the oil for another five minutes (you'll need to dial this into your desired level of doneness).
Again, give the wok a little shake and use the slotted spoon every minute-or-so to move the fries around a bit. You should feel them getting crispy after a minute.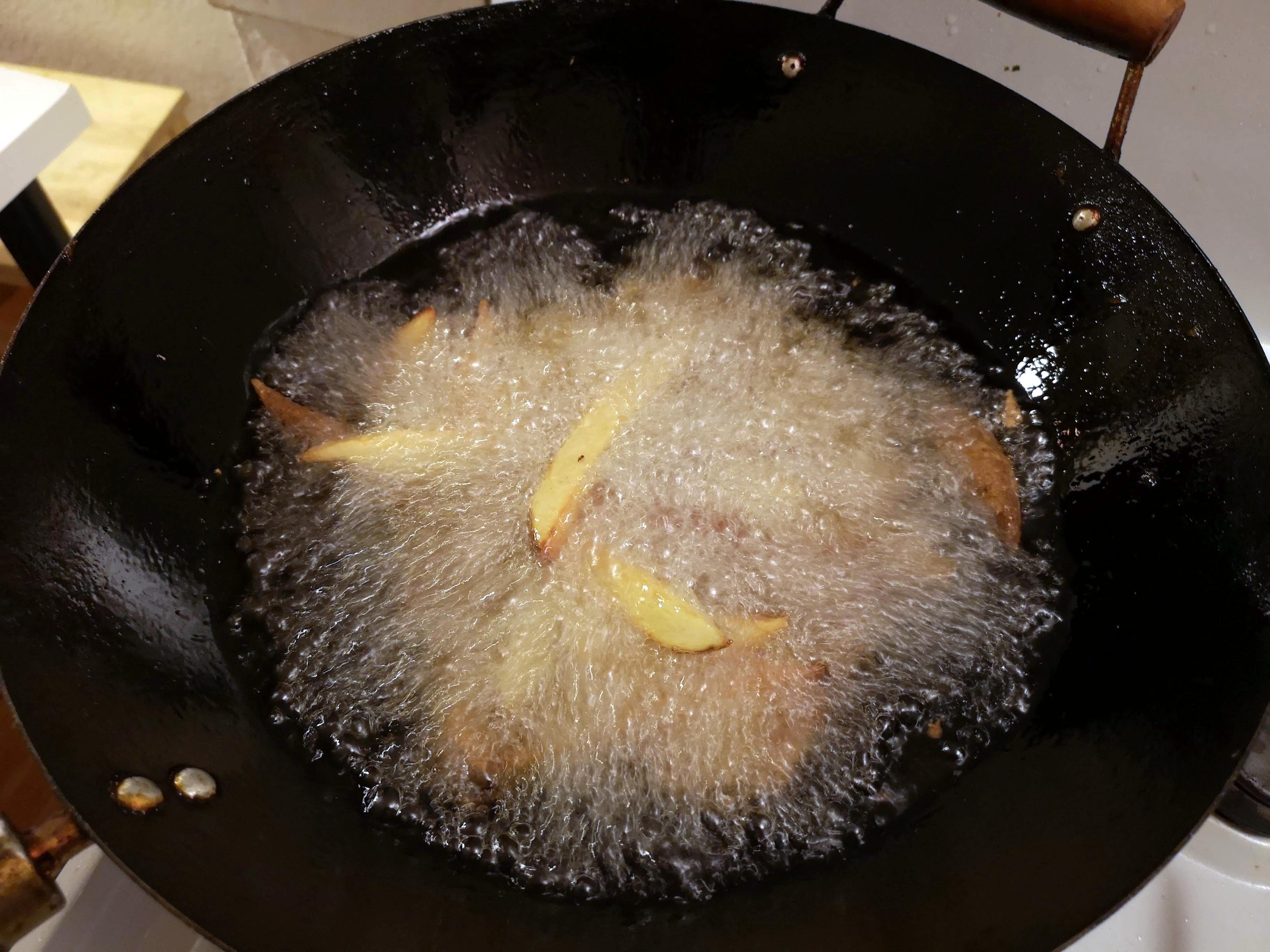 After five minutes, the fries are a nice golden brown (the way I like them). I use the slotted spoon to transfer them back to the bowl, this time with a fresh towel in there. Put the second half of the fries in right away.
Remove the towel within a few seconds (it's there to grab just a bit of the excess fat, not all of it). Then hold the bowl fairly low below your waist in one hand and sprinkle salt from well above with the other hand. While you're sprinkling the salt, toss the fries in the bowl. This will give you a nice and even distribution of salt. The fries should have a crisp, loud rumble while you toss.
IV. Serve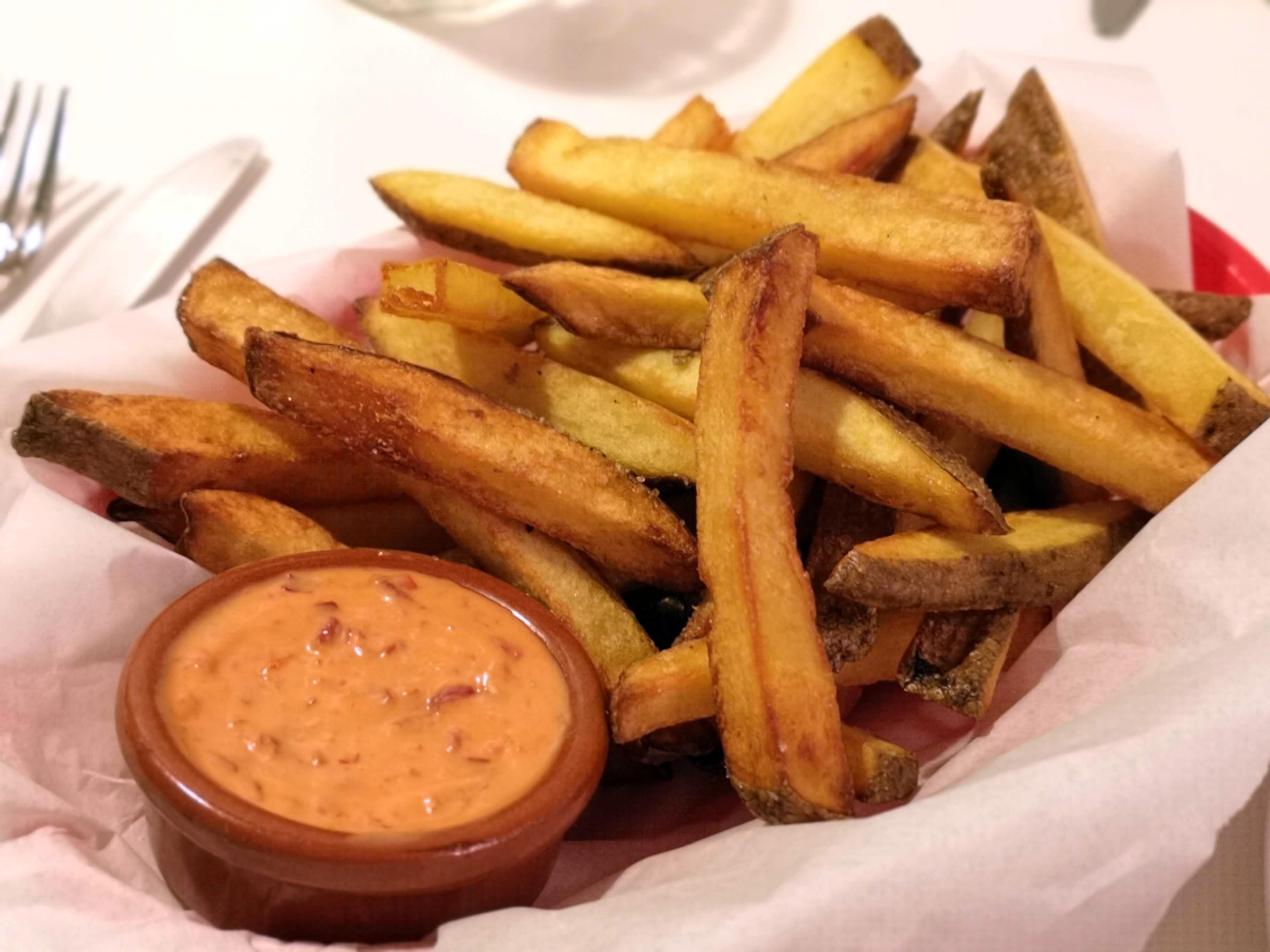 I fill a ramekin with my well-rested dipping sauce and fill up a basket with the fries. Done! The next batch of fries comes out and I repeat the salting process and fill another basket with the fries. In the end, this easily feeds four people.
The fries have a glorious crispy exterior with a soft and subtle starch interior. There was a nice sense of fat stabilized by a good dose of salt, and they're crisp — with no sogginess at all. These were damn good fries and disappeared very quickly from the table.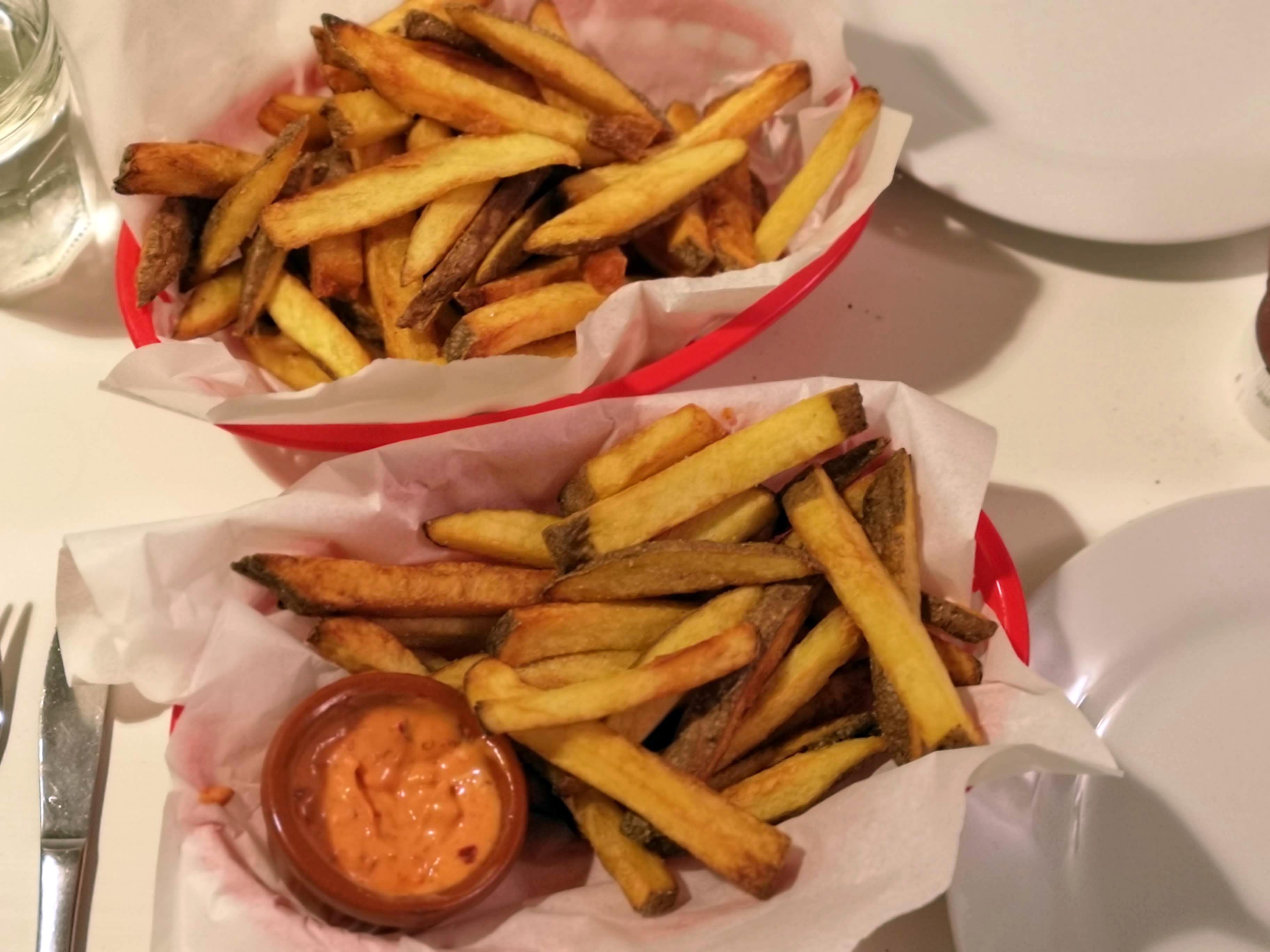 Shopping List:
Three to four medium-sized Organic Russet Burbanks
One quart Peanut Oil
High-Quality Salt
Kewpie Mayonnaise
Sambal Olek
Kitchen List:
Cutting Board
Chef's Knife
Large Bowl
Three Kitchen Towels
Slotted Spoon
Wok (or large, heavy-bottomed braising pot)
Thermometer
Cookie Sheet
Bowl with a Lid
Spoon
Plate or Basket
Ramekin