The dry martini is one of the simplest cocktail recipes in existence. Of course, it now has endless variations — many of them quite good. But that essential recipe is very basic. It's a mix of dry gin and dry vermouth with a touch of bitters, and a spritz of lemon oils, served deeply chilled.
That's really it. But finding the right balance of these core ingredients is what makes or breaks a stellar dry martini. A little too much dry vermouth and you have an overly sweet martini. Not enough lemon oil and you're left with a bland glass of cold gin. There is an art to it all.
To that end, I'm going all the way back to the first iteration of the recipe, from the early 19th century. There are two main tenets to the drink, as it was initially conceived. One, everything must be ice cold. That goes beyond the booze in the glass to literally pre-freezing all your bar tools and chilling the booze beforehand. Keeping things as cold as possible helps create a cleaner and more elevated experience that you get at a quality cocktail bar.
The other key aspect at play is the use of vermouth. Old-school recipes call for a small wash of vermouth that's discarded before the gin and bitters go into the glass. The vermouth should be "just there" as a botanical and slightly sweet accent, not a full component. Think of it like an absinthe wash for a Sazerac.
Ready to make the thing? Okay, let's get mixing!
Dry Martini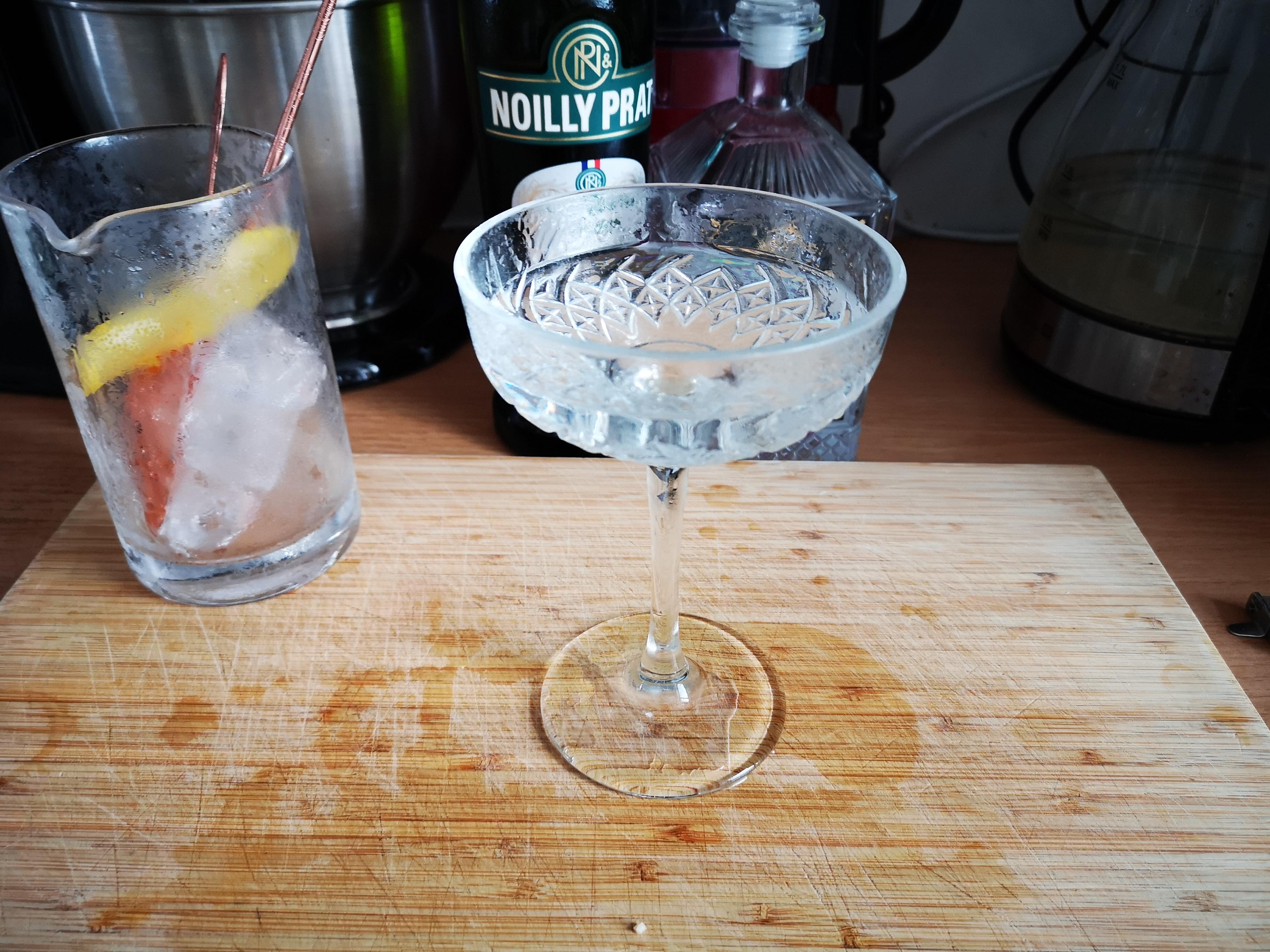 Ingredients:
3-oz. dry London gin
0.5-oz. dry vermouth
1 dash Angostura Bitters
Ice
Lemon Peel
When it comes to gin for a martini, you want a London dry (a juniper-focused gin) that you actually like, since the gin is the star of this show. I'm using Artingsall's because it's made specifically for mixing drinks like this where the gin shines. Booth's London Dry, Bombay London Dry, or The Botanist Islay Dry work wonders too. There are a lot of good choices out there — find one that speaks to you.
For the dry vermouth, I opened a bottle of Noilly Prat. The French vermouth is a little subtler and leans more brightly botanical with a lower sweetness.
Lastly, let's talk about the garnish. Old-school dry martinis did not come with swizzle sticks full of pickled onions, briny olives, or slices of lemon peel. They were a simple cocktail with a little lemon oil to help them pop. So, that's the vibe we're going for here.
That being said… put an olive in your martini if you want.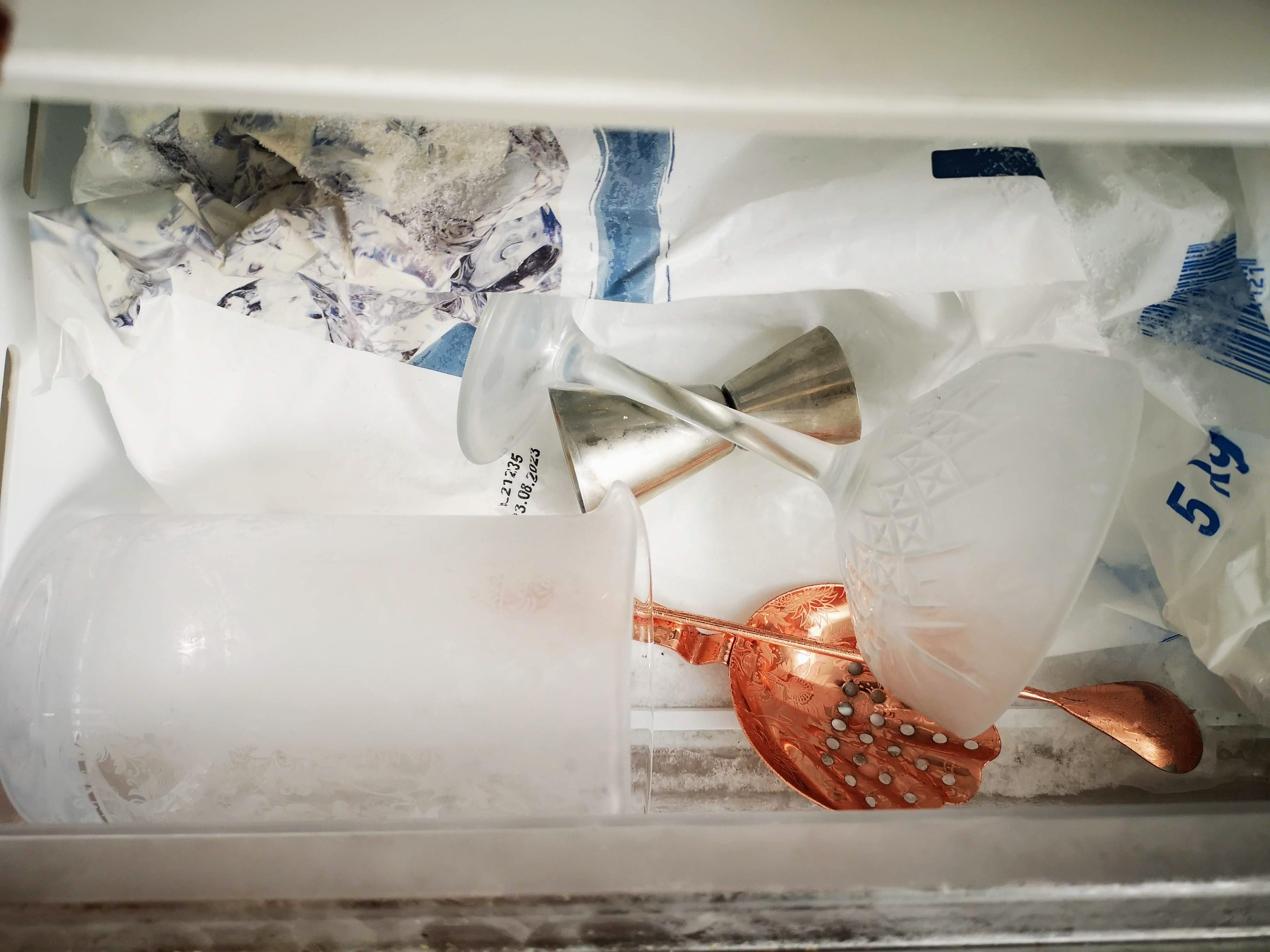 What You'll Need:
Coupe, Nick and Nora, or cocktail glass
Cocktail jug
Barspoon
Jigger
Cocktail strainer
Fruit peeler
Method:
Prechill glass, jug, spoon, jigger, and strainer in the freezer overnight.
Prechill the vermouth and gin in a fridge overnight.
Remove the tools and glass from the freezer and the spirits from the fridge when ready to mix.
Use the fruit peeler to peel a thumb-sized section of lemon rind.
Add the vermouth to the glass and wash it out by swirling it around and then discard the vermouth in the sink.
Add the gin and bitters to the cocktail jug with a hand full of ice. Stir until the cocktail is ice cold — about 15 to 20 seconds.
Strain the cocktail into the waiting glass.
Express the lemon oils over the cocktail and discard peel.
Serve.
Bottom Line:
This is just so damn nice. The vermouth is just there but feels more like a partner with the Angostura in the background than a main agitator of the gin.
The ice-cold aspects of this drink last and help make this super refreshing. The lemon oils are what really tie this all together. They pop while also adding a real brightness to the woodier aspects of the botanical vibe of the gin.
Look, we get it. Prechilling all of your bar gear before making a cocktail seems like a lot. But that extra step is what takes this drink from "hum, I guess this is what a martini tastes like when I make it at home…" to "oh, wow, this is why the martini at my favorite cocktail bar is always so much better!" That, folks, is always worth it! Especially if you have a houseguest you want to make an impression on.