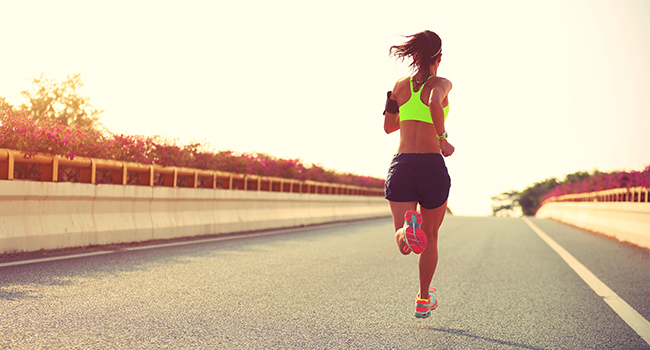 Running, as a sport, can feel like a solitary endeavor. So much of it involves getting out of bed early or dragging yourself off the couch after work, putting on headphones and zoning out. Sometimes, that's exactly what you want — to have a few peaceful moments to yourself. But other times, especially when you're competing against your personal bests or fighting through a routine that's starting to feel monotonous, you long for a community to keep you feeling hyped.
Sure, you can find a running group to bring you a little fellowship, but we all lead busy lives. You simply don't always have the time to commit to a 7 pm run in a park across town. Fortunately for all of us, the internet is here to fill any "Inspiration Gap" — just by scrolling through our phones in the morning. And there are about a million awesome Instagram accounts that will get you itching to hit the pavement.
"But no!" you bellow from your desk, while eating a ham sandwich, "I don't have time to look through all of them. I need the MOST inspiring accounts!"
Fear not, friend. We've compiled a list of the most inspiring, very best runners on Instagram right now to follow. These runners will make you want to run so much that you'll wish you had a time machine to go back and inspire a younger you to run with the same passion you now feel.
Seriously, get ready to lace 'em up.
Pappas combines a lot of Instagram "loves" in one package: inspirational messages, beautiful locations, and a general artistic aesthetic that will have you longing to live as much like her as you can. And the variety of her Instagram is just a mirrored reflection of her 'Renaissance woman' life. She's an Olympic runner, but if that's not enough, she also makes movies, acts, and takes time to travel, read, and savor the finer things in life.
Her quotes are original, often funny, and a constant call to arms to better yourself while believing you can do anything with hard work. Every runner will feel refreshed and inspired by her message.
Noah Droddy is undoubtedly cool. He has long hair, an awesome mustache, and wears a backward cap with colorful sunglasses in this way that feels like he invented wearing them. He's absolutely the kind of chill, casual runner that will get you inspired to get out there no matter your level. And also, start drinking more PBRs. They're cheap!