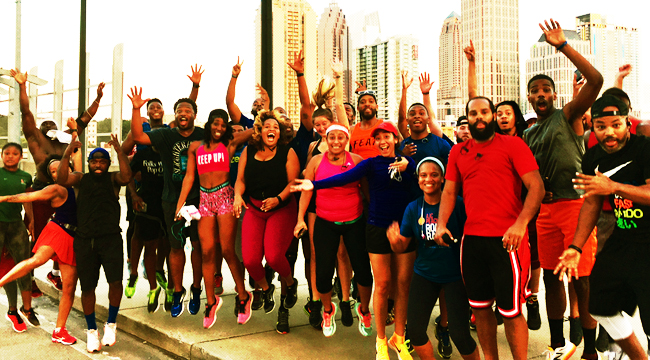 I woke up from my customary Sunday afternoon nap with one wish: "Baby, please say it's raining."
My friend Maurice Garland told me about Movers and Pacers when I first moved to Atlanta, in 2014, and let me know that really ought to "come out and run with them one week." Just come out, no pressure. Since that mention, I followed the running crew's Instagram page but I never participated in their events. I was intrigued, but not that intrigued.
The premise behind the group seemed simple enough: 20 to 30 mostly-black, young, Atlanta-based, health-conscious socialites get together every Sunday and run anywhere from two to eight miles. But in the years since I was told about Movers and Pacers, I'd find out that they were much more than just that. They were everywhere.
The runners would take up a whole table at Maurice's Hip-Hop trivia night. I'd hear members chatting at movie screenings in the city, plotting their next run. And I'd see them sharing pictures on social media, too. They were like a social club. A secret society that wasn't so secret. An inclusive clan that moved to the beat of its own drum. And I wanted to get to know them, but not like this.
I dreaded my Uproxx editor's response when I pitched writing about M&P. Not because I was scared he'd say no, but because I knew what he was going to ask me to do: "You know, it'd be great if you got out and ran with them at some point… for the story. Really get some sensory detail."
Which is why I was in my bed on a Sunday afternoon begging my wife to conjure up a weather forecast that gave me an excuse not to run.
"Sorry," my wife said, trying to break it to me softly. "Clear skies all day."
Dammit. I trudged over to the closet to get my shoes.

Movers and Pacers is Señor Kaos' brainchild. Kaos made a name for himself in Atlanta as an MC before transitioning into marketing — helping artists and brands expand their fan bases in the city and beyond. He was good at his job, but the lifestyle took a toll on him.
"I spent my 20s in clubs and restaurants eating wrong food and drinking alcohol," Kaos says. "I wasn't living a healthy lifestyle."
His words put a personal face on some significant facts: For a multitude of reasons, black people aren't as healthy as the rest of the nation. We're more likely to have cardiovascular disease, high blood pressure, obesity and hypertension and active exercise is an important way to combat these issues.
Kaos knew he needed to change his routine so he wouldn't succumb to the habits of late night drinks and wings over client meetings. There was one problem: he wasn't making enough to splurge on $20 gym memberships. He turned to running, but couldn't find a group that made a novice feel welcome.
"A lot of the places I went to had people who were running for years and the vibe didn't feel right for me."
Instead of getting active, he languished, ignoring his health, until lingering pain over the 2008 passing of the well-loved MC Christopher "Jax" Thurston motivated him to turn his life around.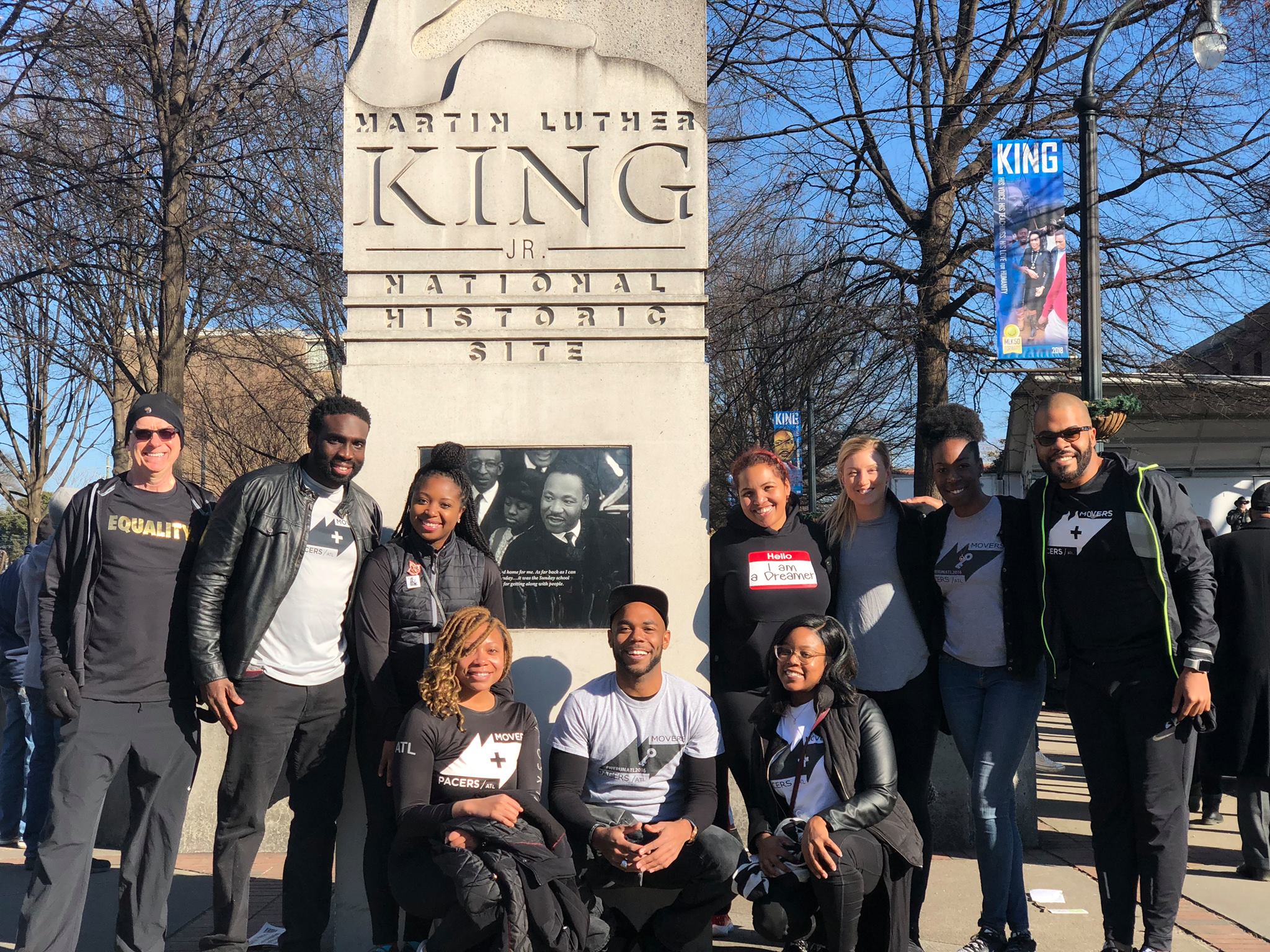 The Movers and Pacers crew at the Dr. King National Historic Site
Besides being an Atlanta legend, Jax had been a mentor to Kaos. He'd started his own label and even toured with Phife Dawg. Then, on November 4th, 2008, while performing a rap song at Atlanta's infamous music spot, Lenny's Bar, Jax had uttered "hold up, hold up," into the microphone before collapsing on stage. He was pronounced dead as soon as he got to Grady Hospital.
The death certificate read "Natural causes related to hypertension." He was 32 years old.
As the fifth anniversary of Thurston's death approached, Kaos decided to finally take his health seriously. But he needed friends to help keep him motivated. So he formed a group. He called up music industry friends — many of whom had known Jax — and convinced them to run together in November 2013 to commemorate the MCs life and influence on the city's culture.
The group met up on the Sunday after Thanksgiving 2013, at Grady High School in Atlanta, GA, and ran for a few miles. They snapped a picture at the end of their run to signify their success and post the pic on social media. Movers and Pacers was officially born.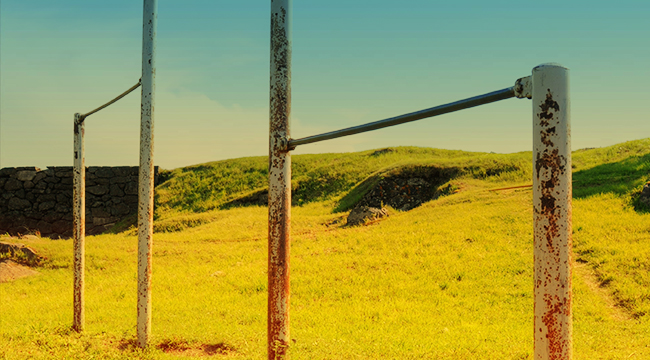 I was the fat kid in middle school. Well, I'm not sure if anyone else saw me as the fat kid… but I certainly felt like it. I was around 5'8" and knocking on 200 pounds in 8th grade. Now I was a relatively athletic fat kid — I could play basketball for hours and handle a tennis match without much worry. But that didn't matter. I was still fat. And in middle school that was a defining characteristic.
Anyone who's ever been fat has a handful of memories of being fat that will stay with them for the rest of their lives. I remember my 8th grade gym class doing fitness tests where we'd all attempt excercises one-by-one while the rest of the class watched. It was a recipe for humiliation. One of the exercises was pull-ups. I watched as all the guys in the class executed their pull-ups. Some did half a dozen. Others made it up to 10, and with each successful rep I sunk deeper into the crowd, tightening my body as if the gym teacher might somehow miss me.
He didn't. I can still remember the rest of the class laughing while I gripped the overhead bar, my arms fully extended and my toes tickling the ground for what felt like seven years. In my darkest, most embarrassing moments, I'm still hanging on to that bar, unable to lift myself even an inch off the ground.
The next day was laps around the track and I'll never forget setting foot on the gravelly dirt to begin my lap. There were two pretty girls, classmates of mine, standing right in front of me. They turned around, saw me, and laughed. Not because I was moving slowly. But just because I was there. Because I was fat and trying.
I walked off the track after two steps and didn't finish my lap. Just sat on the grass and waited for class to end.
I thought about those two moments while getting ready to run with Movers and Pacers. I'm not as big as I was when I was a kid, and I go to the gym almost every day, but I don't run. Ever. I ran when I was 19 for, like, two weeks and quit. I just don't like it. I can run playing a sport, but running a long distance for fun is torture. So I knew it'd be a struggle to run any amount of mileage. And I couldn't stop thinking about middle school, being watched and laughed at.
Point being: Exercising in front of people still gives me anxiety. And now I would be doing the thing I was worst at in front of strangers. A lot of them.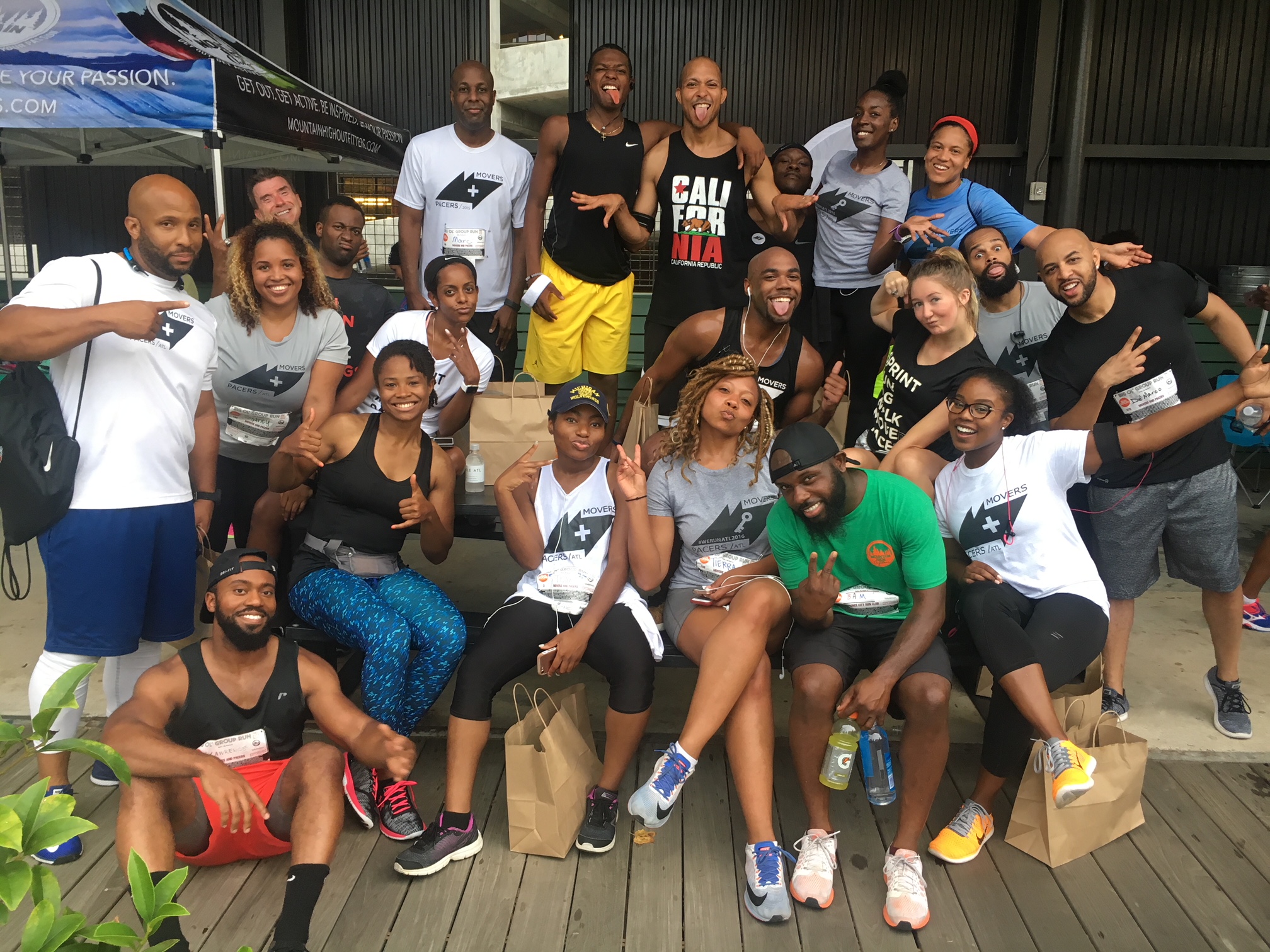 The runners that Kaos gathered for the initial Movers and Pacers jog in 2013 had one thing in common. They were all connected to the Atlanta social scene, mostly through the music industry. So when they started running and posting the outings on social media, their followers started to notice and wanted to get involved.
"It was a small group of people but it was all influencers," said Shay Lawson, one of the original runners who has become the de facto organizer of Movers and Pacers since Kaos moved to Oregon in 2015. "We all have followers. The same way the word would spread about a party, it would spread about the running group. There weren't a bunch of urban runnings crews so it took off organically."
Now M&P has its own Instagram and Facebook pages with thousands of followers and a group that meets every Wednesday for sprints in Atlanta's Fourth Ward. The biggest crowd, however, comes out for the Flagship run — a long-distance jog through downtown Atlanta. The run starts and ends in the middle of the popular Atlantic Station shopping center. Serious runners meet at 1pm — an hour earlier than the main group — and jog for twice as long as everyone else. In the past, M&P would have different routes for beginners and newcomers but now everyone who meets at 2 runs the same length, as a way to push the newcomers.
That's where I came in. As I laced up, I hyped myself up to leave the house, trying to embrace the idea of being a runner.
"You know, this might be the way to get me to do a 5K, finally," I told my wife while double-knotting my shoes to make sure I didn't destroy an ankle. I'd been telling her for a few years I wanted to run a 5K for various charity events but I'd never taken a single step to make it happen. Sure, it was on my bucket list, but actually doing it seemed as attainable as grabbing a handful of fog.
"Hey, you never know," my wife said before I walked out the door. "You just never know."
I met the M&P crew on a seasonably warm Sunday, right after saying a quick prayer for my knees and well-being. I immediately noticed the familial environment they champion. Everyone was all smiles and encouragement. I made it known I was a beginner and they assured me I could make the run. In fact, I met several people who were also from Mississippi including one person I went to high school with and another I went to summer camp with. Already. Family.
Then there was Shay — a natural leader who gathered everyone in a circle to let us know that 1) she wasn't going to tell us how far we were going to run that day and 2) we could finish the run.
"We're going to go down 17th, hang a left on Peachtree, keep going and turn around when you see the Chik-Fil-A"
The group started to murmur. This is the part where I should say that I've only been in Atlanta for a few years and there are a million "Peachtree" streets and I had no clue how far I'd actually be going. Probably for the best. I just went along with it. And off we were.
I immediately fell to the back mostly because running for the first time meant adjusting pretty much everything from the drawstrings of my shorts to my headphones to my tiny backpack, to make sure I could be comfortable and not have too many moving parts. I stayed with the pack for the first half mile or so then things started to fall apart. The run was mostly uphill and my legs started burning.
Then Shay ran up to the corner of 17th and Peachtree so she could high five everyone as we passed, encouraging us to keep pushing. It was nice, but I still couldn't keep up. By about 20 minutes into the run, I was alternating between very slow jogs and straight-up walking. Not only that, but I was on one of the busiest streets in downtown Atlanta. I started to think about middle school and how all of those cars were my new audience, watching me struggle through the city like I was trying to do pull-ups one more time.
I knew I had to block them out and…where the hell was that damn Chik-Fil-A?
Nothing makes a journey feel longer than the persistent mystery of its ending. I felt like the Chik-Fil-A would never come. Just as I started wondering about Uber prices, the heart of the Movers and Pacers was revealed. My friend Maurice had attended this week's run and was leading the pack, so I met him heading back to Atlantic Station as I was still trying to finish the first leg. He dapped me as we crossed paths and offered a loud "You got this, brotha." Then, one-by-one, as I got closer to Chik-Fil-A — which had finally emerged like a mirage in the desert — people heading back the other direction high-fived me and encouraged me with a chorus of "almost there" and "you're doing it!"
Every. Single. Person.
When we first chatted, Shay told me about runners who felt so connected to M&P that they would come out and run in times of intense tragedy. She had stories of one guy running with the group after his mother died in a car accident and another woman running a day after her father passed. It sounded crazy at the time, but as I neared the Chik-Fil-A I got it.
The encouragement and genuine love — even for a stranger — in the middle of a grueling personal challenge is a feeling that's irreplaceable. They were pushing me to the finish, lifting me up high enough for my chin could touch that pull-up bar.
The author, with the Movers and Pacers crew.

I (eventually) made it to Chik-Fil-A and immediately turned around to get back to Atlantic Station. The return trip wasn't so bad — I knew where the endpoint was. Plus it was downhill. I'd alternate between jogging and walking until my legs stopped responding. The bottoms of my feet felt like sandpaper. My calf muscles were bulging and my right big toe felt like it was going to pop off into the middle of Atlanta traffic.
As I finally approached Atlantic Station, about 40 minutes after the run started, my pace had downgraded to a hobble. Just as I resigned myself to the idea of walking the rest of the way, I heard my name, just a faint whisper over the music in my headphones. Then I heard it again.
It was Shay and Maurice down the street.
Come on! You can do it! Almost there!
So I ran. It was only about half a block to the finish, but I ran it. I didn't immediately notice that the rest of the runners were behind Shay and Maurice, hands extended in a line for me to high five them as I finished. They all clapped. They all cheered. They all celebrated.
I bent over, hands on my knees to catch my breath. Maurice walked over to me. "Hey, man, you ran a 5K and didn't even know it"
"What?" I asked.
"That was three and some miles. One point eight there and one point eight back…it's a 5K."
I let a smile creep onto my face in between my deep panting. Word? 5K?
After each run, M&P gathers for a pic, takes time for announcements to see what events and endeavors the rest of the group can support and, finally, a huddle with a chant. These days, it ends in a "Wakanda Forever."
By the time we finished that routine, I got it. I understood how a running group can be more than a running group. It's health. It's self-care. Family. This is what Movers and Pacers has done for an entire community. This is how a group of black people have gotten together to better themselves and the people around them. And they built the organization on a foundation of togetherness, love, and support.
I lay in my bed that night, my thighs and feet still throbbing. But hovering out beyond the pain was pride and little lingering disbelief: 5K? Me? I may not have run the whole thing, but I definitely completed it. I couldn't sleep I was so happy. I just lay in bed smiling and staring at the ceiling until I heard the first droplets of a rain shower pattering on my roof.