The best Scotch whisky is going to cost you a little money — there's no getting around that fact. You don't have to spend a crazy amount of drink good Scotch whisky though. In fact, there are some great bottles that sneak in under $100 that you can actually find on most shelves. That's a win-win and those are the sorts of picks that I'm focused on calling out below.
For this list of great Scotch whiskies, I'm naming 10 bottles of Scotch that both cost around $85 and freaking rule. That said, I am ranking these bottles. Scotch is not a monolith and there are some huge swings in flavor profiles in the below whiskies. Some of these whiskies are not going to be for everyone, and that's okay because all of these whiskies are excellently made. Read the tasting notes and find something that sparks your interest.
When it comes to price, we are truly getting into the good stuff at this price point. Still, prices are going to vary by region. Click on the price links below to see if you can snag a bottle wherever you are. If you can, you'll be in for a great whisky treat. Let's dive in!
Also Read: The Top 5 UPROXX Scotch Whisky Posts of The Last Six Months
10. The Glenrothes Speyside Single Malt Scotch Whisky Whisky Maker's Cut
ABV: 48.8%
Average Price: $85
The Whisky:
The bulbous bottle from The Glenrothes is all about the sherry. The expression spends an undisclosed amount of years in first-fill sherry casks. When those barrels are just right, the whisky is then batched and vatted before being proofed down only slightly.
Tasting Notes:
Nose: You're met with candied orange peel spiked with hints of eggnog spices and a touch of gooey pine resin on the nose.
Palate: The taste holds on tightly to that candied orange while adding in a velvety vanilla cream generously dusted with those eggnog spices and a softer touch of almost sweet wood.
Finish: The finish zeroes in on the orange and nutmeg as the vanilla and oak fade away on the slow end.
Bottom Line:
This is a good spot to start, especially if you're looking for a bridge between bourbon sweetness and Scotch whisky's spicy malt. Overall, this is a good on-the-rocks pour that works well in cocktails with a bitter bite.
9. Jura Single Malt Scotch Whisky Seven Wood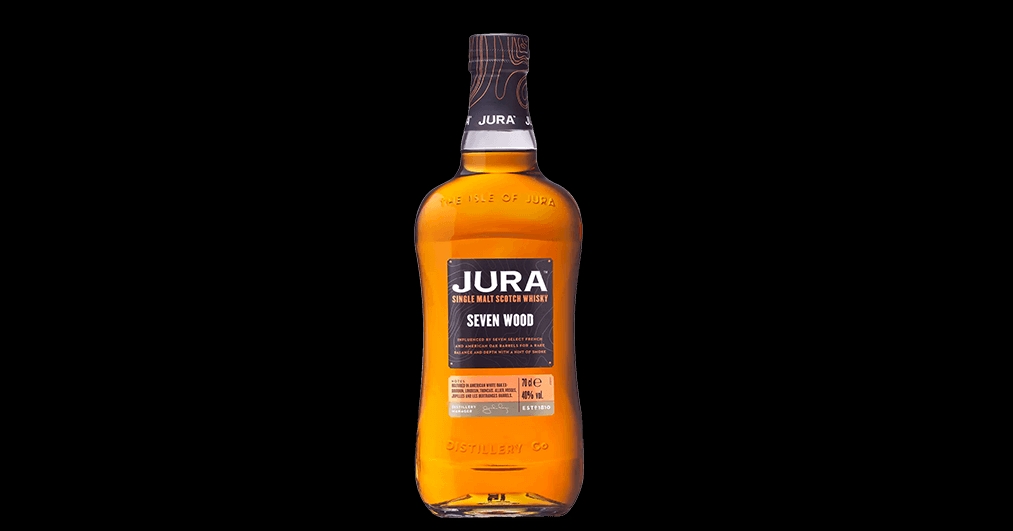 ABV: 42%
Average Price: $80
The Whisky:
The juice from Jura is aged in ex-bourbon for an undisclosed amount of years. The whisky is then re-casked in seven barrels: first-fill ex-bourbon from the U.S. and Vosges, Bertranges, Jupilles, Allier, Tronçais, and Limousin barrels from France. The ripple here is that all of those French barrels were new (never held wine) when the whisky went in.
Tasting Notes:
Nose: You get a burnt coffee note next to a dark chocolate bar cut with candied ginger and, maybe, a hint of strawberry on the nose.
Palate: Black licorice arrives with a note of burnt orange peels and grilled peaches with a drop of honey next to a wisp of beach campfire smoke.
Finish: The end lingers for just the right amount of time as the distant smoke fades, leaving a hint of sea spray, cacao, and burnt fruit.
Bottom Line:
This is a deep whisky that's somehow familiar and comforting, thanks to a very easygoing vibe. Overall, I'd mix this into a cocktail where I wanted the whisky to shine.
8. Johnnie Walker Gold Label Reserve Blended Malt Scotch Whisky
ABV: 40%
Average Price: $89
The Whisky:
This no-age-statement blend leans into that signature Walker marriage of Highland and Speyside whiskies with a small dose of Western Scottish whisky for good measure. The lion's share of the whisky involved in this gilded bottle is Clynelish, a Highland whisky that adds a modicum of peat to the mix.
Tasting Notes:
Nose: The nose balances old leather gloves and honeyed oats with meaty sultanas, cinnamon-spiced malts, a hint of anise, and an echo of grilled fruit.
Palate: The palate leans into the grilled fruit with a smoky underbelly and a savory edge (almost papaya) next to a lush vanilla cream and a sharp clove/allspice vibe.
Finish: The finish combines the dried fruit and honey with a twinge of florals as a whisper of earthy peat sneaks in late, kind of like a dry moss slowly growing on a tree.
Bottom Line:
This is one of those whiskies that's just good. It's great in a highball with really good fizzy water and some botanical or floral garnishes. It also makes a killer cocktail base as well as an easy sipper over a big ol' rock.
7. Lagavulin Islay Single Malt Scotch Whisky Offerman Charred Oak Cask Aged 11 Years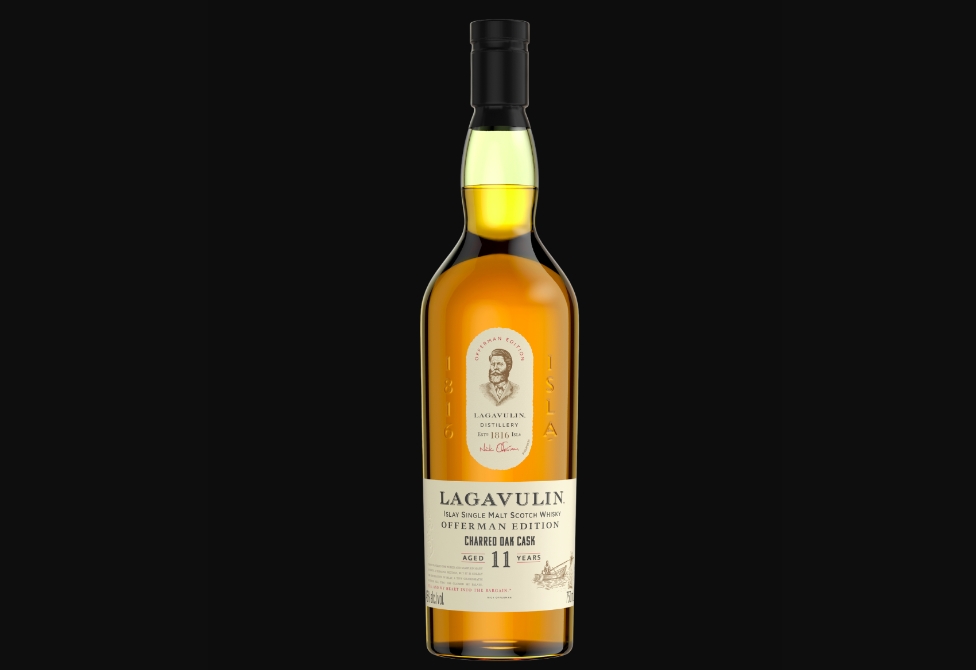 ABV: 46%
Average Price: $87
The Whisky:
This brand-new release is the third collaboration between Lagavulin and Nick Offerman. This time around, the team at Lagavulin took 11-year-old malt and finished it in heavily charred casks that used to hold bourbon and red wine. Those barrels were then batched and built around flavor notes that pair perfectly with a steak dinner.
Tasting Notes:
Nose: The nose opens with a rich peatiness that's tied to pecan chocolate clusters and dried cranberries with a dusting of sea salt, burnt orange zest, and fine nutmeg.
Palate: The palate dips those red tart berries in dark salted chocolate with cinnamon bark and clove buds next to espresso cream and a whisper of malty vanilla wafers with fresh honey in between.
Finish: The end has this enigmatic mix of smoked toffee, salted black licorice, and brandied cherries wrapped in cinnamon-laced tobacco and folded into an old cedar box.
Bottom Line:
This is a fun one. It's not as wildly peaty as some Lagavulins and feels very dialed into an American whisky palate, making it a great addition to your bar cart. I dig this over some ice or in a cocktail.
6. Highland Park Cask Strength Single Malt Scotch Whisky
ABV: 63.3%
Average Price: $88
The Whisky:
This yearly drop is part of a new line from the Orkney Island's distillery. The whisky is a blend of single malts that are aged exclusively in old American oak that previously held sherry. The barrels are married and bottled as is, to assure you're getting all the nuance and flavor of their malts meeting that oak.
Tasting Notes:
Nose: There's a light sense of wildflowers on the nose with a rich vanilla husk that leads towards a touch of peat.
Palate: The taste is surprisingly silken (for a cask strength) with rich and buttery toffee next to honeysuckle, eggnog spices and creaminess, and a small dose of orange zest as a counterpoint.
Finish: The end holds onto the creaminess and spices as the peat just edges in with a whisper of resinous pine smoke.
Bottom Line:
There's a softness to this dram that's very enticing. I like this neat with a splash of water to let it bloom a little in the glass. You'll get a deeper sense of creamy orange and winter spice with a softer and fattier smoke.
5. Caol Ila Islay Single Malt Scotch Whisky Aged 12 Years
ABV: 43%
Average Price: $86
The Whisky:
Caol Ila is a tiny Islay distillery that is more familiar to hardcore whisky fans than the casual drinker. This expression is the distillery's entry-point whisky that highlights the subtle peatiness, gentle aging, and the soft lapping of the sea against the distillery's outer white walls.
Tasting Notes:
Nose: There's a matrix of dried roses soaked in water touched by orange oils, almonds, and a trace of classic Listerine buzziness.
Palate: The sip has a savoriness that feels like olive oil speckled with coarse sea salt next to a distant billow of briny smoke, all counterpointed by sweet malts and fruits.
Finish: The finish sweetens the smokiness with a fruity-yet-spicy tobacco edge while the end fades towards an almost salty-sour hint of citrus.
Bottom Line:
This is getting into the really good stuff. Caol Ila is the whisky lover's whisky and this is only the introductory bottle from the brand. Entry-level aside, this whisky poured over a big piece of ice is damn near perfection in a glass, especially if you're looking for a deep yet easy-going sipping experience.
4. Glenmorangie Highland Single Malt Scotch Whisky Nectar d'Or
ABV: 46%
Average Price: $84
The Whisky:
This dram from Glenmorangie is a much-loved Highland malt. The juice is matured in ex-bourbon barrels for an undisclosed number of years. The whisky is then transferred to French Sauternes barrels which held sweet dessert wines where it spends two more years finishing.
Tasting Notes:
Nose: This has that classic "shortbread cut with lemon and vanilla" vibe that makes some single malts so approachable on the nose.
Palate: The sip has a buttery toffee nature that's layered with subtle oak, mild brown spices, and more fruits tied into a creamy pudding body.
Finish: The spice then leans a little towards ginger with that buttery shortbread as it slowly fades out.
Bottom Line:
This is soft and so welcoming from the nose to the finish. It's probably the smoothest experience on this whole list that gives you great depth and a nice, familiar feeling from top to bottom.
3. Ardbeg Uigeadail Islay Single Malt Scotch Whisky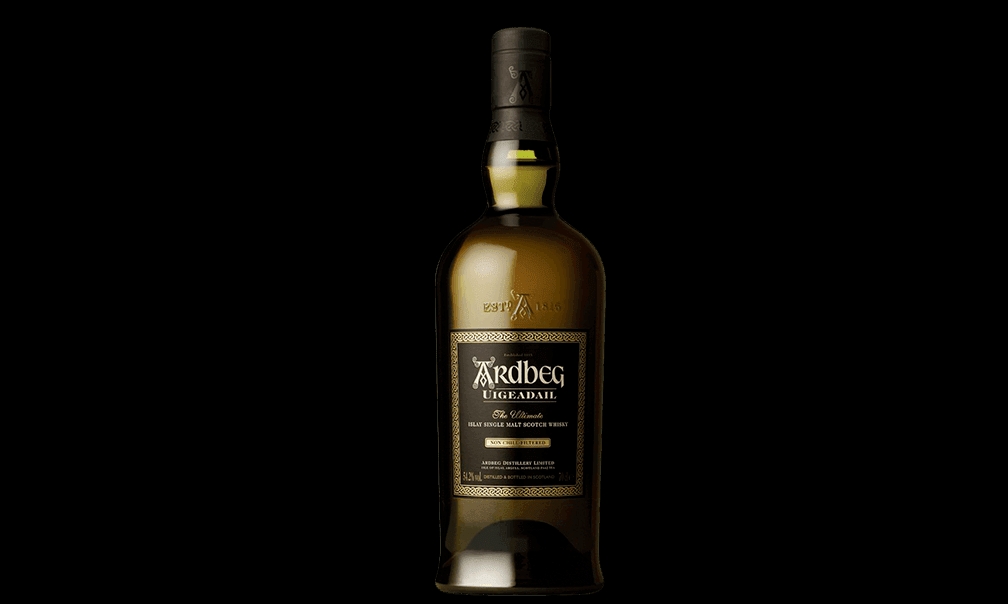 ABV: 54.2%
Average Price: $80
The Whisky:
The mix of peated malts, yeast, and that inky lake water from Islay creates a spirit that's already full of flavors before it goes into the barrel. That hot juice is then aged in both ex-bourbon and ex-sherry casks. When the whisky in the barrel is just right, they're blended into this single malt expression, proofed with local spring water, and bottled without any filtration.
Tasting Notes:
Nose: The nose is a matrix of smoked plums next to lush Christmas cakes full of dried and candied fruit and citrus with plenty of fatty nuts, dark and wintry spice, and buttery caramel drizzle hit with plenty of sea salt next to a whisper of dried lavender and overripe, almost woody plantains.
Palate: The palate balances sweet berries and pear candy with smoky salmon fat and dark chocolate malts.
Finish: The mid-palate adds a hint of dried chili heat while fading towards a finish full of smoked fat, dried fruit, and a buttery dark chocolate sauce bespeckled with flakes of smoked pink sea salt and cedar chips.
Bottom Line:
This is a bold whisky that'll have its fans and detractors. I love the peatiness here because it's not over the top. It's a briny, funky, fatty peatiness tied to fruitiness and nuttiness with a burnt chocolate underbelly that only widens and softens with a little water in the glass.
This is complex and dark in all the right ways and then bright and fresh just when you need it to be.
2. The GlenDronach Revival Aged 15 Years Highland Single Malt Scotch Whisky
ABV: 46%
Average Price: $89
The Whisky:
Revival 15 takes its sherried nature very seriously. The juice is aged in a combination of Pedro Ximénez and Oloroso sherry casks for 15 long years. Those casks are married and this whisky is brought down to a very easy-drinking 92 proof with that soft Highland water.
Tasting Notes:
Nose: Dark berry brambles with tart and sweet fruit, stems, thorns, and even a little black dirt draw you in on the nose with a hint of walnut shell and cherry pie.
Palate: The palate is a creamy-yet-bitter dark chocolate orange that leads toward a semi-savory fig countered by ripe apricot.
Finish: The chocolate comes back with cinnamon spice and more dark berries and walnut at the end.
Bottom Line:
This is f*cking delicious. It's the most classic and wonderful unpeated single malt on the list. Pour it neat, over a rock, or in a whisky-forward cocktail. You will not be disappointed.
1. Cragganmore Distiller's Edition Speyside Single Malt Scotch Whisky
ABV: 40%
Average Price: $88
The Whisky:
Cragganmore is an iconic Scottish distillery. The whisky is matured in sherry casks for 12 years. It's then transferred into American oak casks that held port for a final maturation phase before proofing and bottling.
Tasting Notes:
Nose: Fennel leads to dried fruits — sultanas, prunes, dried fig — and fresh apples on the nose with a hint of tartness and skin next to savory (almost oily) herb branches and leaves.
Palate: The taste, on the other hand, leans into sweet oak, pear candies, fresh figs, and a softness that's almost hard to believe while this medley of caraway, fresh fennel, and sweet cardamom dance together on your palate.
Finish: The end is full of sweet fruits — think ripe pears, green tomatoes, and star fruit — and has just the right touches of soft oak, oily vanilla, and savory green herbs as it fades towards a final note of wet wicker right after a rain storm.
Bottom Line:
While I love The GlenDronch Revival, there's something about the funky green herbal and orchard notes of this whiskey that keeps calling me back for more. It's unique but nostalgic. It's like silk but full of surprises. This is such a good whisky. It also truly blooms with some water added, leading you through herb gardens, fruit orchards, and creameries on a sunny day.