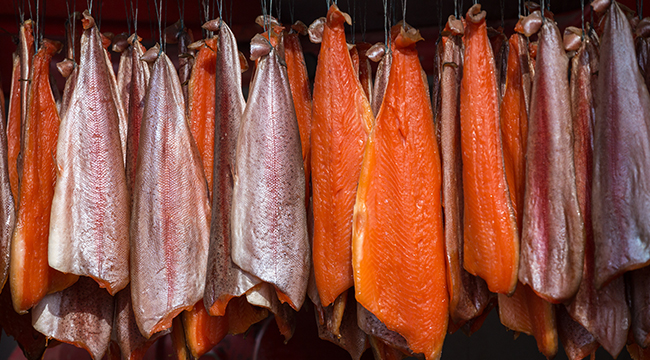 If you grew up in the Pacific Northwest, smoked salmon is in your DNA. The dish is a deeply rooted part of the region's food culture — from the hallowed halls of Pike Place Market in downtown Seattle to the smokehouses on Indian reservations peppering the western reaches of the state. People up in Washington will drive crazy distances for a piece of flaky, unctuous smoked salmon. I personally grew up eating it every way I could get it: in home-canned smoked salmon sandwiches, in broken off chunks on Alpine hikes into the Olympics, and in lusty fistfuls on drunken late night splurges.
I remember friends and family gathering in little dive bars crowded with country-music-filled jukeboxes and wonky pool tables where we'd argue over baskets of broasted chicken and jo-jos about the perfect balance of brown sugar and salt in a proper smoked salmon dry brine. The debates could get legitimately heated, and that's before we got into which woods to use for the smoke. All of this history makes finding the best smoked salmon in the Great Pacific Northwest less about a simple trip to a nearby fishmonger and more a quest to a culinary holy land — where salmon is God and the smokehouse master is the highest prophet.
***
Before we get too much further, let's define what smoked salmon in the PNW is, exactly. What I'm talking about here is a hard or hot-smoked salmon. This isn't lox. That's a cold cured (brined) salmon that might be cold smoked or might not be smoked at all. Without getting too granular, the process of hot smoking is vastly different from cold smoking (where the heat source is removed).
Hot smoked salmon is usually dry brined — similarly to cold cured — with a mix of sugar (usually brown sugar, sometimes maple syrup) and salt. Sometimes botanicals like dill or cracked red pepper are added, more often not. After a good overnight dry brining, the salmon is hot smoked in a smoker or smokehouse where temperatures reach 120F-220F, depending on who's smoking (most commonly, the perfect internal temperature of a piece of smoked salmon seems to be 130F-140F).
The wood varies from local alder to apple, cherry, maple, madrone, or oak to more rarely used hickory, pecan, or mesquite. The salmon can be in the smoker for anywhere from less than two hours (higher heat) to four or more hours (lower heat). Low and slow is preferred, but not a be-all-end-all in the smoked salmon game.
***
Now that we know what it is, let's dive into where you can find the very best preparations of this rich, sweet, smoky product. The route around the Salish Sea along I-5 and Highway 101 is the best route to find great smoked salmon. This epic road trip starts in Seattle, along the Puget Sound, heads south then winds back up and around the Olympic Peninsula along the Hood Canal, Straits of Juan de Fuca, and the Pacific Ocean, through several Indian Reservations.
Pike Place Fish Co., Seattle
Where to go: Pike Place Fish Co. in Seattle's iconic Pike Place Market on First Street downtown is where to start any hot smoked salmon journey. Yes, this place can get a little touristy. It's also full of locals in the know. The amount of fresh seafood available at Pike Place is staggering — a true testament to the area's bounty.
Right in the middle of it all is that famous spot where fishmongers yell out orders and throw entire salmon to one another. It's part spectacle, part tradition, and a lot of fun. The real buy at Pike Place Fish Co. is the smoked salmon that's off to the lefthand side if you're standing facing the fish counter. There's always a dedicated fishmonger hanging around that part of the display in bright orange fishing overalls and big gumboots (with a requisite flannel shirt underneath and a beanie on his or her head). That person will be handing out free samples of their in-house smoked salmon.
For my taste, it's a little dry thanks to an always safe higher cooking temperature during the smoke. The flavor, otherwise, is spot on.
What to get: Where Pike Place Fish Co. truly shines is with their smoked salmon bellies. The unctuous fatty strips of salmon are dry brined with a wonderful balance of heavy salt and light sugars. This allows the fat to shine through. The best part is that the fin is still attached, giving you a little handle to hold onto as you nosh. A good rule of thumb is to order two bellies per person.
Where to eat: Find a place to sit on the Pike Place Market deck overlooking Elliot Bay and dig in. You will get messy. The fatty salmon strips have a soft texture that melts in your mouth. The mix of fat, salt, and sugar with the slight hint of seawater is the perfect matrix of hot smoked salmon flavors.

She Nah Nam Seafood, Olympia (Nisqually Reservation)
Where to go: About 45 minutes south on the I-5, you'll find the Nisqually Nation and She Nah Nam Seafood. This spot is an Indigenous food temple. The seafood is sourced locally by the Nisqually using sustainable practices. The salmon is smoked in a traditional way, also locally by the Nisqually. Getting your fix here is a chance to support a local community directly with your cash.
What to get: The beauty of the salmon here is that it's a little more dialed in. The texture is softer with a balance that leans more towards the smoke than the brine. The feel and flavor of "salmon" are what matters with the dry cure to accent that, not overpower. This is thanks to the use of local alder, which is very mild, allowing the fish to take center stage.
My advice, grab a pound of each of the Natively Harvested Smoked Chinook and the Chinook Peppered to get a nice idea of both styles. For a little more heat, the Chinook Cajun packs a nice punch of heat that never overpowers the taste of the fish. If you're feeling adventurous, grab a piece of local smoked halibut and black cod too.
Where to eat: So, the thing here is: This is just a fishmonger. This isn't a sit-down joint. You're going to need to either tailgate this smoked salmon or grab it to go and find a spot to tuck in down the road. Also, don't sleep on shipping some home to meet you when you get back.
Dee's Seafood, Skokomish (Skokomish Indian Reservation)
Where to go: Another ten to 15 minutes down the I-5 (south through Olympia), Highway 101 starts in earnest. The classic highway winds up the eastern side of the Olympic Peninsula towards the Hood Canal. Right as you reach the Canal, you'll arrive at the Skokomish Indian Reservation (my tribe).
The Skokomish are part of the Twana people. Their name literally translates to river people. They lived on massive salmon runs going to-and-fro from the Olympic mountain watersheds into the cold waters of the Pacific for over ten millennia. Needless to say, these folks know their way around a salmon.
Dee's Seafood is the place to stop. This is a roadside garage behind a gas station right off the 101. It's not exactly a welcoming sight from the outside. It's okay to feel a little intimidated, that feeling will go away the second you walk into the place. The staff is warm and welcoming. You can buy entire salmon, freshly plucked from the water. The staff at Dee's will process and fillet the salmon right in front of you. If you have an Airbnb or kitchen access, your dinner is sorted.
What to get: The real highlight is chunks of smoked salmon for $15 per pound (that's nearly half-price compared to Pike Place, for what it's worth). The salmon is smoked in-house and has a beautiful fatty nature that's cut with hefty salt and a small amount of sweetness. This is the good stuff.
Where to eat: Grab a pound and drive a few minutes up the 101 to Potlach State Park. Snag a picnic table at the beach and tuck in with the gentle waters of the Hood Canal lapping nearby and the ancient trees of the Skokomish estuary disappearing in the midst in the distance.
Alternatively, you can head up to the campgrounds at Lake Cushman, pictured above. The foothills of the Olympic Mountains make for stunning vistas around the man-made lake — turning it into the perfect spot for a smoked salmon lunch. Head north on the 101 and take SR 119 at Hoodsport, follow the signs for Lake Cushman.
Hama Hama Oyster Saloon, Lilliwaup
Where to go: The next, quick stop on your smoked salmon journey of discovery is about 30 minutes up the Hood Canal in a little town called Lilliwaup. Hama Hama Oyster Saloon is a must-stop if you love all things oysters. Since we're talking salmon here, it's their smoked salmon chowder that we need to discuss.
What to get: The cup of chowder is made with loving care, using local ingredients and in-house wild smoked salmon that the crew pulls from the sea. The wild hot smoked salmon has a distinct fattiness with a nice briny nature. There's a small whisper of sweetness in this product that's bolstered by the creamy nature of the chowder. Overall, this is the perfect bowl of comfort food that'll get your palate ready for an oyster onslaught as you sit beachside next to a blazing fire pit.
After you get your fill of salmon chowder and oysters, make sure to head into the shop. Snag a few pounds of smoked salmon jerky and a chunk or two of Hama Hama's smoked salmon from the cold counter. Stock up, the next drive is a long one.
Where to eat: Find a table close to the firepits if it's winter. Find a table close to the beach if it's summer.

Take Home Fish Company, Neah Bay (Makah Indian Reservation)
Where to go: Neah Bay is about three hours along the 101 from Hama Hama. It's a long and winding road that takes you along the rest of the Hood Canal and the length of the Straits of Juan de Fuca. The drive is a scenic wonder of Olympic mountain vistas, small towns full of funky shops, and seaside pitstops that'll take your breath away.
Just after Port Angeles, you'll need to veer off the 101 onto the 112. The road gets windy, so be warned if you're prone to car sickness. The curves are worth it — much of the route is right on the beach until you reach Neah Bay, deep in the Makah Indian Reservation. This spot truly has a world's end feel to it, with the very tip of the Olympic Peninsula crashing into the wide open Pacific Ocean.
What to get: Take Home Fish Company is a little shack where the magic happens. The fish is alder smoked and always wild caught. The roadside shack is hard to miss with its blue paint job and hand-painted signs beckoning you towards smoked salmon bliss.
The fish is smoked out back in an old oil barrel. Chunks of salmon are dry cured and smoked on a layered round contraption that has millions of hours of smoke seasoned into it. This is basically a one-man operation so you might have to wait around for a chance to buy some hot out of the smoker and eat it right there while sitting on an old plastic lawn chair. It's worth the wait.
Protip: there's a phone number on the main sign. The owner might just be out back dressing a deer and will come right around for you. You'll also have your choice of smoked salmon from a massive white cooler. Each vacuum sealed package will be priced by weight ($10 to $20 per pack).
There's a taste to this wild smoked salmon that's incomparable. It's lush and fills you in a way that no other salmon can. It's salt-forward with a nice fatty nature. Without diving headfirst into superlatives, there's just a feel to this salmon that's special. You can taste a certain… authenticity that's tough to explain. It's not a business that can scale, it will never franchise — it is what it is, and, frankly, it's the best because of that.
Where to eat: This isn't an eat-in place by any stretch. You can go across the street and sit on the beach and watch the fishing boats come and go.
Quinault Pride Seafood, Taholah (Quinault Indian Reservation)
Where to go: The last stop in this tour is on the Pacific Ocean on the Quinault Indian Reservation in the small town of Taholah. Three hours south from Neah Bay along the 101 (take SR 26 to the SR 109 up to the reservation), you'll find Quinault Pride Seafood. The salmon processing factory offers fresh salmon, smoked salmon, and canned salmon varieties to take home. It's all wild caught by the tribe using sustainable practices and processed right there in the factory.
What to get: This is a factory with a salmon shop attached to the side. You can buy wooden boxes adorned with Salish Art and full of vacuum sealed packages of delicious smoked salmon. You can also snag a case of cans to take home. Before anyone jeers canned salmon, know that this is the hands-down best canned salmon, smoked or otherwise, you can buy. The cans lock in the purity of the salmon flavor while amping up the brine. There's a heft to the flakes that will make your lunch salads pop until you run out.
Where to eat: The factory is right on the Quinault River and there's a small park (Veterans Memorial Park) with picnic tables right next door. Grab some freshly smoked salmon and maybe a can or two and post up at one of those picnic tables to dive in. You can walk along the river's grey sand beach a few dozen yards and pop out right on the Pacific Ocean beach. It's the perfect post-smoked salmon stroll. Don't forget to grab a few boxes and cans to take home.