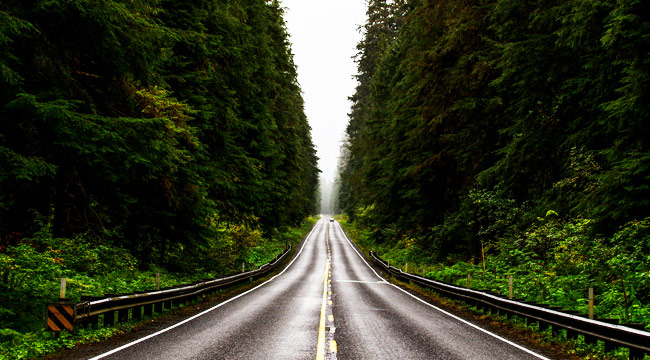 Spring Break has a lot of common denominators: Florida's Coast, beach parties, Cancun, clubs full of foam, San Diego, endless fish tacos, El Carib, copious amounts of sugary cocktails. You know the drill: Sun, fun, and plenty of booze.
We can respect that. Winter's finally over. Summer is months away. We all need a break from the churn every now and then. We need to let loose, discover new corners of the world (and ourselves) and have a good damn time to boot. In short, SPRRAAAAAANG BREAAAAAAK, yo.
But not everyone loves going to the sun-baked beaches of Florida to drink cheap beer and get a sunburn. There's a whole world of experiences out there just waiting for you. Why not change it up this year? Why not go on an adventure of discovery right in America's own backyard? Maybe it's the year you surf beaches that few surfed, eat seafood straight from the sea, climb mountains in a park that doesn't even have a road through it, and spend a week eating and drinking somewhere new.
Maybe 2018's Spring Break is the year you're the outlier. Maybe this is the year you check out western Washington's Olympic Peninsula and let it rock your gypsy soul.
https://www.instagram.com/p/BgCUwtGn04P/
The Olympic Peninsula is one of the most remote and inaccessible places in the United States. A 50-minute ferry ride from downtown Seattle and you'll be in a wholly new world to you that's decidedly ancient. There are mythical rainforests, endless sandy beaches, insane surf breaks, untouched alpine peaks, sleepy towns frozen in Victorian amber, and plenty of great food and drink around every curve of Highway 101.
We've cobbled together a sample itinerary to whet your appetite for a Spring Break somewhere unexpected, rewarding, and straight up gorgeous. These are places we've visited and vetted, and they're definitely worth your time!

EAST SIDE
OLYMPIA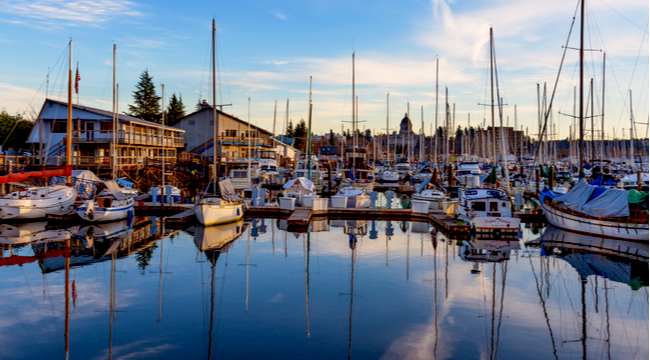 Olympia is a great place to start your journey around the Olympic Peninsula. The state capital is 50 miles south of SeaTac Airport, where the 101 branches off from the I-5.
Oly is a small town with a lot of bars, restaurants, and stages concentrated in a few city blocks around the old town — so you can get around easily on foot if you need to. Getting out of town, you'll definitely need a car or bike. And, like a lot of the Pacific Northwest, it's a seaside town so various water sports abound.
There's a chill vibe to Oly that puts you at ease as soon as you arrive. Grab a cup of coffee or a pint of beer at The Magnet and look at the board to see what shows are on. This is, after all, where rock legends like Kurt Cobain and Kathleen Hannah lived and Sleater Kinney Road is not far away.
Where to Eat:
Three Magnets is a must stop if you're in Oly. The brewery is a fine base of operations for planning your day and night around town over a well-crafted glass of suds. The menu is always spot on with great burgers piled high. The Magnet (formerly the iconic Darby's Cafe and attached to Three Magnets) is a great place to grab a long, boozy brunch or a nice cup of joe. Alternatively, Fish Tale and McMenamins brewpubs are a five-minute walk away if you wanna do a small gastropub crawl.
For a real treat, hit up Chelsea Farms Oyster Bar off Olympia and Capitol Way (a five-minute walk from Three Magnets). It's a straight-up bounty of seafood from the local seas (they have their own local seafood farm a couple miles away). There are great drinks and chill and low-key hip atmosphere. Definitely, grab a seat at the oyster bar and chat with the oyster chucker about all they have on offer. Pop some champers and dive into the best fresh seafood in the area. Also, don't sleep on their dope clam chowder.
Where to Drink:
Downtown Oly between Water Street and Plum from west to east and State Street to Legion north to south is your prime spot for galavanting. There are plenty of bars to choose from along with the aforementioned brewpubs. The taverns are convivial and real dive, not faux-dive. Expect a warm welcome and plenty of cheap beer and well drinks (poured strong).
For a little upper scale cocktail, hit up Dillinger's off the corner of Washington and 4th. Their cocktail menu is topnotch. Monday is music night. And they offer a Prix-Fixe cocktail and food pairing menu. Dinner and drinks in one swoop isn't a bad way to start a night out in Olympia.
Where to Sleep:
About three blocks south of Three Magnets, you'll find one of the most chilled out to stay in all of Oly. The Fertile Ground Community Center and Guesthouse is a garden paradise in the middle of downtown. The collective B&B offers super cozy, well-fitted accommodation with a throwback Victorian Era design. A lot of the food comes straight out of the gardens around the house and from the surrounding farms.
There's exactly one guestroom here — as it's a community farm collective — so plan ahead. There are two offsite bungalows as well. Expect to pay around $100-$200 a night for a room. They also offer dorm beds at a B&B just down the road for $40 per night per bed.

HOOD CANAL
Driving north on the 101 out of Olympia will take you past the small logging hamlet of Shelton, through the Skokomish Indian Reservation, and onto the Hood Canal.
The Canal, as it's known locally, is actually a massive fjord. It's a water playground when the weather's nice. The shallow depth means the water doesn't get too cold, so you'll see a lot of dock slides up and down the beaches.
As you drive up the 101, the literal water's edge will be on your right while the steep slopes of the Olympic Mountains will be on your left. Veer right for beach and water fun. Veer left for rainforest and alpine adventure. It' kinda the best of both worlds.
Where to Eat:
The tiny town of Union has some of the best food on the Canal at Robin Hood Village Resort and Alderbrook Resort. But more on those two spots later.
One of the best spots to eat (and drink) on the Canal is at Hama Hama Oyster Saloon. Hama Hama is a multi-generational family-run oyster farm and logging outfit. They're stewards of the rainforests around the Hamma Hamma watershed and some of the best oyster farmers this side of France.
Their Saloon is an outdoor area off the side of their oyster shop and offices. There's a great, local craft tap list (Port Townsend Brewery), a well thought out wine list of local gems, plenty of fire pits to keep warm by, and a silly-good menu of fresh and baked oysters — all plucked from the beach a few steps away. The Pimento Cheese Baked Oysters will change everything you think you know about oysters.
They also have U-Pick oysters fests in April and you might even get to walk through one of their ancient rainforests nearby if you're lucky.
Where to Drink:
Back down the 101 in Union, you'll find Robin Hood Village. There's a decent, new American restaurant in the A-frame right off the highway. What's truly special about the place is the pub behind the A-frame. The Robin Hood Pub has music nightly, a great tap list of local brews, easy-to-please cocktails, and a small bar menu full of local favorites.
There's music every night and a shelf full of well-used board and card games. So, order a nice Alaskan Amber, grab a cribbage board, and settle in for a night in the dark-wood-paneled comfort of this pub.
The best place to drink, however, is literally around the corner squeezed between Bill Gates' compound and the Nordstrom compound at the Alderbrook Resort. The bar at the resort is a damn near perfect cocktail bar with strong, perfectly made drinks, seafood-forward bar snacks, and a killer view of the Canal and the Olympic Mountains on a clear day. They also have a Friday night happy hour from nine pm to close. Which leads us to…
Where to Sleep:
Alderbrook Resort is the place to stay on the east side of the Olympic Peninsula. The lobby alone is worth the visit with towering log pillars, native Salish art pieces, a huge fireplace, comfy couches and chairs, an old turntable, two cheeky cats lounging around, and plenty of retro board games.
The rooms at Alderbrook are cozy and well-fitted with warm wool blankets, oyster shuckers, plush beds, big baths, and plenty of views of the Canal. It's great hotel room that truly delivers on the plush and luxe.
The grounds are small but lead to a beach and long dock where you can catch a boat or play in the water to your heart's content. There's also a spa with a saltwater pool and all the fittings. It's a small slice of paradise with a distinct rainforest vibe.
Expect to pay around $200 a night for a room.

PORT TOWNSEND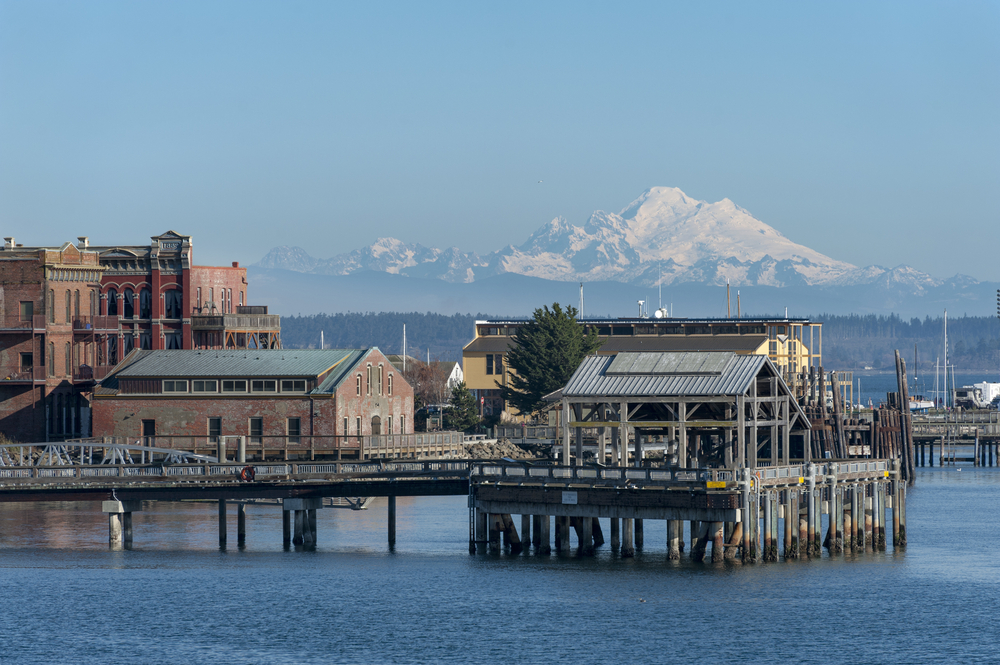 Up at the end of the road on the northeast corner of the Olympic Peninsula is a sleepy little hamlet that's buttressed by fertile farmland on the south and three sides of water and beaches on the north, east, and west. Port Townsend is a Victorian village with old post offices, libraries, ports, and businesses that have barely changed since the 1800s. Red brick buildings still carry faded billboards from the actual 1800s. Pubs and B&Bs have taken over those buildings and you feel like you're stepping back in time when you walk into them.
Then there are the pebble and grey sand strewn beaches with Giant bonsai-esque, wind-molded pines, old World War One concrete armaments, and deep blue sea waters teaming with life. You could easily spend a week wandering the beaches, eating through town, and drinking from pub to brewery to wine bar and never repeat an experience.
Here are some highlights that we love.
Where to Eat:
There's really a long list of options in Port Townsend from local fish houses to ramen joints to Tex-Mex hole-in-the-walls to an old-school soda fountain in the back of a pharmacy (it serves a pretty awesome root beer float in case you're into that).
One "must stop" spot is up on Lawrence Street. Finistère serves expertly crafted Mediterranean cuisine, filtered through the local foodways of the Olympic Peninsula. Most importantly, this place is so laid back and welcoming. It's high-end food with the chillest of atmospheres thanks to such a well-trained and, well, nice staff.
The menu is full of fresh pasta dressed with the fruits of the local sea. The bar is small but full of wonderfully crafted drinks. The brunch is one of the best ways to while away a Saturday or Sunday in the whole of Washington. Their Ikura (salmon roe) and dill Deviled Eggs are a must eat along with the Dungeness Crab Gnocchi.
Ringer:
https://www.instagram.com/p/BSozGL7B-Dr/
We've made it clear how important a great old oven is to a great pizzeria. And we'd be remiss not to give a shout out to Waterfront Pizza downtown Port Townsend. This place is one of the best pizza spots in Washington, if not the west coast. The oven has been baking amazing pies for nearly five decades and you feel that the moment you walk into the joint.
There's a tiny room upstairs if you want to sit down, or you can order a slice from the pizza bar on street level and watch the pizzaiolos work their magic. Either way, order "Everyone's Favorite."
Where to Drink:
Again, there are a lot of options in Port Townsend. You can theoretically start at Port Townsend Brewing Company for some excellent microbrews then walk your way into town, hitting spots down Water Street, and then up Taylor street to uptown and Lawrence Street and end up at the Uptown Pub (across the street from Finistère).
Or, you can post up at Sirens which is right on Water Street in the middle of downtown. It's upstairs in an old school red brick building. There are great views of the Straits and a deck on sunny days for sunny day drinking. The bar is self-service, the taps are local and very well curated, and the cocktails are poured to keep a smile on your face. There's a decent pub grub menu of nachos and burgers in case you get the munchies, but be sure to start off with a few oyster shooters topped with some Crater Lake Pepper Vodka to get the day going.
Where to Sleep:
Tides Inn & Suites is your best bet in Port Townsend. The hotel is right on the beach, and we mean on the beach. The water laps right up against the rooms' balconies at high tide.
The rooms have recently been re-fitted and are comforting and well-equipped. The hotel has a very classic, coastal feel to it. It was also one of the settings for An Officer and a Gentlemen if you're into movie location trivia.
Almost all of the rooms will have a view of the Straits and, on a clear day, the Olympic and Cascade mountain ranges. It's also walking distance to Water Street and all the food and drinking you could ever want from Port Townsend. In fact, it's a ten-minute walk from Sirens if you're wondering.
Expect to pay around $140 a night for a room.

WEST SIDE
NEAH BAY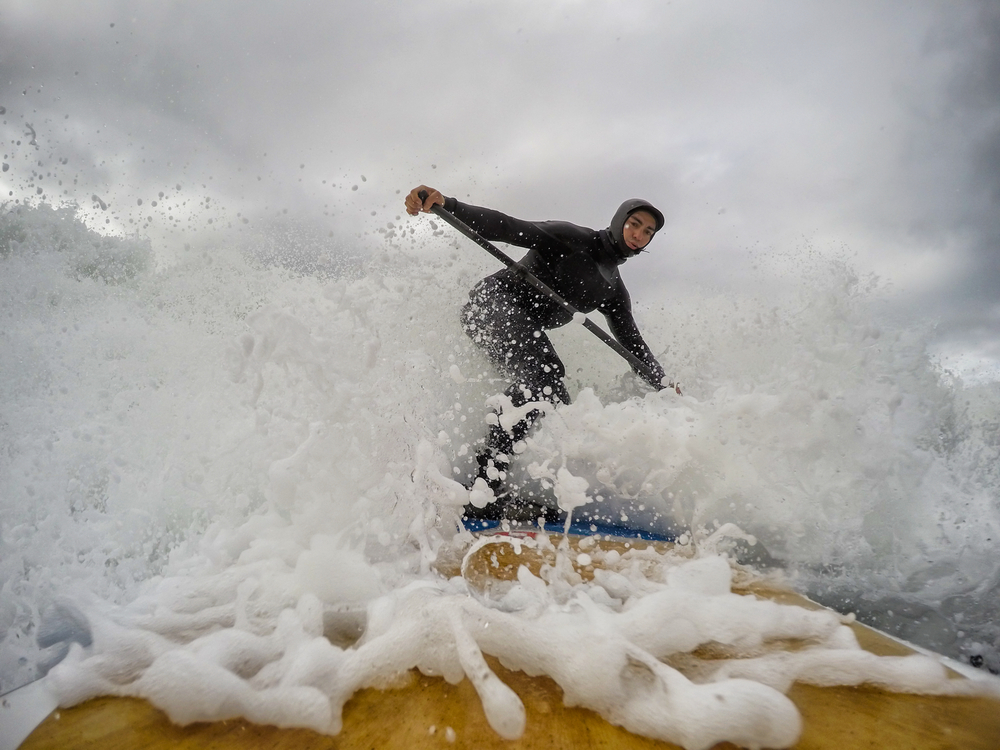 The west coast of the Olympic Peninsula is a mythical place. It's where the mountains crashed into the sea — sometimes literally — and created some of the most breathtaking vistas the world has to offer. It's also amazingly remote with untouched beaches, rarely surfed breaks, ancient Native American communities, and rainforests so deep and thick that you may well run into Big Foot.
The best place to start your journey on the west side is at the most northwestern corner, Neah Bay. The Qʷidiččaʔa·tx̌ people (pronounced Kwih-dich-chuh-aht), also known as the Makah, have called this place home for at least 6,000 years. To put that in perspective, Berlin — a city in what most Americans consider "old Europe" — is only 800 years old. Hell, Paris is only 2,300 years old.
The Makah are a sea-faring culture that bridges the tribes of the lower 48 with those extending all the way up to Alaska's Inside Passage. It's a stark place with insane scenery, crashing ocean waves, and untouched wilderness. Their name, Qʷidiččaʔa·tx̌, loosely translates to the "people who live by the rocks with the seagulls" and there are plenty of both at Neah Bay.
You'll need to pay for a $10 permit to enter the reservation.
Where to Eat:
There are only 1,300 people living on the Makah Indian Reservation. It's also an economically depressed community that relies heavily on imported foods, whale hunting, and forestry. So your tourist dollars are a big help to this struggling community.
One of the best spots to grab a bite is at Pat's Place. It's a small joint right on the water on Bayview Ave. The Fry Bread and Indian Tacos are comfort food turned up to eleven. The butter and cinnamon fry bread is one of the best options. There's always a decent pie and plenty of coffee ready as well.
Just down the road is the Take Home Fish Co. where you can buy delicious smoked salmon made onsite.
There's also a small mini-mart and grocery store in case you need last minute, staple-based groceries. Otherwise, the options are pretty slim. Consider yourself warned.
A Little Culture:
The Makah Museum is a great place to start to get a handle on the Makah people and culture. The museum is open every day and offers guided tours, workshops, and lectures. The museum also has a large collection of replicas from the Ozette site that's down the coast. More on that later.
There are also options to go to sea and do a little fishing. You can hire local guides who'll take you out whale watching, fishing, or just out on a boat for the day. This is a great way to pump money into a struggling economy.
Where to Sleep:
There aren't a lot of options up this way. It's remote and that's what makes it so special.
Hobuck Beach Resort is one of the best options. You'll be able to camp, grab a cabin, surf, fish, or just chill on a breath-taking beach and watch the tides roll in and out.
The north beach has 500 tent campsites along with 10 cabins. The south beach has 16 cabins and 10 RV sites. Cabins will set you back between $115-$150 per night and sleep up to four people. If you're planning to camp, expect to pay $25 a night for a designated spot. You cannot camp on any of the beaches as they are scattered with various scared and archaeological sites.

WESTERN OLYMPIC NATIONAL PARK
While the eastern reaches of the Olympic National Park are extraordinary with alpine trails and dense rainforests, the west side has the edge with the Pacific Coastline coming into play.
The western Olympic is where the mountains crash into the sea in a dramatic way. Huge rock outcrops pepper the beaches with monster surf eating away at the shore. It's a place that's shrouded in a mist that draws you in every time. The rainforests along the western side of the park of some of densest forests on the planet. The wildlife is abundant. And, there's plenty of places to stay that'll keep you warm and well-fed.
Where to Chill:
Deep in the northwestern corner of the Olympic National Park, you'll find the Sol Duc Hot Springs Resort. The property opens for business on March 23rd this year and offers one of the more unique experiences in the whole park. The hot springs have been built into the resort and offer a great way to chill-the-hell out and maybe sweat out some of those craft beer and whiskey toxins from a week of drinking around the Olympic Peninsula.
You can also stay at the resort in the lodge or in a cabin around the hot spring pools. A cabin will set you back about $244 per night.
The real highlight here is the glacial springwater that warms on underground volcanic rocks before bubbling to the surface. You can spend the day hiking through the rainforest — looking for Big Foot of course — and then soak your aching muscles in the hot spring pools until the pain slips away.
Where to Eat/Drink:
About 90 minutes down the 101 from Sol Duc, you'll find yourself in a satellite section of Olympic National Park that hugs the Pacific Ocean coastline. It's a shockingly beautiful stretch of beach with huge rock outcrops topped with wind-swept trees, beaches filled with seals and gulls, and a great lodge to have a long lunch.
Kalaloch Lodge is the perfect place to stop for a seafood forward meal with an amazing view of the Pacific. The menu is very PNW with plenty of clam chowder, fish and chips, and mountains of steamed clams. They also have a pretty rad salmon BLT that hits a lot of great comfort zones, flavorwise.
If you end up at the bar and tip back a few too many drinks, you can always check into a room and spend the night to watch the sunset over one of the country's most beautiful beaches. Rooms will set you back around $130 a night.
Where to Sleep:
https://www.instagram.com/p/BfbymX1A_2P/
One can't-miss-sleep in Olympic National Park is nestled in the southwest corner, Lake Quinault Lodge. The old school national park lodge is situated on the picturesque Lake Quinault in the lower reaches of the park. The lodge was built in 1926 as an honorific to the days of Teddy Roosevelt and his wild love of the wilderness. It still holds the charm and warmth of those days.
The 91 rooms are refurbished to modern standards and offer great views of the green forest or the lake. The grounds offer a chance to wander along trails while still being within a stone's throw of a great bar and a fireplace. A room will set you back around $90 a night.

ONCE IN A LIFETIME EXPERIENCE: OZETTE
On the north-central Pacific coast, you'll find the ancient town of Ozette. The town was destroyed in 1750 by mudslides which helped preserve it as one of the better archaeological sites in the PNW.
Today, you can walk the ten klicks to the beach and camp right next to the surf. The walk along is a fantastic hike through a dense rainforest that spills you out on a beach where the mountains quite literally crashed into the sea.
You'll have to get permits and make reservations to go into the area, so plan ahead. This is also a completely isolated spot. You'll need to bring in everything from water to sleeping bags (or hike back to your ride the same day, which isn't recommended). So come prepared.
Your Olympic Peninsula Spring Break Soundtrack
Lastly, no trip to the Olympic Peninsula would be complete without some local tunes. So, here's a Spring Break soundtrack to get you ready for an adventure in one of the coolest corners of America.
More Photos: