Sourdough, what a bread! The cavernous texture — equal parts chewy and bubbly — the crispy, complex, almost roasted flavors of the crust, and that characteristic sour finish combine to make something that, at its best, is truly special. And while the idea of a "best type of bread" is ridiculous (certain breads are good for certain meals), if I could only eat one type of bread for the rest of my life, I'd pick sourdough without even giving it a second thought. If you want to make the greatest grilled cheese sandwich, avocado toast, or a bread bowl that'll taste better than the soup inside, look to sourdough! Hell, even dipping a piece of sourdough in good olive oil is a flavor-bomb experience.
Great sourdough is a work of art (remember the start of the pandemic when everyone was literally trying to master the art of making sourdough?) and as such if you want to buy the best sourdough bread you'll ever eat in your life, you're going to have to find a respected baker in your area. But not everyone has that kind of access, time, or extra money — which is where grocery store sourdough comes into play. Grocery store sourdough bread is cheap and easily accessible. Unfortunately, it's not always real sourdough. The reason a loaf of authentic sourdough will cost you a pretty penny is that proper sourdough takes time to produce. True sourdough is naturally leavened by way of wild yeast that feeds on a combination of flour, water, and salt in order to rise naturally. Most grocery store brands, on the other hand, use ingredients like commercial yeast to speed up the production time, sugar, as both a flavorer and preservative, and other additives that keep loaves shelf stable for longer stretches.
With sourdough bread, the fewer ingredients, the better. And that's a sniff test many supermarket brands don't pass. So in order to separate the good from the trash, we're putting some mainstream loaves to the blind taste test.
Methodology
For this blind taste test, I rounded up eight loaves of sourdough bread from Trader Joe's, Whole Foods, Target, and Vons (a California Market owned by Albertson's). While each loaf looked drastically different they were all labeled and advertised as "sourdough" bread. Here is today's tasting class:
Francisco International — Extra Sourdough
Inked Organics — Rosie's San Francisco Bay Sourdough
San Luis Sourdough — Sourdough Cracked Wheat
Signature Select — Artisan Sourdough Bread
Sunflour Bakery — Wyoming Sourdough
Trader Joe's — Sourdough Bread Sliced
Trader Joe's — Sourdough Sandwich Bread
Whole Foods 365 — Sourdough Sandwich Bread
For the tasting, I had my girlfriend toast eight slices, two at a time, four rounds of tastings, and tried each slice plain. I considered adding butter but ultimately I decided that would probably be a distraction and I wanted to experience each of these loaves for what they were.
Let's taste!
Part 1: The Sourdough Bread Tasting
Taste 1: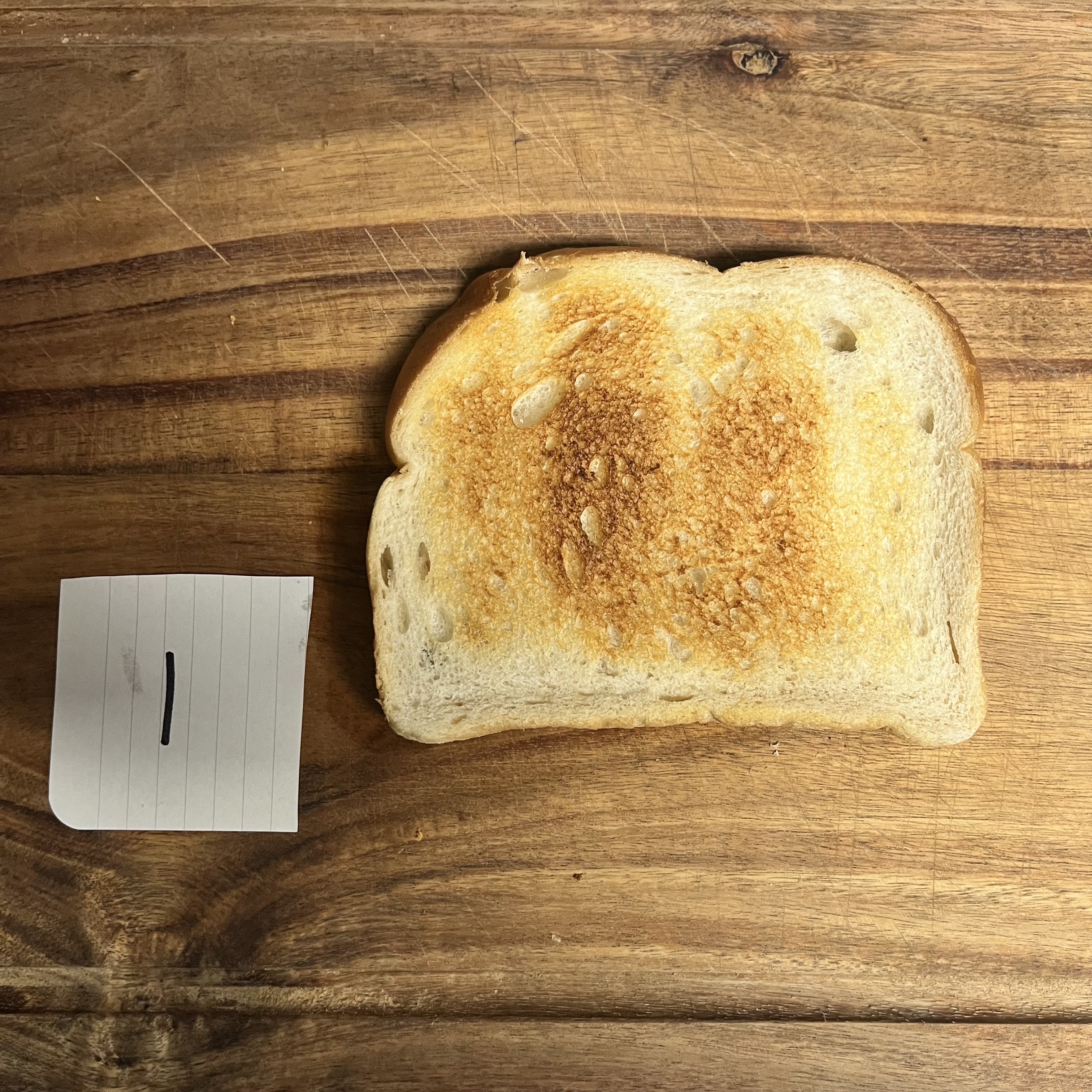 Roasted nuts on the nose, this bread has a light and bright buttery flavor with a subtle hit of tang at the finish. The crust is slightly nutty and cracked. Nice start!
Taste 2: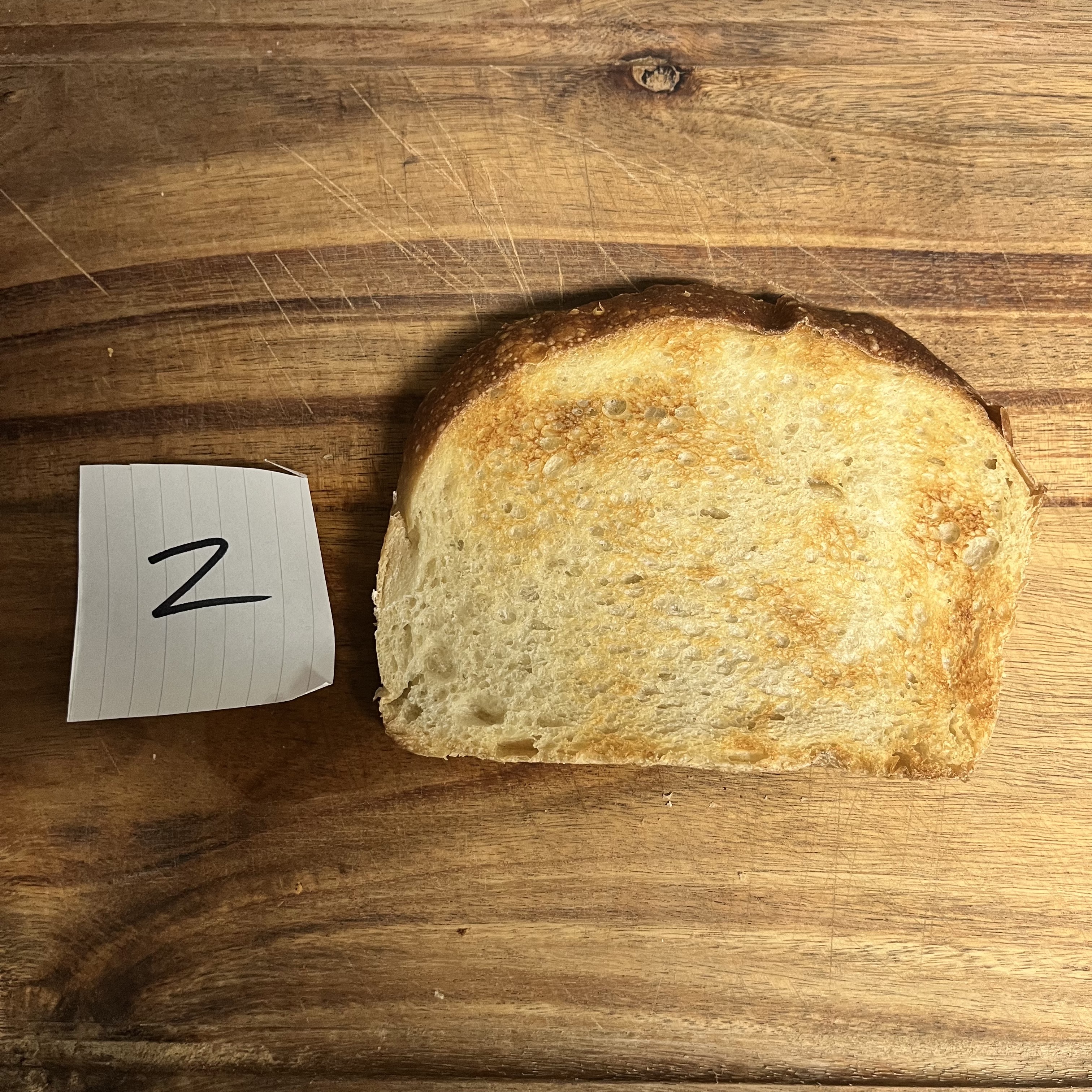 Significantly more sour than Taste 1. You can smell that sourness wafting off the bread! The texture is stiff and a bit hard to chew through, the finish hits you with a subtle sour taste. The crust is nicely cracked with a roasted flavor.
Taste 3: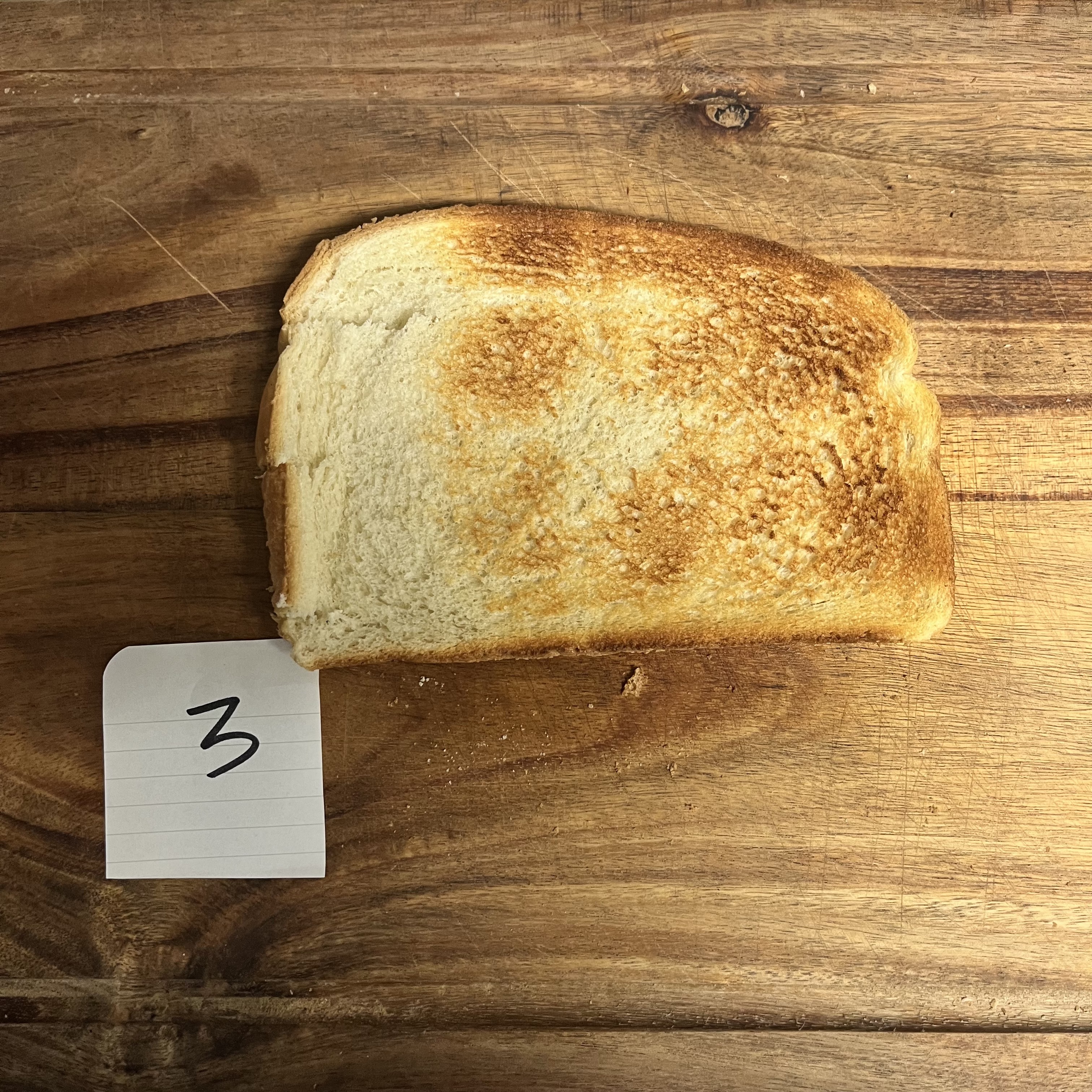 Incredibly oily to the touch, almost as if it's been buttered. This essentially tastes like white bread — it's neutral, a bit sweet, with a fluffy texture. If I strain to taste it, I get a slightly sour flavor from it, but it doesn't really track to my tastebuds as sourdough. If I didn't know this was sourdough bread, I would assume it's Wonder Bread.
Let's hope this is the bottom!
Taste 4:
Stale bland flavor but at least it finishes sour. The bread is thin and there isn't any chew or air to it, it's almost like a cracker.
Taste 5: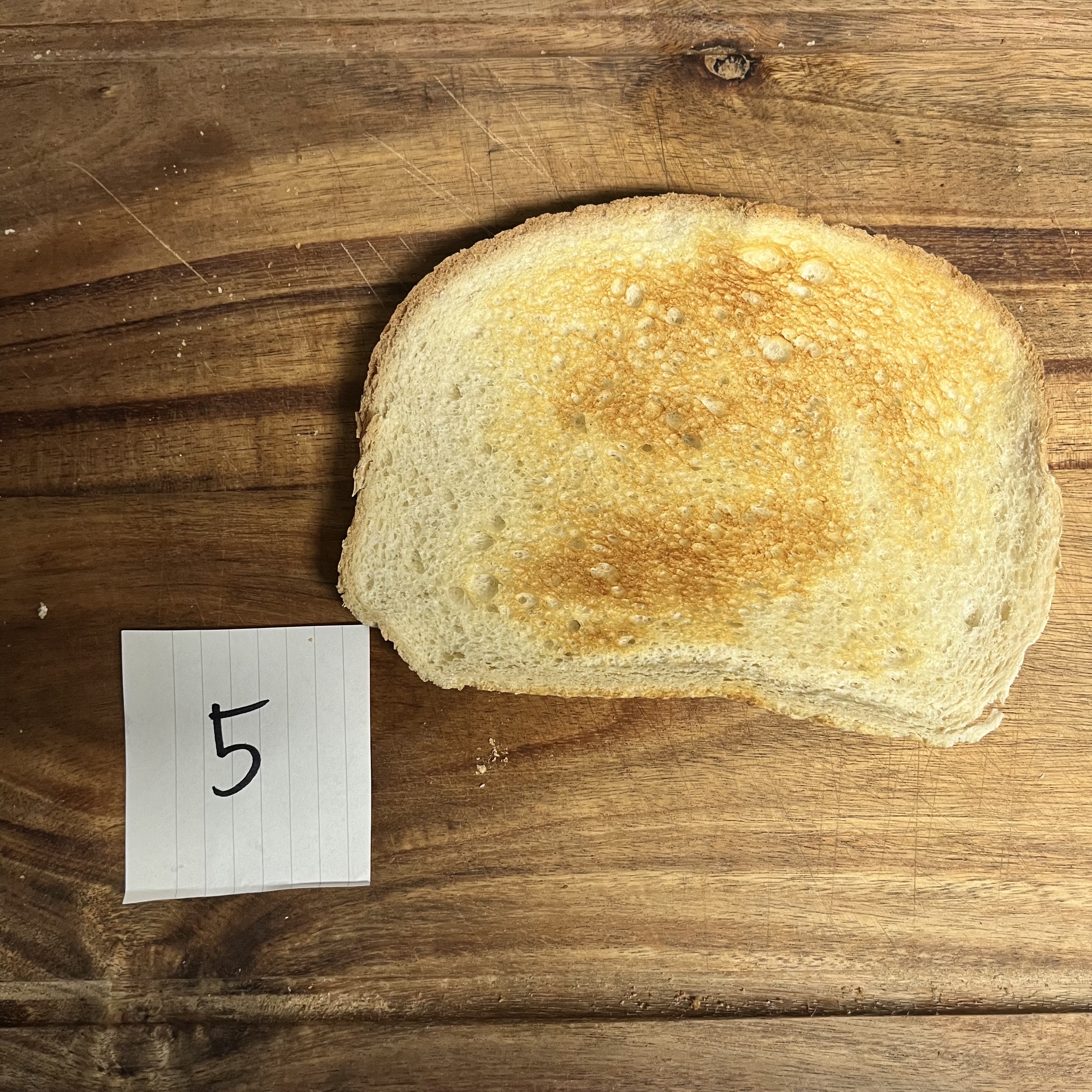 A sharp tang immediately hits the palate at first bite. Chewing through it reveals a sweet buttery flavor. The texture is slightly chewy and the finish is sour and lingers on the tongue. Enough so that I had to drink some water before my next tasting.
Taste 6:
A very mild sourdough. I'm only getting a mild sour flavor but the texture is on point. It's chewy, bubbly, with a nice toasted crust flavor that brings some caramelized sweetness and depth to the flavor. I like it.
Taste 7: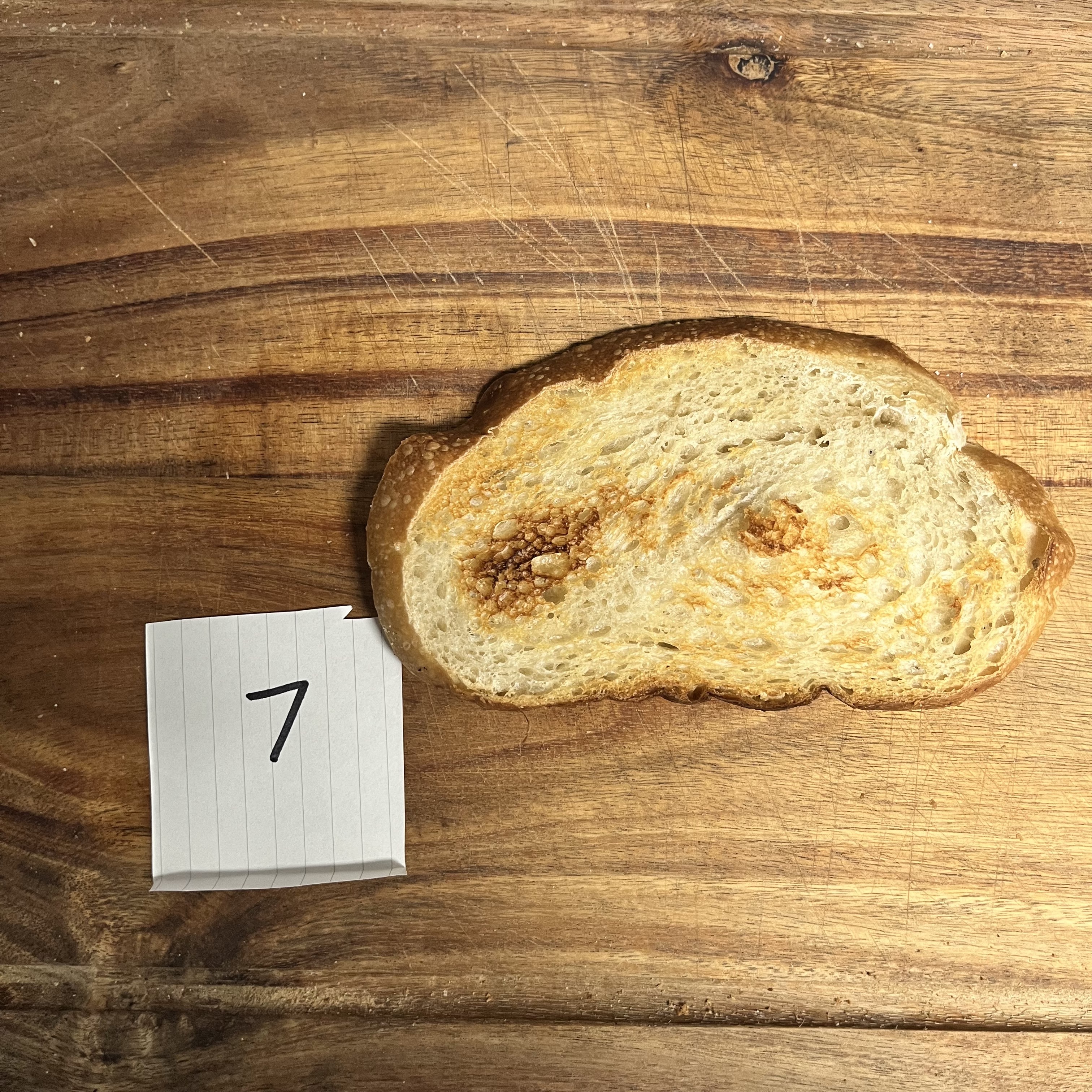 Yeasty with a nice chew. The crust is cracked and nutty and the sour component of the bread is very light but present. Good, not great.
Taste 8:
By the time I got to Taste 8, I was starting to get worried. As I make preliminary tasting notes, I always rate a product via a five-star rating. I admit, this isn't a perfect method, but I usually get to what I consider a "five" by mid-tasting, but here we were at the final taste and I had a bunch of twos, threes, and fours. No fives. I started to think maybe my standards for good sourdough bread were unreasonably high.
Lucky Taste 8 saved the day.
This bread tastes the closest to true sourdough. The texture is perfect, chewy, bubbly, with a cavernous surface that would be perfect for butter to pool into. There is just the subtlest sweetness to the flavor, backed by nutty notes and a prominent sour flavor that lives on both the initial and aftertaste. The crust is slightly caramelized and chewy. Easy five out of five here!
Part 2: The Sourdough Bread Ranking
8. Francisco International — Extra Sourdough (Taste 3)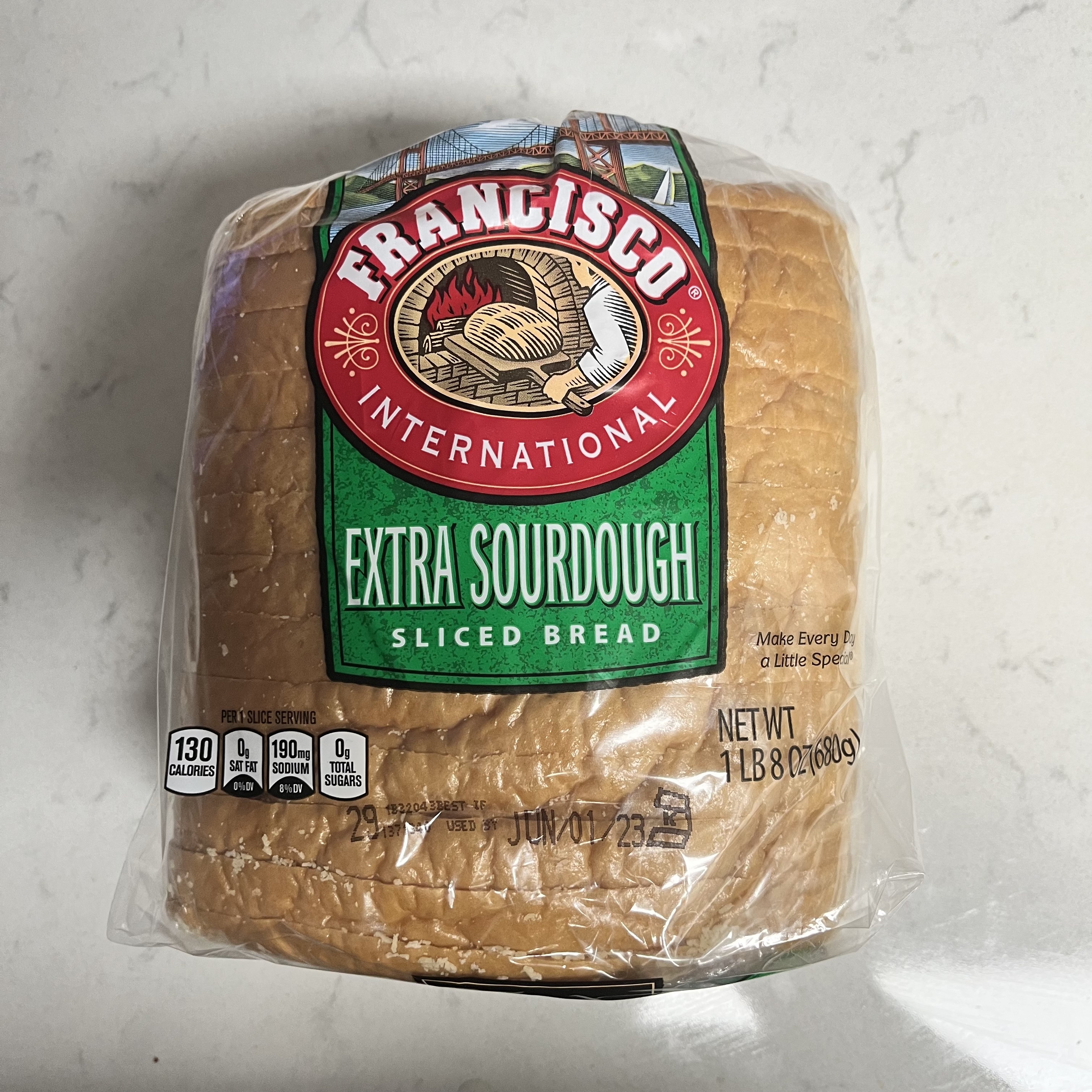 Price: $5.99
There is something ironic about Francisco International making obvious reference to San Francisco, the sourdough capital, and coming dead last in a blind taste test. Though, calling this "sourdough bread" in the first place is a stretch.
This bread is made with white flour, folic acid, water, yeast, and vegetable oil (which explains its oily texture). Yeast, not "sourdough starter" or "sourdough base," which means it's explicitly not sourdough. In an additional layer of irony, Francisco International isn't just calling this "sourdough," they've dubbed it "extra sourdough." Extra! In what sense? Extra mediocre?
The Bottom Line:
George Santos in bread form. It's nothing it says it is.
7. 365 Whole Foods Market — Sourdough Sandwich Bread (Taste 4)
Price: $3.29
Whole Foods' version of sourdough bread is incredibly stale, flat, and barely sour. It's made with a lot of ingredients that shouldn't be there, like cane sugar, expeller pressed palm oil, yeast, and distilled white vinegar but at least it has a sourdough base in there, which is something right?
This is probably the most shelf-stable sourdough on the market, and while it leaves a lot to be desired at least Whole Foods has a variety of other options that get you in the ballpark of real sourdough bread.
The Bottom Line:
Reach for one of the other brands Whole Foods has stocked on its shelves, you'll get a better loaf out of it.
6. Sunflour Bakery — Wyoming Sourdough (Taste 5)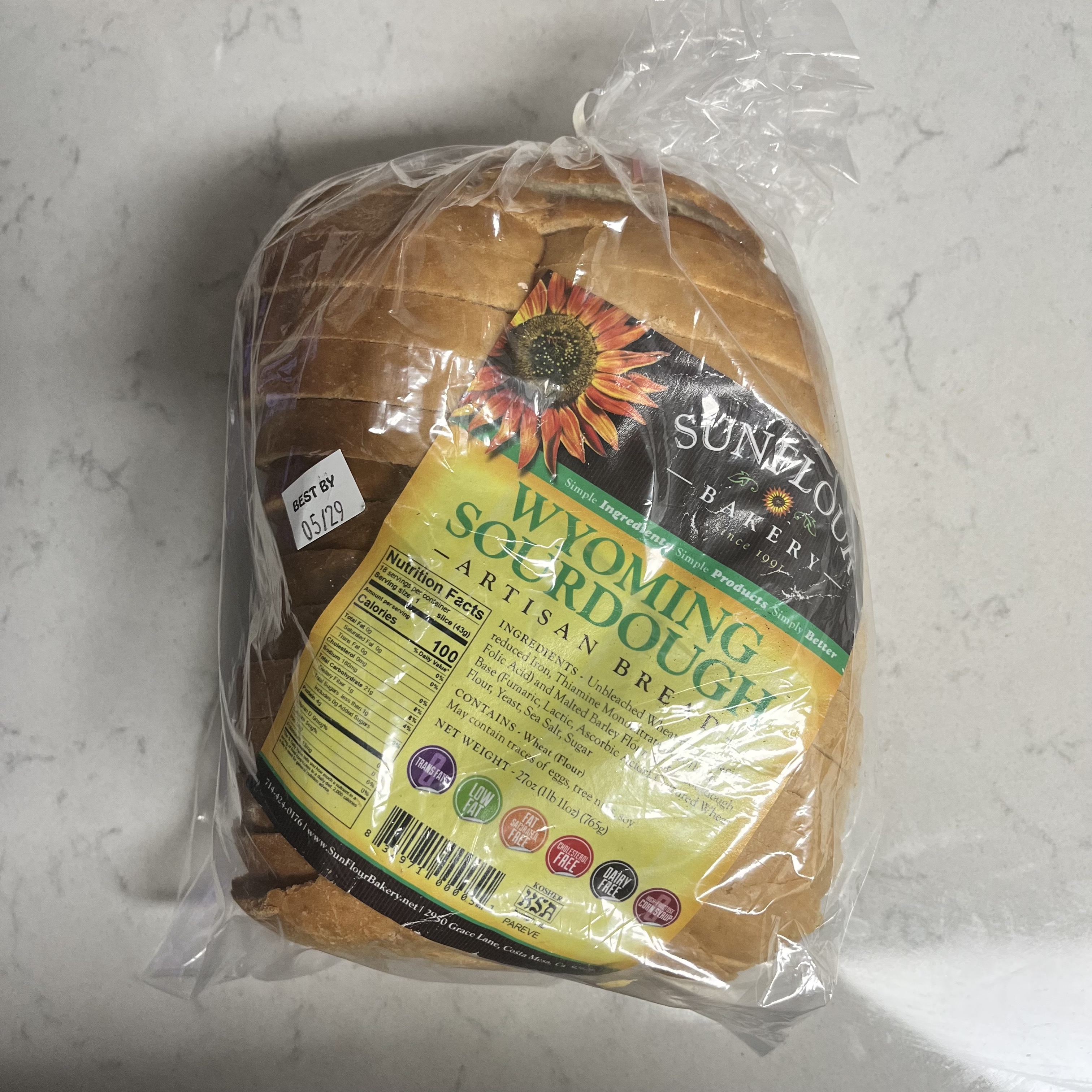 Price: $5.79
Another brand carried by Whole Foods, Sunflour's Wyoming Sour Bread is made with unbleached wheat flour, malted barley flour, water, sourdough base, cultured wheat flour, yeast, sea salt, canola oil, and sugar. Those last two ingredients gift us pause, but the flavor is on point.
The Bottom Line:
A sharp tang and a slightly sweet flavor.
5. Trader Joe's — Sliced Sourdough Bread (Taste 6)
Price: $3.49
I'm a bit puzzled by this one, the ingredients listed include unbleached flour, water, and salt, there is no yeast, which is a good thing, but also no sourdough starter or sourdough base listed. Is it sourdough? What's making it rise? What the hell is going on here?
Puzzling as the ingredients list is, this is pretty good bread. It tastes like sourdough should and has the right chewy texture, and is made with as few ingredients as possible. But it seems to be missing a crucial one…
The Bottom Line:
Is it sourdough? Is it even bread? I don't know if Trader Joe's just messed up on the ingredients list but the fact that "sourdough starter" isn't listed should give people pause.
4. Signature Select — Artisan Sourdough Bread (Taste 7)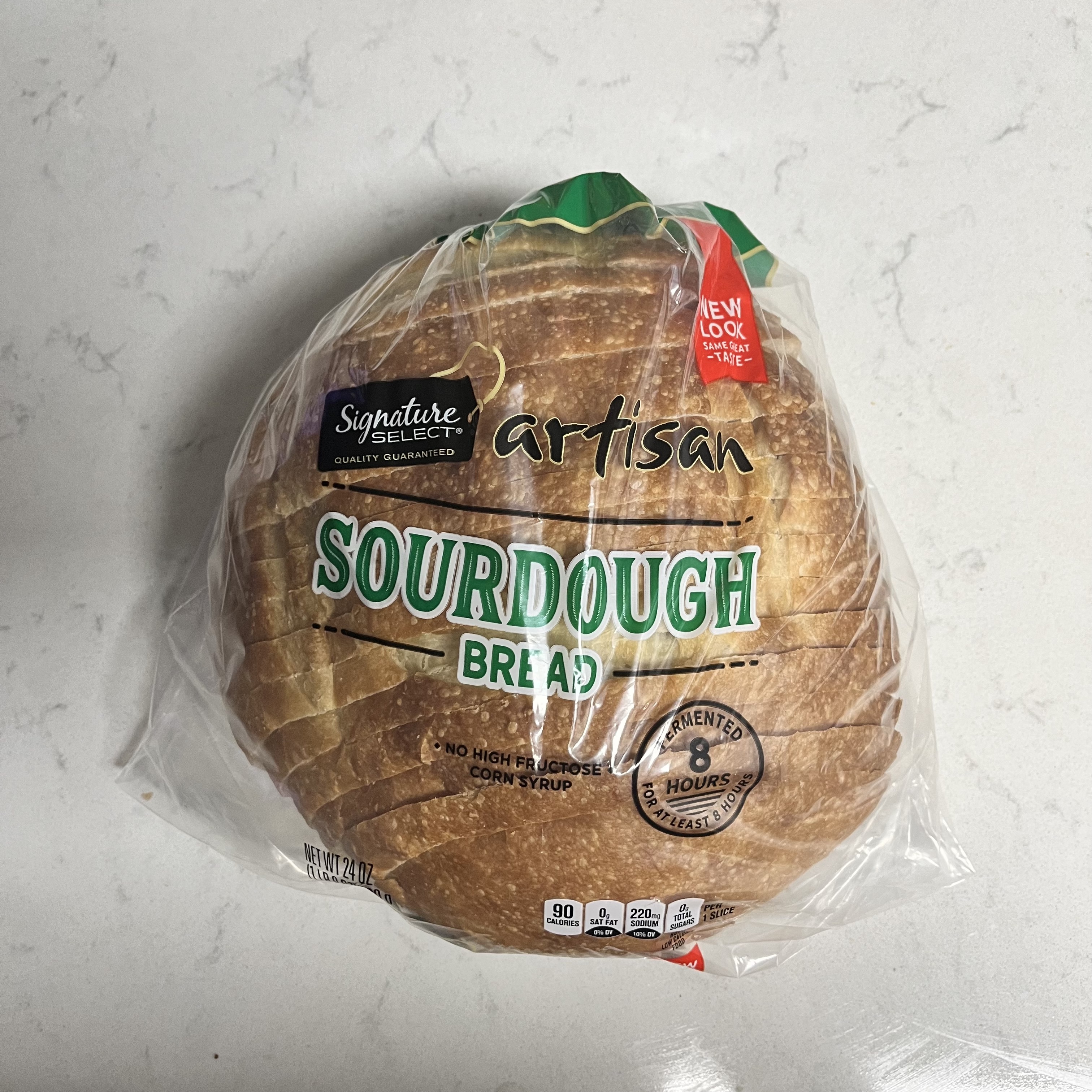 Price: $4.59
Again, this isn't sourdough, it is made with unbleached wheat flour, water, salt, yeast, distilled vinegar, soybean oil, ascorbic acid, and a bunch of other things that aren't sourdough starter. It has sesame seeds in it, which is a nice touch, but sesame seeds don't belong in sourdough bread, sourdough starter does.
This bread is advertised as being fermented for up to "eight hours," and I suppose that's something! But to dub it "artisan," is pure marketing jargon.
Having said all of that, this tastes good. I don't hate it. I hate that it's wrongly dubbed sourdough, but at the end of the day, if you make me a piece of avocado toast on this stuff, I will love it.
The Bottom Line:
A good bread with a nice chew and a sour flavor. It's not sourdough, but it is bread… and we guess that's something.
3. Inked Organics — Rosie's San Francisco Bay Sourdough (Taste 1)
Price: $6.28
Inked Organics keeps things natural and has one of the shorter ingredient lists of the brands we tried for this tasting. The sourdough is made from wheat flour, filtered water, organic sourdough starter, sea salt, whole wheat flour, cultured organic wheat flour, natural enzymes, and ascorbic acid. The extra ingredients in there are to keep this stuff as shelf-stable as possible.
As a result, it's pretty good stuff.
The Bottom Line:
Light and buttery with a soft tangy finish. Good sourdough that is made well, but if you like a sharp tang, a good chew, and a flavorful crust, this one doesn't quite cut it.
2. Trader Joe's — Sourdough Sandwich Bread (Taste 6)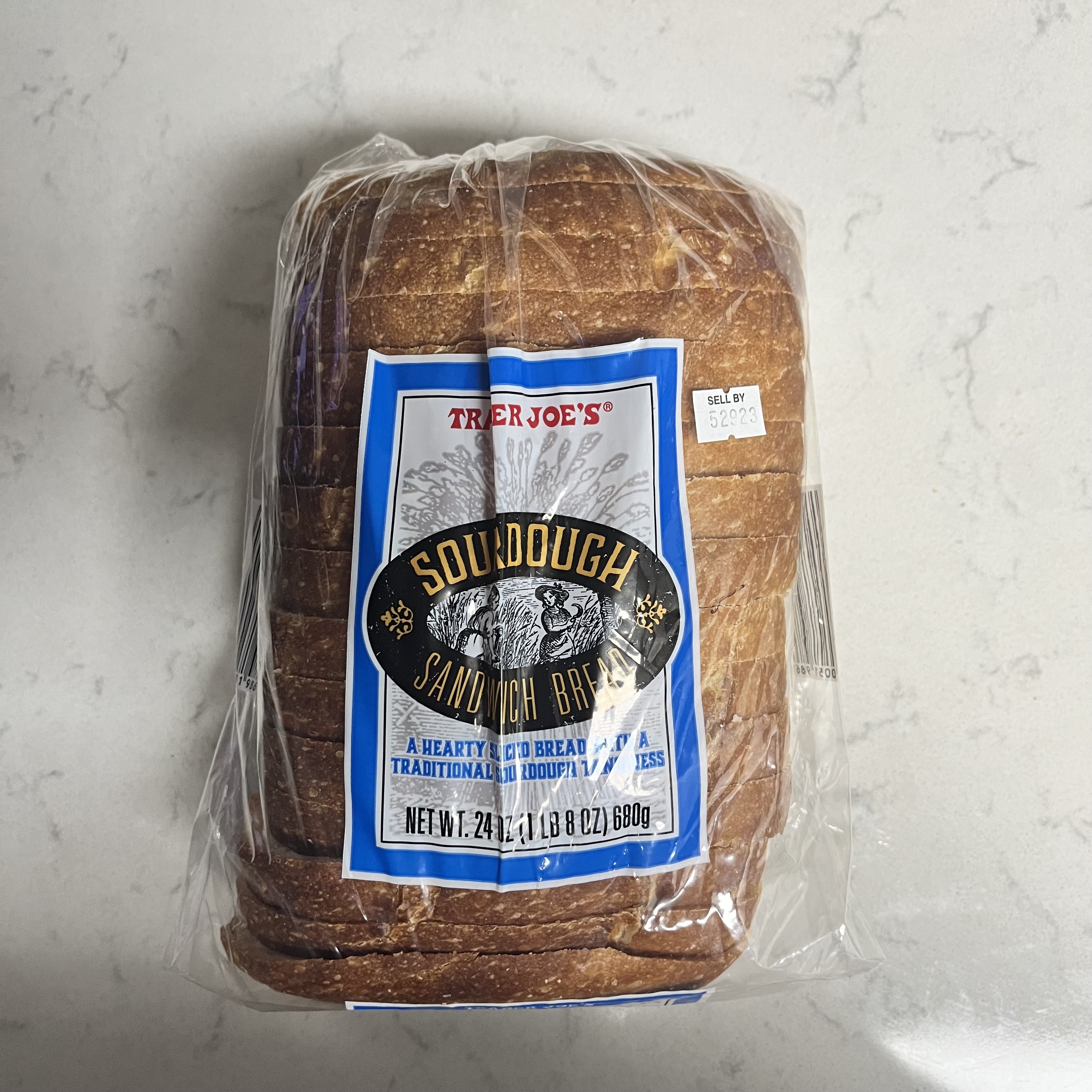 Price: $3.49
Trader Joe's has a variety of store-branded sourdough. At TJ's you get what you get, sometimes this variety of sourdough bread is there on store shelves, sometimes it's not. If it is, grab the "sandwich bread" over the sliced variety.
This sourdough is made from wheat flour, malted barley flour, water, sourdough starter, and salt. That's a solid list and unlike the "sliced" version, doesn't leave us scratching our heads wondering how it managed to rise.
The Bottom Line:
Trader Joe's "sliced" sourdough bread looks more delicious than its "sandwich bread" version, but this is a lot closer to real sourdough so pick this up instead. The presentation will suffer in the process, but at least this will probably fit in your toaster better.
1. San Luis Sourdough — Sourdough Cracked Wheat (Taste 8)
Price: $4.74
The oceanside city of San Luis Obispo California isn't known for sourdough bread, but maybe it should be. San Luis Sourdough is by far the best grocery store sourdough bread I've tried. It's perfectly chewy and bubbly, with a prominent sourdough flavor, and a crispy caramelized crust. It meets the flavor profile of actual sourdough, and I'm happy to see the production process is adequately laborious.
The bread is made from wheat flour, folic acid, water, cracked wheat sourdough starter, and salt, and it takes 30 hours to make a single loaf. That's what we like to see! That extra production time is more than worth it. San Luis even suggests that you bring this bread back to its true state by throwing it in a 350-degree oven for three to five minutes to reinvigorate its crunchy texture.
I didn't do that for this taste test, but I definitely will do it going forward!
The Bottom Line:
If you want the best sourdough bread your money can buy from the mainstream grocer, make it San Luis Sourdough. It's chewy, bubbly, full of flavor and complexity, and has a perfect crust.