It's no secret that extra virgin olive oil is one of the healthiest cooking oils on the market. Due to its relative lack of processing (and the fact that it's expeller pressed), the heart-healthy oil is full of antioxidants and vitamins, rich in monounsaturated fats, is anti-inflammatory, and boasts a bunch of other health benefits — which have been shown to help prevent strokes (study here), protect against heart disease, and possibly even lower the risk of developing type 2 diabetes (a recent study showed that a Mediterranean diet rich in olive oil reduced the risk of type 2 diabetes by over 40%).
On top of all of that, olive oil is also one of the most versatile oils on the market. You can cook almost anything with it (so long as you aren't deep frying), drizzle it on a salad to add complexity, or dip some bread in it. What other oil is delicious enough that you can just dip bread in it? You're not going to do that sh*t with peanut oil. Coconut oil? Canola? Never going to happen.
Not surprisingly, the same lack of processing that helps make EVOO (as the cool kids call it) delicious also makes it expensive. There are $60 bottles of olive oil out there. But there are also some excellent bottles at much lower price points. To find the best among the more "budget bottles," we decided to blind taste test the more affordable brands on the market.
Methodology
For this blind taste test, we gathered up 9 of the cheapest bottles of Extra Virgil Olive Oil we could find. Most of the bottles were below $10, but we set a hard price limit of $13 in order to include some of the affordable oils that come from a single country/state. Allow us to get a bit nerdy here: in the olive oil world, you have some bottles that feature a blend of olives from different countries, some that source their olives from a single country (or state), and some that are sourced from a single estate or olive orchard. Generally, the fewer places the olives are from, the better and more focused the flavor.
The top-tier single-origin oils promise a better end product because the growing conditions and processing methods are controlled and consistent. Oils sourced from a single location (say Greece) are also pretty good, but not quite to the level of olives that all come from a single farm. Unfortunately, you're not going to get single-origin bottles from the budget section, but you can get single country/state if you look hard enough.
Does that level of granularity matter when it comes to the best-tasting affordable oils? We're going to find out. Here is our tasting class:
365 Whole Foods — Italian Extra Virgin Olive Oil
365 Whole Foods — 100 % Californian Small Batch Extra Virgin Olive Oil
Bertoli — Extra Virgin Olive Oil
Good & Gather — Extra Virgil Olive Oil
Good & Gather — 100% California Extra Virgil Olive Oil
Pompeian — Robust Organic Extra Virgin Olive Oil
Primal Kitchen — Organic Extra Virgil Olive Oil
Trader Joes — 100% Italian Extra Virgil Olive Oil
Trader Joes — California Extra Virgin Olive Oil
I had my girlfriend bring me a sample of each olive oil at random and tried it on a piece of baguette. To get a handle on what "good" olive oil is supposed to taste like, I first sampled Pasolivo's Tuscan Extra Virgin Olive Oil. This is a $50 bottle of award-winning oil that is made from sustainably grown olives that are handpicked and crushed within hours at a single site. The oil was fruity with a grassy body and a peppery snap on the aftertaste. It tasted remarkably fresh, even though it was approaching its "best by" date.
In short, I'm of the mind that expensive olive oil is absolutely worth it. So let's see if any of these budget bottles can win me over. Let's get to tasting!
Part 1: The Olive Oil Tasting
Taste 1:
A blunt dirty olive scent on the nose. Not a lot of depth of flavor here, it tastes less like olives and more like straight oil. Like vegetable oil with a bit of darkness.
Taste 2: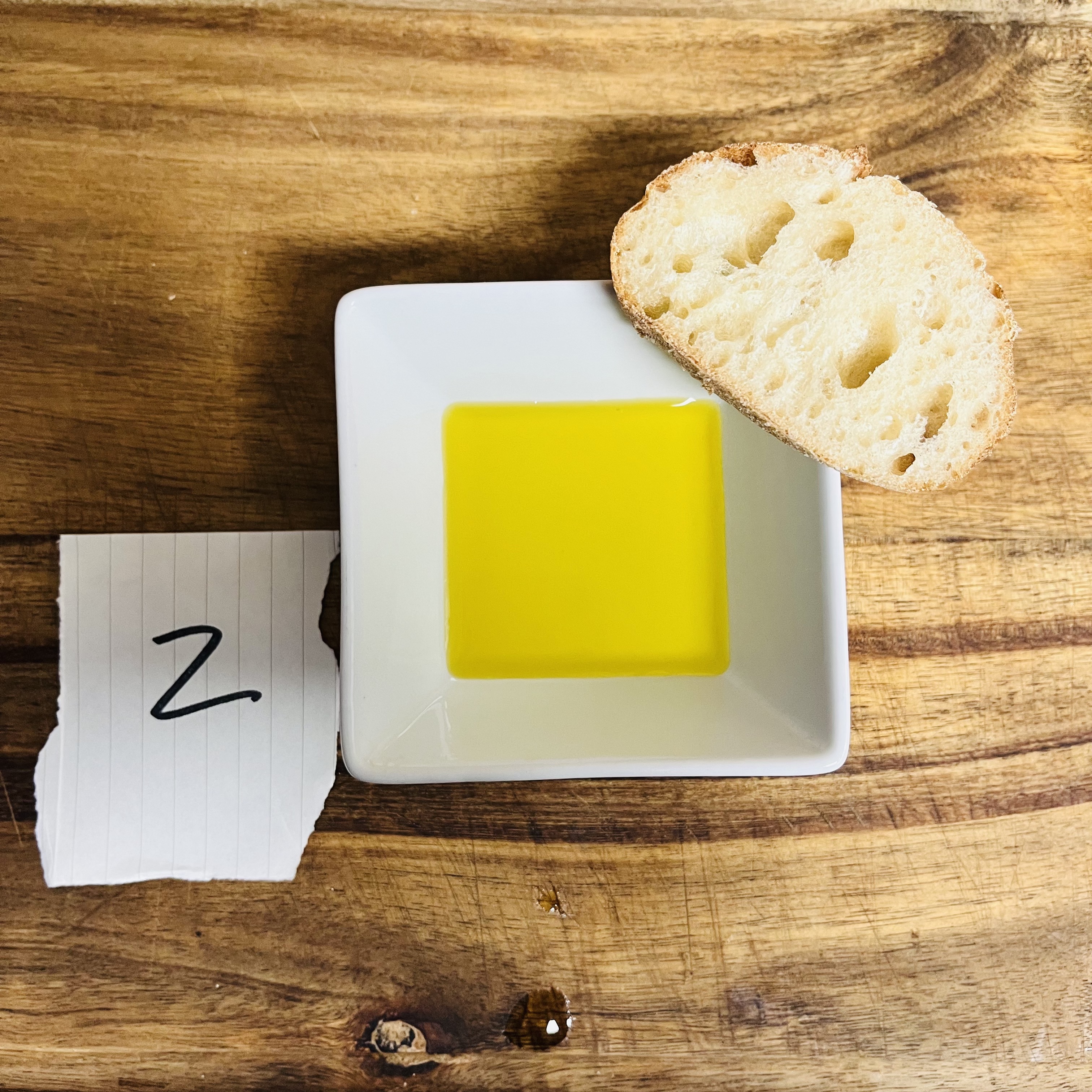 Very vegetal, I'm getting a hint of olive here that leans more on the bitter than fruity notes. There is a delicate slightly floral taste to this, but it mostly lives in a rich-earthy territory. Very nice.
Taste 3:
I take back what I said about Taste 2, that's not delicate, this is. It's very green and grassy, with a sweet finish that lingers on the tongue.
Taste 4:
The flavors of this oil don't float like the last few tastings, instead, they soak into the tongue with a very blunt dark olive flavor. It's not sweet, bitter, or grassy — it's a bit rich for its own good without anything to counterbalance it.
Taste 5:
Savory, but this is another one that tastes more like straight oil than olives. The flavor profile here comes across as messy, you get hints of grassiness and fruity elements but it dissipates before you're able to really hold on to the flavors.
Taste 6:
Buttery and savory! This one has a mouthwatering quality to it, it leans on the floral end of the flavor spectrum with a peppercorn finish.
Taste 7:
Light and buttery, but the flavors don't stick around long enough. I found myself triple dipping my slice of baguette into this oil because I just couldn't taste it enough. What is there is good — it's a mix of rich buttery and grassy notes — but it seems like you have to use a lot of it to really taste it.
Maybe that's a good thing and that's what you're looking for! But in a taste test that's just bread and oil, I need more.
Taste 8: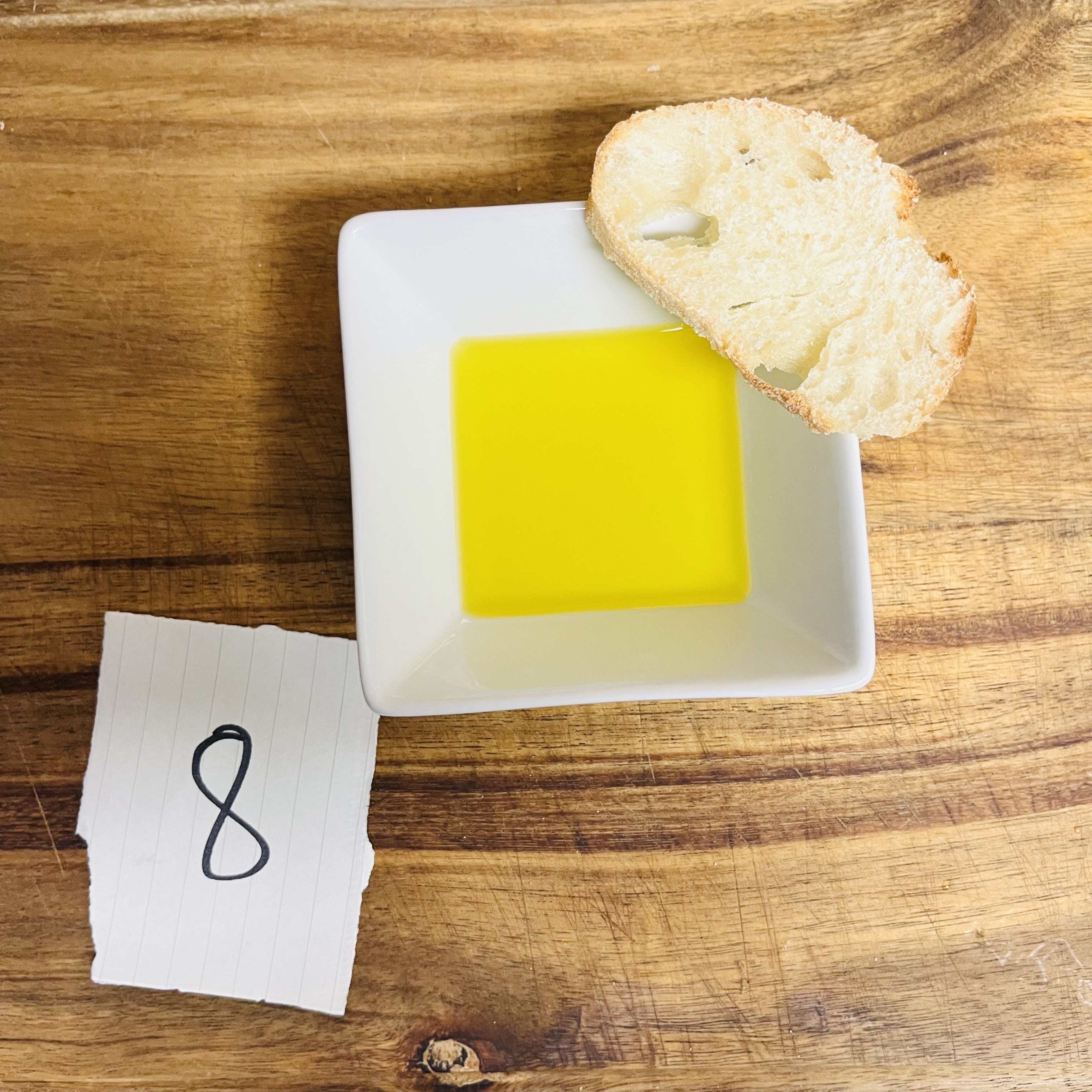 Nice and complex. This one starts off vegetal and grassy before slipping into more savory notes that end with a nice sweet lift. I like a bit more pepper in my olive oil, but this is really nice.
Taste 9: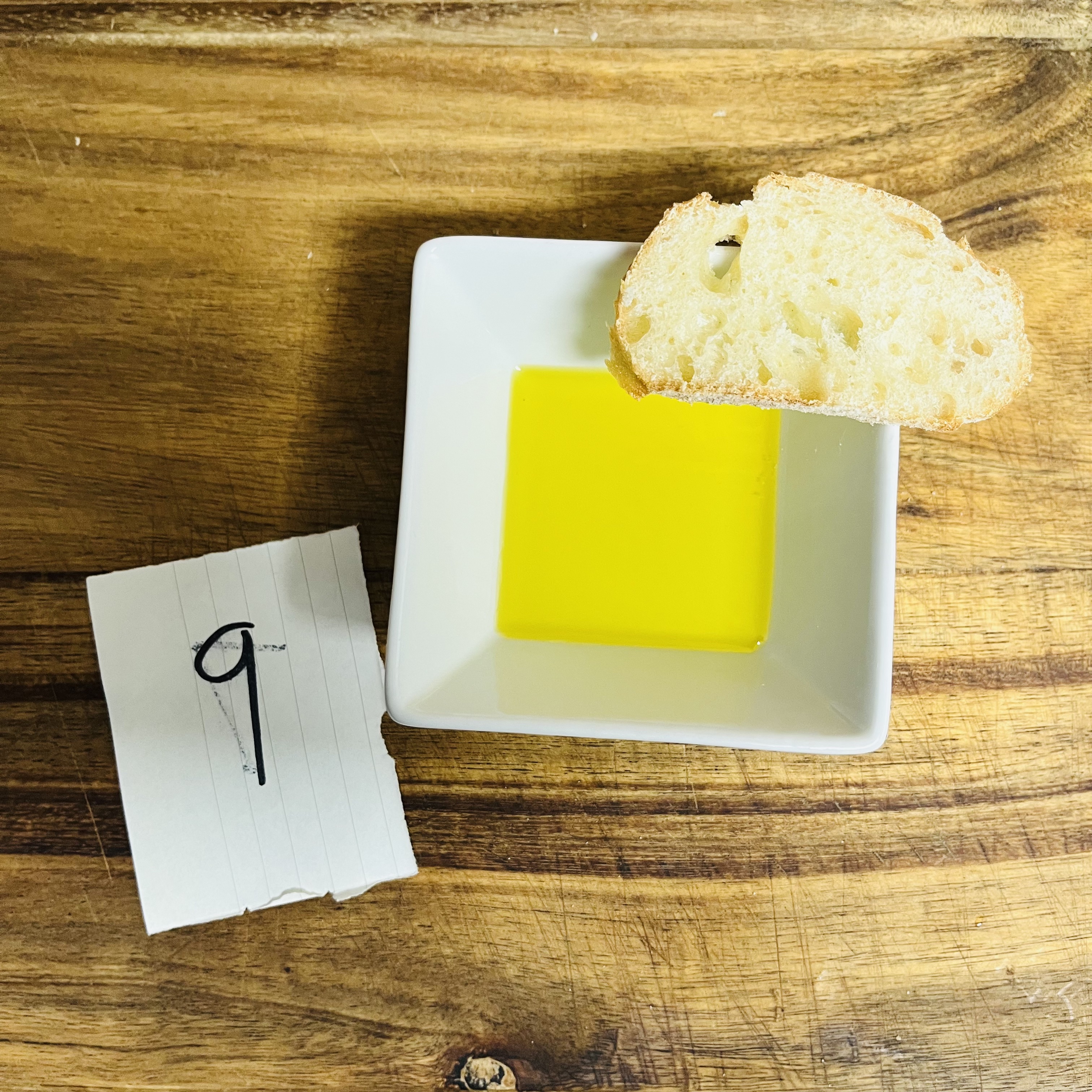 Blunt but very grassy. It has a bitter vibe, but a strange warming finish that heats the mouth a bit. Definitely interesting.
Part 2: The Olive Oil Ranking
9. Pompeian Robust Organic Extra Virgin Olive Oil (Taste 1)
Price: $6.98
Pompeian's Robust is a certified organic by USDA , NON-GMO Verified oil made from a blend of oils from Italy, Greece, Spain, Argentina, Tunisia, Turkey, Morocco, Chile, the United States, Uruguay, and Portugal. That's a lot of places to mix oil from and as a result, it doesn't have a distinct character in its flavor.
I clocked this one as "blunt," and while I think it's perfectly serviceable, we had to rank this one last for its lack of focus.
The Bottom Line:
Perfectly serviceable but lacks character and a clear flavor.
8. Bertolli Extra Virgin Olive Oil (Taste 5)
Price: $6.78
Bertolli touts itself as the "world's no. 1 olive oil brand" and I think by that they mean the best-selling because this stuff is everywhere. For this tasting, I sourced bottles from Whole Foods, Trader Joe's, Target, and some local markets and most of those locations carried Bertolli.
The oil contains olives from Argentina, Chile, Greece, Italy, Morocco, Peru, Portugal, Spain, and Tunisia — I don't want to sound like a snob but single source is really where it's at. Like the Pompeiian, the Bertolli lacked character and tasted more like straight oil than grassy, buttery, savory, or peppery.
It's worth mentioning that these first two bottles were in plastic rather than glass, does that make a difference? Maybe! They certainly have a lot in common.
The Bottom Line:
Dirt cheap but it has a muddled unfocused flavor.
7. Primal Kitchen Organic Extra Virgin Olive Oil (Taste 7)
Price: $13.49
Primal Kitchen's Organic Extra Virgil Olive Oil is the most expensive bottle in our lineup, and you know what? It's not really worth it. The oil is USDA organic, NON-GMO verified, and sourced from Tunisia, Italy, Greece, Portugal, and Spain. It's a significant step up from Bertolli and Pompeian but its light and buttery flavor lacks richness.
As I said in the tasting portion, maybe that's what you're looking for! But this olive oil is a bit too neutral to me.
The Bottom Line:
Light, and buttery, but it leaves you wanting. It's not a very present-tasting olive oil.
6. Good & Gather — Extra Virgin Olive Oil (Taste 4)
Price: $5.29
Target's Good & Gather brand offers the cheapest olive oil we picked up. It's in a plastic bottle, so you know it's cheap! The sourcing information is incredibly vague, on the bottle it reads "Imported from Spain. Contains oil from: see country printed near best by" which reads "Spain" etched into the plastic.
Labeling aside, Good & Gather is surprisingly good despite its super cheap price.
The Bottom Line:
Rich but blunt. It doesn't have the more delicate notes of other brands, but it has a clear and present flavor that soaks into the tongue.
5. Trader Joe's — Organic Italian Extra Virgin Olive Oil (Taste 6)
Price: $6.99
We're going to call it here, Trader Joe's is the best market to buy olive oil at. Not only does TJ's carry over 5 different varieties, they're all incredibly easy on the wallet. This bottle is organic and cold pressed and sourced entirely in Italy. It's a buy even if it's not in our number one spot.
The Bottom Line:
No complaints, it's a great bottle for a remarkably cheap price. This EVOO leans buttery and savory, so if you're after richness, this delivers.
4. Whole Foods 365 Italian Extra Virgin Olive Oil (Taste 8)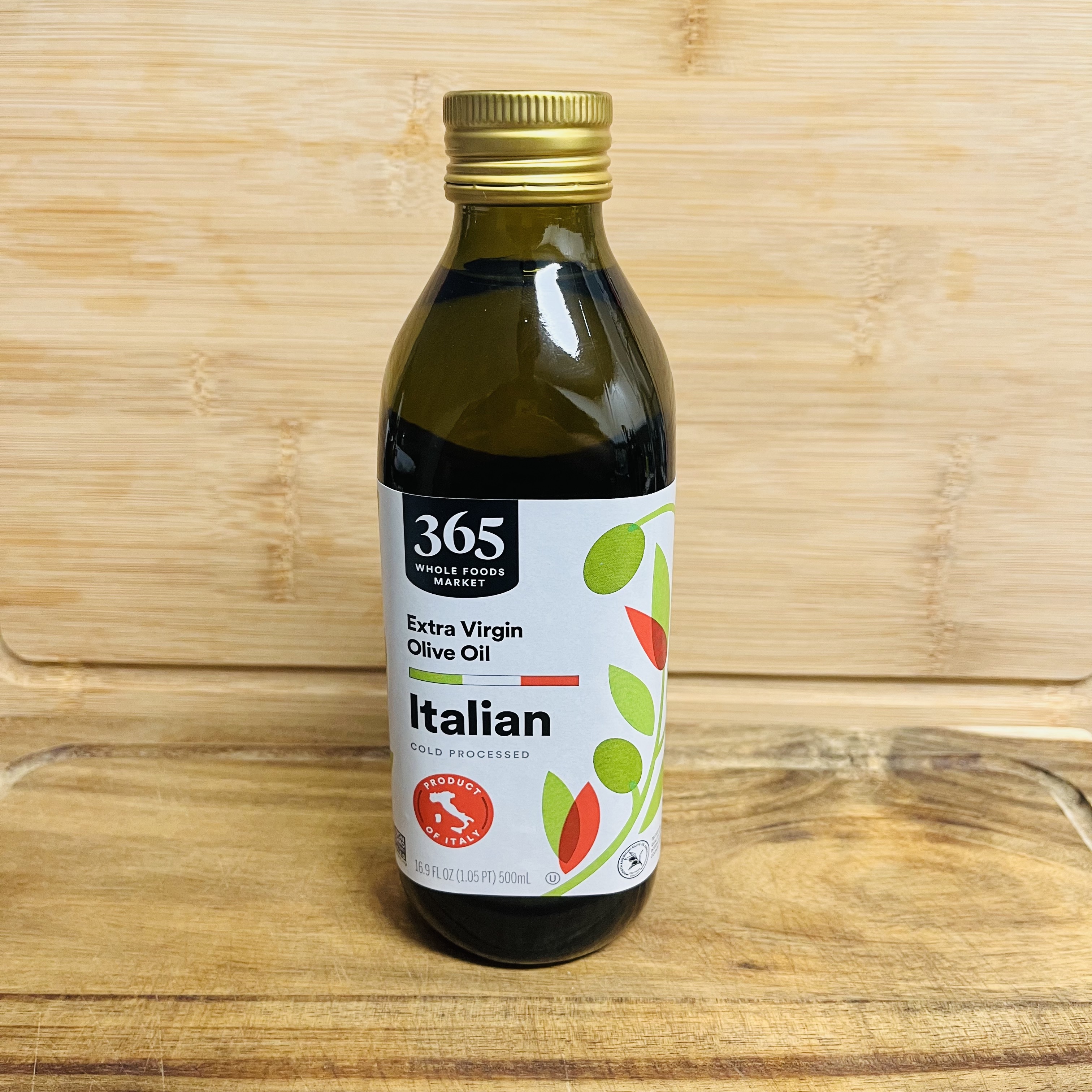 Price: $8.39
Whole Foods' Italian EVOO ticks some of the same boxes as TJ's: it's cheap and sourced from Italy but it leans more on grassy and fruity notes, which are a bit more my thing when it comes to olive oil. The only thing it's missing is a peppery component.
The Bottom Line:
Grassy, fruity, and cheap. It's a buy!
3. Good & Gather Signature — 100% California Extra Virgil Olive Oil (Taste 9)
Price: $9.99
If you're willing to throw a few more dollars on your Target bill Good & Gather's Signature series of EVOO is worth it. It's still under $10 which is great, but you trade in a flat flavor that lacks depth for something that is savory, buttery, and has an interesting warming finish. It's remarkably complex for its price point, even if it is still a little on the blunt side.
The Bottom Line:
Buttery and rich with a strange (but enjoyable) warming sensation that settles on the palate.
2. Whole Foods 365 — 100% California Small Batch Extra Virgin Olive Oil (Taste 2)
Price: $12.49
I hate to say it but if you're willing to spend a few more dollars at Whole Foods, the brand's 100% small batch California Olive Oil is better than its cheaper bottle of Italian olive oil. The flavors here are just a lot more distinct and focused. We're not sure what Whole Foods means by 'small batch' is this bottle made from olives all from the same farm? If they're not advertising it as such, we have no reason to believe that's the case. The term 'small batch' might just be some creative marketing.
In general, I think Whole Foods tends to trend expensive compared to other markets, but considering the brand also has a bunch of bottles that are double the price of this one, as an EVOO fan this bottle punches way above its weight.
The Bottom Line:
Vegetal, fruity, floral, and rich. This bottle offers a unique and present flavor that is a joy to taste.
1. Trader Joe's California Extra Virgin Olive Oil (Taste 3)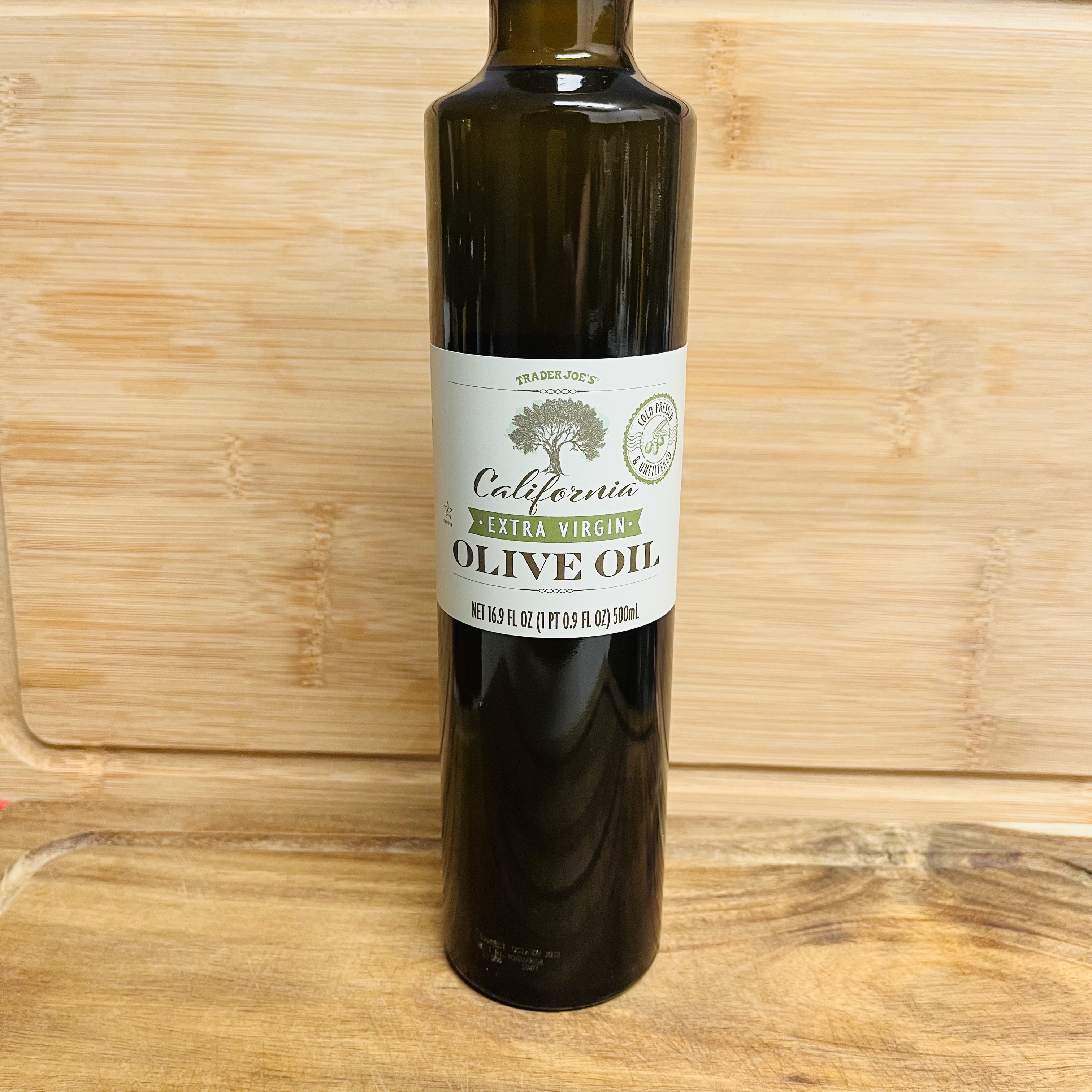 Price: $7.99
I'll admit it, I'm not a Trader Joe's fan. It has this strange reputation as an inexpensive health food store, but I never found it to be all that inexpensive, and most of the best products are pre-packed frozen foods. If you're buying your fruit and vegetables at Trader Joe's, stop doing that you weirdo — all of the big market chains have cheaper produce and way more variety.
But I stand by what I said earlier, Trader Joe's is absolutely the best place to buy olive oil from. Each of the bottles is cheap, you get a variety of options (California, Italy, Greece), and as far as I've tested, all of the bottles seem to be pretty high quality. Does it compare to the $50 Pasolivo? No. But not tasting them side by side, I don't think I'd notice if I was at a restaurant unless I was looking for particular nuance.
In short, this California-sourced EVOO is delicious, full stop.
The Bottom Line:
Grassy and green with the slightest hint of fruit and black pepper at the finish.
The Big Takeaway:
You don't have to break the bank for good olive oil — you don't even have to spend more than $10. Do the pricey high-end bottles have more to offer? Absolutely. But if you're just looking for a kitchen workhorse that gets the job done, the budget shelf has quality, you just have to know what to look for.
Keep it single source (or in this case at least from a single country or state) and ideally from a location that has a beautiful Mediterranean climate and you can't go wrong.