Eggnog is deceptively easy to make. It just takes time. And that time commitment causes a lot of people to tap out and make a grocery store run for all their nog needs. If you do make your eggnog at home, you can control everything that goes into it and that's worth it in our estimation.
Eggnog is pretty simple ingredients-wise: Cream, eggs, nutmeg, salt, sugar, and … that's about it. The rest is the booze you want to add to the mix. Store-bought versions will have thickeners, dyes, and "natural flavors" added. But let's get back to the booze. The storebought version will be a little thicker in an unspoken understanding that you're going to cut it with bourbon, rum, or brandy. But, we'd argue, adding your favorite spirit after the eggnog is made makes it a little too harsh and doesn't properly layer the spirits into the nog.
That's why we're making a big batch of very old-school boozy eggnog below. Our nog has Kentucky bourbon, Cuban rum, and Spanish brandy built right into it. It does need to settle overnight before you dive in, but as the late Tom Petty said, the waiting is the hardest part. Let's get into it!
Boozy Eggnog
Serves 8 to 10, contains raw eggs.
Ingredients:
4 cups whole milk (3.5 percent)
2 cups heavy cream (31 percent)
1 cup white sugar
12 large eggs (whites and yolks separated)
1 freshly ground nutmeg
1 tsp. ground allspice
Pinch of salt
1 cup bourbon
1 cup dark rum
1 cup brandy
Let's talk about eggs. If you're iffy on drinking raw eggs in a cocktail (every proper whiskey sour has raw egg white), make sure you use pasteurized eggs. If the eggs have been pasteurized, any risk of harmful bacteria should be cooked out without having cooked the egg. Beyond that, the addition of alcohol into the nog will assure that no new bacteria grows in your nog while it sits in the fridge.
The rest is pretty straightforward. I'm using Evan Williams Black Label, Havana Club Especial, and Veterano Brandy. These are good, cheap bottles I have on the shelf. You don't need to go too crazy with what you're putting in this or break the bank. The point is to use alcohols you like to drink and you'll be set. Lastly, all of these alcohols are very vanilla-heavy, meaning you don't need to add extra vanilla to the mix.
What You'll Need:
Large bowls
Whisk
Soft spatula
Stand or hand mixer
Microplane
Containers or large bottles
Measuring cups and spoons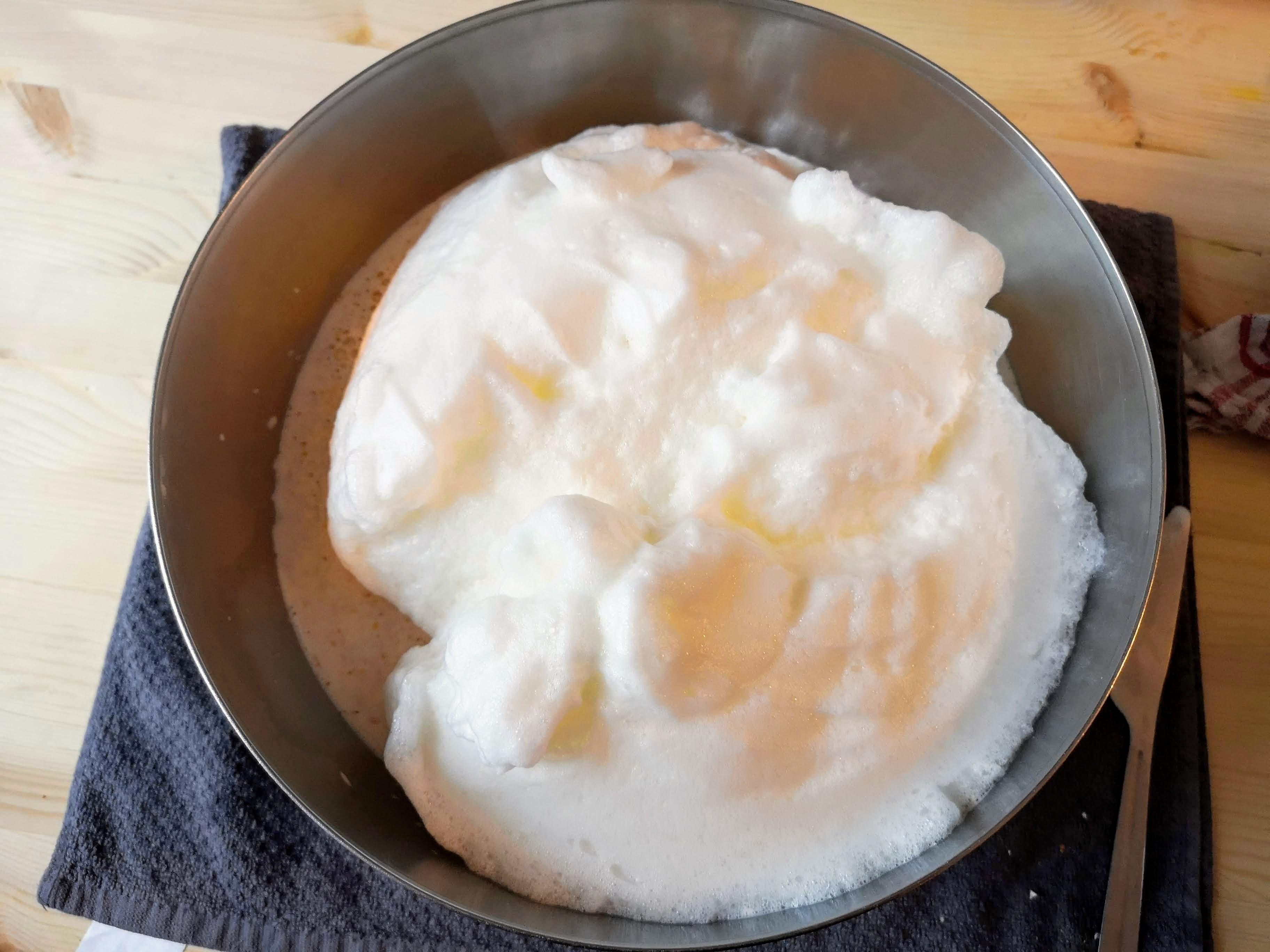 Method:
First, separate all the egg yolks and whites.
Add the yolks to a large mixing bowl and whisk with sugar until fully emulsified.
Whisk in milk, cream, salt, and ground spices then whisk in all the alcohol.
In another large bowl, whisk the egg whites until they form stiff peaks.
Fold the egg whites into the base mixture gently with a large rubber spatula.
Pour the eggnog into waiting containers. Seal and refrigerate for at least 24 hours.
Make sure to stir the containers every day.
Pour over ice and dust with more freshly ground nutmeg. Serve.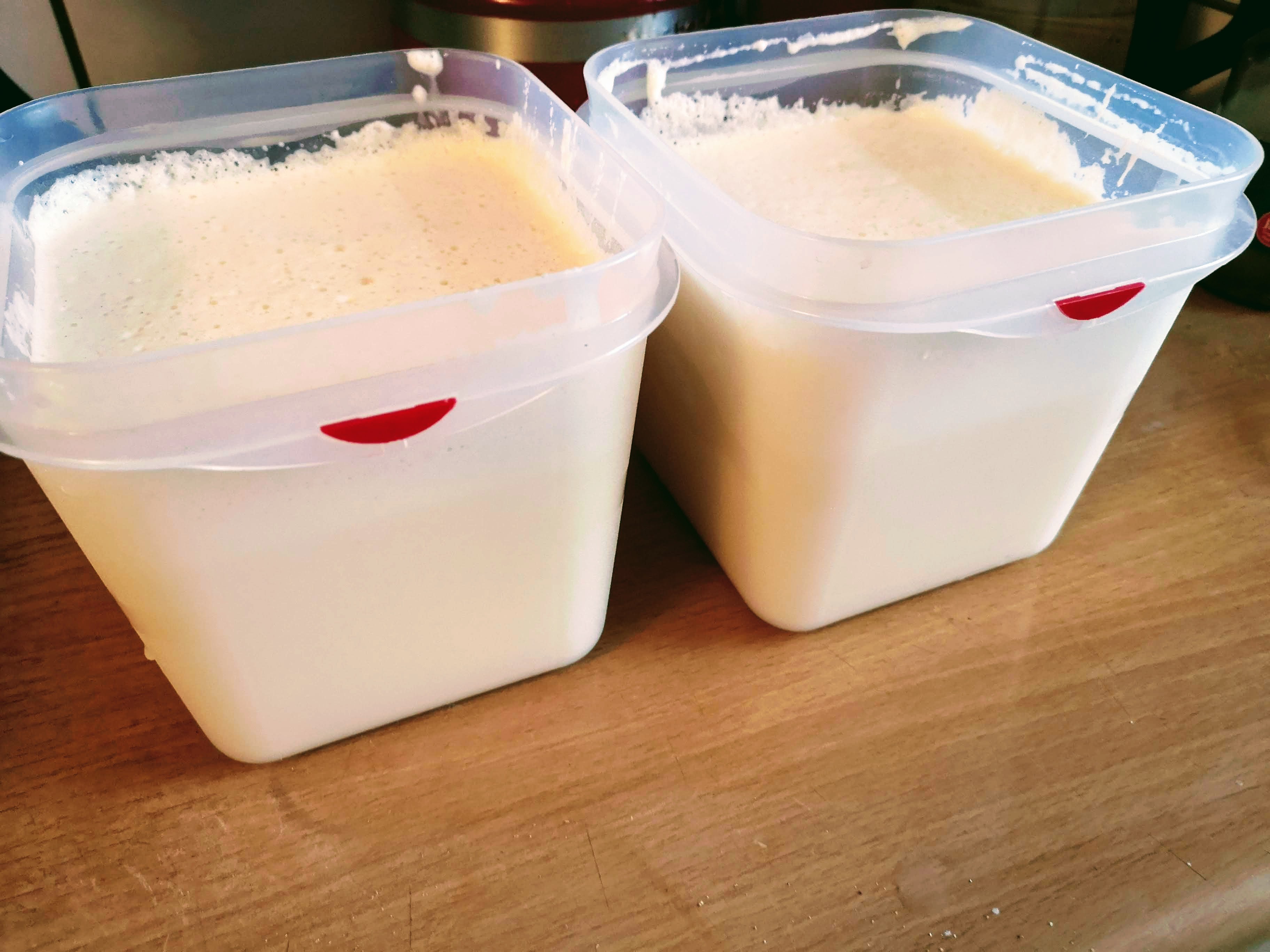 Bottom Line:
The folding in of the egg whites really makes this super-silky and gives you that velvet mouthfeel you're looking for a good nog. The nutmeg and allspice add that iconic noggy flavor to the mix and are fully integrated into every sip (the spices don't all settle to the bottom of the glass).
The booze is definitely there but doesn't overpower the eggnog-iness of the sip. The creaminess has layers of rich vanilla, mild woody spice, and light fruit lingering in the nog. It's a delight.
All told, this only really took 30 minutes of labor and then 24 hours of waiting with a stir in between. It was 100 percent worth it but does not last as long as you'd like it to. I'm already planning on my next batch!