Game of Thrones isn't coming back until next year (deep into the summer, no less), which still feels like a loooooong way away. As long as you're waiting, might as well have a tipple — to make the dire wolf-less nights pass faster. Diageo just made that task easier with a new release of whisky to get you through those cold winter evenings with only Game of Thrones reruns at your side.
The big name here is Johnnie Walker. The iconic brand created an ice cold spirit called White Walker. The bottles have a very blue-eyed-ice-zombie feel and hold a blended scotch that's meant to be "served directly from the freezer, echoing the chilling presence of the White Walkers." Whisky from the freezer might sound a bit odd but it'll assuredly be very smooth with hints of caramelized sugar, ripe red berries, and oaky vanilla.
According to USAToday, a bottle will set you back about $36 at your local liquor store, which isn't too bad all things considered.

Wait, there's more! Diageo has tapped eight more of their scotch distilleries and launched an entire collection of whiskies for each house in Westeros, including the Night's Watch. The houses are getting rep'd by the following distilleries:
House Tully – Singleton of Glendullan Select
House Stark – Dalwhinnie Winter's Frost
House Targaryen – Cardhu Gold Reserve
House Lannister – Lagavulin 9 Year Old
House Greyjoy – Talisker Select Reserve
House Baratheon – Royal Lochnagar 12 Year Old
House Tyrell – Clynelish Reserve
The Night's Watch – Oban Bay Reserve
Yeah, those are all pretty great whiskies to have around in general. Prices will range from $30 to $70 and all the bottles will have special labels denoting their Westeros House affiliations.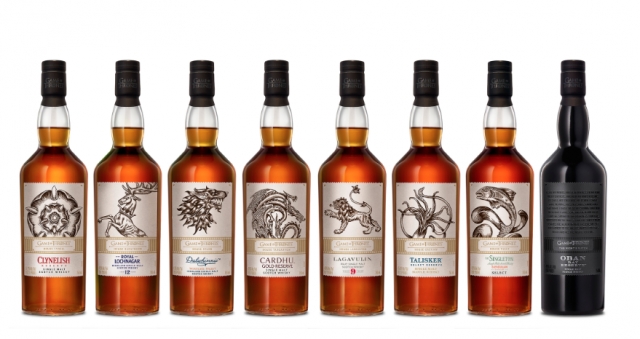 Of course, this isn't the first booze and Game of Thrones pairing. There's already plenty of beer from Ommegang and enough wine to satisfy even Tyrion out there on the market. Still, the cool bottle designs and serious pedigree of the scotch make this one hell of a covetable line of whisky.
(Via USAToday)