It's not every day that a food — especially a fast food condiment — has a cult following, but such is the case with McDonald's Szechuan sauce. The sauce, most agree, isn't even that good, but Rick and Morty is beloved and here we are.
McDonald's released a limited time version of the sauce October 7 that was only available on that day, and fans went crazy over it, only to be left wanting more, which McDonald's promised to give at a later date. There are talks of the sauce's re-release later in February, but it's unclear whether the top-secret condiment will simply be advertised on February 26, or if it will actually be available for sale at that time. McDonald's has made no official statement about the release date, but some of the restaurant's insiders have been leaking information on Reddit with clues about where and when the Szechuan sauce will be released and for how long.
According to promotional information given to a Redditor who claims to be a project manager for a Mcdonald's owner-operator, each restaurant will receive six cases of 250 sauces each, and Walmart locations will receive three cases of 250 sauces each. None will be available for reorder.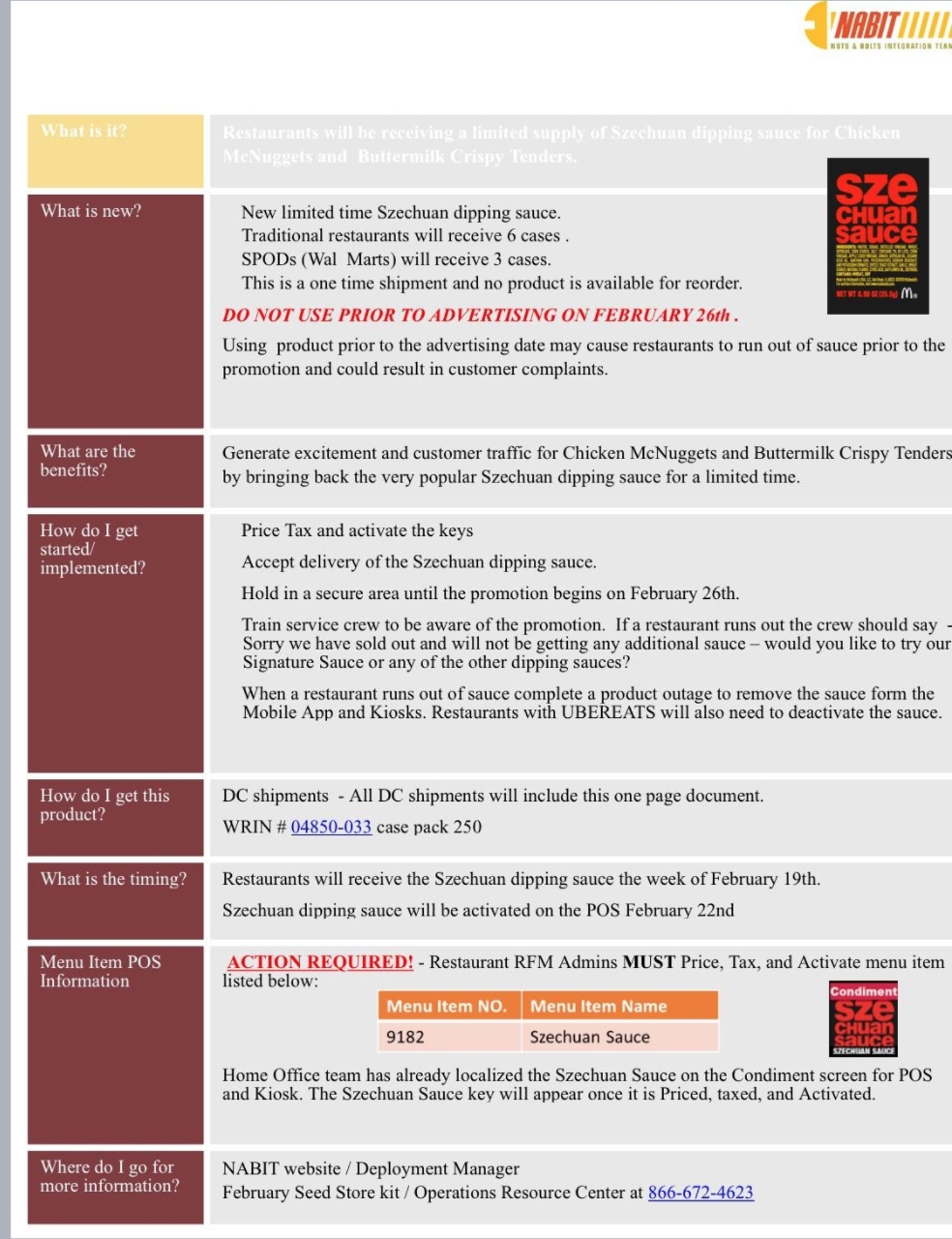 Bringing back the sauce is not only a tactic to "generate excitement and customer traffic for Chicken McNuggets and Buttermilk Crispy Tenders" as the promo information states, but also to rectify a PR nightmare for the restaurant after the October release left fans displeased with the long lines and little supply of the sauce at their local restaurants.
McDonald's heard the cries of those who missed out on tasting the sauce (as only 20 to 40 packets were available at each store for the October release) and vowed to bring it back before winter was over.

There is a ton of confusion about where and when the sauces will be available, with some saying larger markets will receive their cases first, and some saying they've called their local restaurants and managers had no clue the stores would be bringing back the sauce at all. Your best bet is to call your local Mickey D's and get the real scoop for yourself.