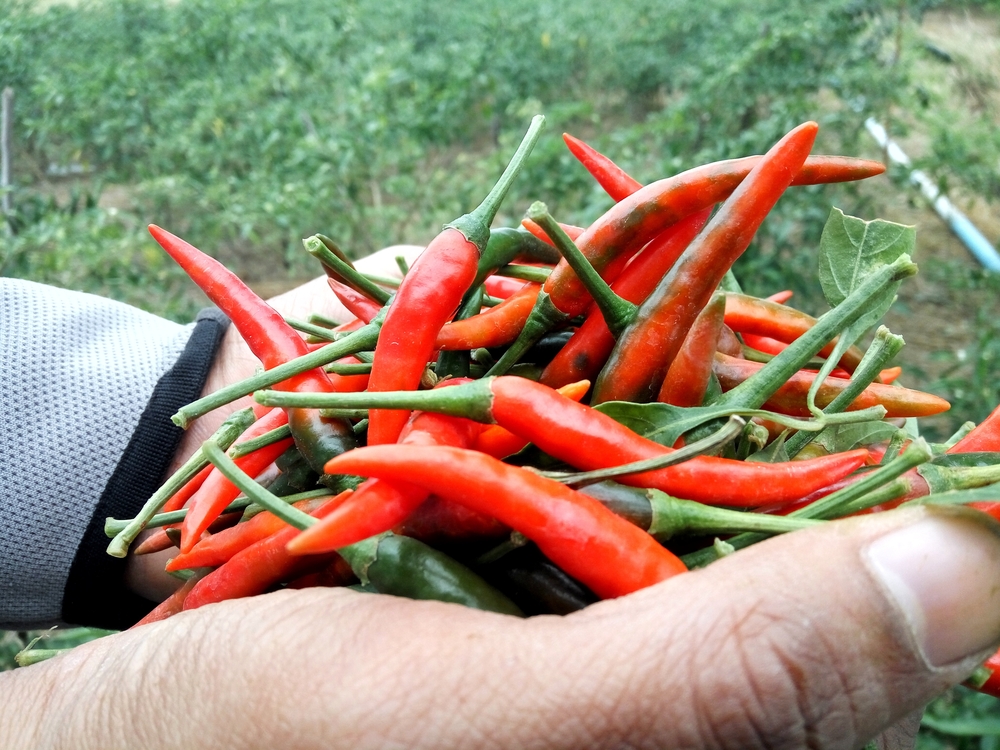 Life is short. If there's one thing that unites us, it's the desire to live a little longer. We promise to exercise instead of eating chips. We make New Year's resolutions and then proceed to break them. Even with all the self-torpedoing, we still always want a few more minutes.
Science has been working on it. Doing their best to aid our cause. Usually, we're hearing about what kills us faster, but today we get some good news! A recent study shows that eating hot chili peppers pushes back the reaper… at least a little.
The study was conducted in the United States with 16,179 adults over the course of 23 years of their life. They found that people who eat hot chili peppers and spicy food regularly had a 13 percent decrease in mortality. Eating spicy food allows you to live longer! It might be time to invest in chili pepper futures.
The doctors behind the study theorize that this is happening because the "capsaicin found in chilli [sic] pepper is believed to play a role in cellular and molecular mechanisms that prevent obesity and modulate coronary blood flow." According to the study, the test subjects who used chili pepper on a regular basis were "younger, male, white, Mexican-American, married, smoke cigarettes, drink alcohol, and consume more vegetables and meats." The participants who use chili pepper also had lower "HDL-cholesterol, lower income, and less education" compared to those who didn't spice up their food.
In light of this new discovery, and our desire to lead you to a healthier way of life, we've done a little research and found the ten best hot sauces out there. These are according to sales on Amazon. Let us know what's missing in the comments!
10. Da Bomb Beyond Insanity Hot Sauce
https://www.instagram.com/p/BLl5mAwhVn4/
Da Bomb is known for making hot sauces that are nearly inedible. This one is no different. This sauce charts on the Scoville (units of heat) scale at 119,700! By comparison a jalapeño clocks in around 5,000 Scovilles.
$10.35 for a 9.6 ounce bottle.
9. Huy Fong Chili Garlic Sauce
https://www.instagram.com/p/BLl3dXyjfXn/
Huy Fong is the mastermind behind one of the world's most famous hot sauces, but more on that one later. This variation adds garlic to the mix for another layer of delicious, mouth-burning spice.
8. Dave's Ghost Pepper Naga Jolokia Hot Sauce
The Naga Jolokia (ghost pepper) hails from India and packs a fruity wallop. The pepper ranges around 855,000 units on the Scoville scale, so be prepared for the burn.
7. Tabasco Original Flavor Pepper Sauce
Tabasco is the grandaddy of American hot sauces — it's been around for 140 years. A sauce that has been able to stand that long on menus and in kitchens means that they're doing something right.
$7.20 for two 2 ounce bottles.
6. Harissa Condiment in Tube
Harissa is the new kid on the block in American's spice cabinet. It's a heady blend of smoked chilis, tomato, and garlic from North Africa. And you can put in on everything!
5. Nando's Peri Peri Sauce
This sauce comes to us from Mozambique/South African barbecue traditions. The name comes from the piri piri chili and the sauce combines a melange of citrus, bay, oregano, basil, tarragon, and paprika.
$16.15 gets you four 4.7 ounce bottles.

4. El Yucateco Green Habanero Hot Sauce
https://www.instagram.com/p/BOxW5YDjvem/
This is a table sauce. It's a blend of green habaneros, garlic, and secret spices that add a good punch to any dish.
$17.95 will get you four 4 ounce bottles.
3. Pain is Good Batch #218 Louisiana Style Hot Sauce
https://www.instagram.com/p/BNV-FjPhpXO/
This blend of cayenne and tabasco peppers is full of the swampy flavors of the bayou. It's also supposed to be painful. So if pain's your jam, this one's for you.
2. Secret Aardvark Habanero Sauce
This sauce sells itself as a hybrid of Caribbean and Tex-Mex flavors, which is intriguing. And since it is Amazon's second best selling hot sauce, they must be onto something. The sauce is a blend of habaneros and roasted tomatoes and packs a small kick that makes it great for all uses.
1. Huy Fong Hot Chili Sauce, Sriracha

It's sriracha. The only way you don't know what this is if you've been in a coma for 20 years and just woke up. In that case, it's a very popular sauce made from chili, sugar, salt, garlic, and distilled vinegar. People seem to like it. It's also the best value for any hot sauce on the list, by far.
(Via News.com.au)