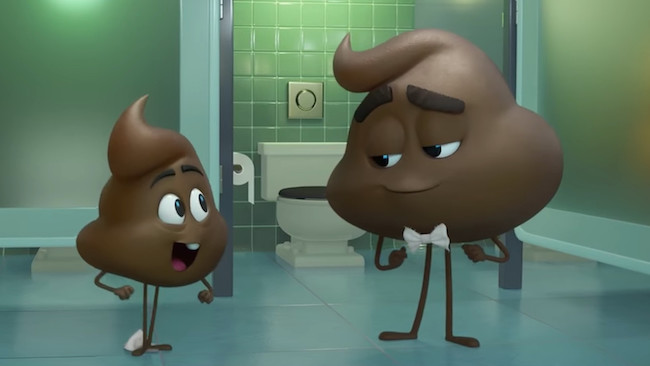 Saturday morning brought the 38th annual Razzie Awards, dealing out the Golden Raspberries to the "worst" in film for 2017. The Razzies have come on the day before the Oscars for quite a while at this point, standing in loving contrast to the Academy Awards' aim to celebrate the best, and this year didn't have to look far for its top film. The Emoji Movie walked away with four of the ten awards, making it one of the first movies to get the award that actually featured a talking poop. The Guardian adds that the Razzie Awards official statement on the film was not kind to the film or its ability to earn the "dishonor" given the year at the box office:
"Leading this year's list of movie-misfires is the emoticon-based, talking poop opus," the Razzies said in a statement announcing the recipients, saying the film came in a year when "Hollywood's recycled trash heap attained an all-time high" and saw a "toxic-level lack of originality".
The Emoji Movie earned Worst Picture, Worst Screen Combo, Worst Screenplay, and Worst Director. The acting categories stuck to flesh and blood performers, with the top awards going to Tom Cruise and Tyler Perry as Madea. Mel Gibson earned a Worst Supporting Actor trophy for his family-friendly turn in Daddy's Home 2, while Kim Basinger became one of Fifty Shades Darker's two awards at the show.
The real stand-out moment came during the Razzie's parody of the "In Memoriam" segment, saying goodbye to the many men who have fallen in the wake of the Harvey Weinstein scandal. The montage of faces is followed by the message, "Very sorry, but we won't be missing you — or your kind." You can check it out below and watch the winners announcements as they come in. The full list of "winners" is below:
Worst picture The Emoji Movie

Worst actress Tyler Perry, Boo 2! A Madea Halloween

Worst actor Tom Cruise, The Mummy

Worst supporting actor Mel Gibson, Daddy's Home 2

Worst supporting actress Kim Basinger, Fifty Shades Darker

Worst screen combo Any two obnoxious emojis, The Emoji Movie

Worst remake, ripoff or sequel Fifty Shades Darker

Worst director Tony Leondis, The Emoji Movie

Worst screenplay The Emoji Movie

Special Rotten Tomatoes Award: The Razzie Nominee So Bad You Loved It! Baywatch
(Via The Guardian / BBC)