Black Panther has the biggest opening weekend of 2018, so far. But number two is not Steven Spielberg. It is not Jennifer Lawrence's latest film. It is not a franchise sequel like Pacific Rim: Uprising or Fifty Shaded Freed, or even a big-budget reboot like Tomb Raider.
The second biggest opening film of the year has almost no dialogue; it only cost $17 million to make; and it was directed by Jim from The Office, who stars alongside his wife, Emily Blunt. A Quiet Place, one of the most terrifyingly intense films to come along in years, has won the box-office weekend, putting up a huge $50 million, which is nearly $8 million more than the opening of Steven Spielberg's $175 million film, Ready Player One, last weekend.
That is monstrous, and while marketing and promotion certainly helped, this is a word-of-mouth hit. A Quiet Place did not sell a tremendous amount of advanced tickets; this is a movie people are hearing about and running out to see because it really is that good, and I can't stress enough how much more fun this movie is to see with a large, engaged crowd cringing, gasping, and shrieking in their seats. The John Krasinski directed film put up a 96 percent on Rotten Tomatoes, and it deserves every great review. It is intense, suspenseful, and fun.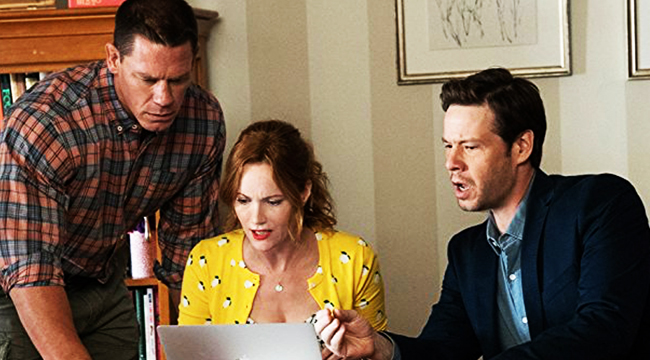 I only wish Blockers had not opened against it, because it is terrifically fantastic itself (it currently sits at 83 percent on Rotten Tomatoes). It's the funniest studio film since Girls Trip and one of the funniest in recent years, a rare sex comedy that does right by all of its characters. It's also getting great word of mouth, and though it looks like it's going to come in right at expectations with $21.4 million in third place, Blockers should continue to perform well throughout the month as the best comedy option available, at least until Amy Schumer's I Feel Pretty in two weeks.

Squeezed in between A Quiet Place and Blockers this week is the aforementioned Ready Player One, with a decent hold (down 44 percent, which is better than most huge blockbusters) and $25 million in its second weekend. It's earned $97 million after two weeks domestic, and it's doubled that overseas, so while the Spielberg flick is not breaking any records, it should roll to at least $400 worldwide and squeeze out a profit even before digital release.
Numbers four through seven are all holdovers, led by Black Panther, which has no intention of vacating the top ten after eight weeks. With $8.4 million this weekend, it's now earned $665 million, good for third place all-time at the box office, behind only Star Wars: The Force Awakens and Avatar. Worldwide, Black Panther has also just surpassed Frozen for 10th place all-time globally, with its sights firmly set on Star Wars: The Last Jedi.
Meanwhile, Tyler Perry's Acrimony dropped to number five this weekend with $7.5 million, to bring its overall total to $30 million. It should claw its way to around $40 million before it's all said and done, which would put it in the lower tier of Tyler Perry's offerings. The good news, however, keeps coming for I Can Only Imagine, which earned another $7.4 million. It currently sits at $68 million, so far, padding its lead as the biggest film ever for Roadhouse Pictures. Having surpassed War Room, it's also the sixth highest grossing Christian film ever.

Chappaquiddick, which tracks the incident that derailed Senator Ted Kennedy's political aspirations, opened with a so-so $5.9 million this weekend, good for seventh place. It performed much better than the weekend's other new opener, the faith-based The Miracle Season, which opened outside the top 10 with $4.1 million.
Sherlock Gnomes, meanwhile, continues to putter along, adding $5 million in its third weekend to bring its three-week total to $33 million. In only 550 theaters, however, Wes Anderson's Isle of Dogs, performed solidly with $4.6 million to bring its total to $12 million before it's even rolled out nationwide (that will happen next weekend). Finally, Pacific Rim: Uprising closes out the top ten, earning $4.3 million to brings its three-week total to a disappointing $54 million. However, it has earned around $200 million overseas, so it's doing just fine.
Next week is another crowded one, led by Dwayne Johnson's Rampage, which will challenge A Quiet Place for the top spot. Shia LaBeouf's Borg vs. McEnroe will also take on Jason Blum's horror-thriller Truth or Dare and the animated film, Sgt. Stubby: An American Hero.
(Via Deadline / Box Office Mojo)