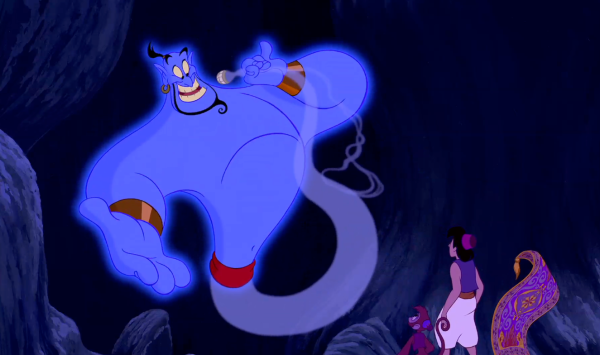 A weekly guide to what's new on DVD and Blu-ray
Pick of the Week: Aladdin (Disney)
By the time Aladdin arrived in theaters in November, 1992, Disney's comeback was old news. After The Little Mermaid and Beauty and the Beast, the first features in a long time that almost everyone agreed could stand next to films of the studio's golden age, Disney Animation was on top again. That doesn't mean everything was going well behind the scenes or that some at Disney had started to feel the need to play it safe to keep the momentum going. Despite a reunion of the team behind The Little Mermaid — co-directors John Musker and Ron Clements and the songwriting duo of Alan Menken and Howard Ashman — the film became the subject of late-in-the-game, studio-mandated rewrites. It also suffered a tremendous loss when Ashman died from AIDS-related complications mid-production and the final film doesn't reflect the one he set out to make. It says everything that Disney, in the name of getting it right, would sacrifice "Proud of Your Boy," a Menken/Ashman song included on this new Blu-ray edition of the film (and on previous home-video editions), that no one involved in the film can talk about without tearing up. (The song, a heartbreaker, eventually made it into the Broadway version.)
Still, it's tough to argue with the results. Despite the presence of The Little Mermaid team (with lyricist Tim Rice filling in for Ashman for about half the songs), Aladdin wasn't quite in the mold of the hits that preceded it. As much adventure film as musical, it doesn't have the emotional weight of Mermaid or Beast and its songs are a little more hit-or-miss, with the Ashman-penned songs working best. (The Menken/Rice hit "A Whole New World" is pretty drippy, even if the sequence accompanying it is lovely.) But it's brisk and exciting and filled with eye-pleasing Al Hirschfeld-inspired character designs.
Then, of course, there's the genie. Though Robin Williams wanted to downplay his involvement with the film in part to avoid competing with Toys, which was due to appear in theaters around the same time, it's undoubtedly one of his best roles. With the help of gifted animators, Williams was able to follow his free-associative riffing wherever it would go. On the audio commentary, Musker and Clements remember simply putting him in a room with some props and letting him go. The final product was the result of compromise and second thoughts, but Williams gives it a much-needed element of chaos. It's probably no coincidence it's the element most remember best.
Also new: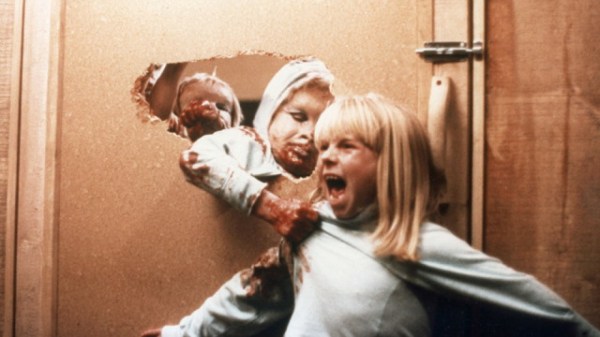 The Brood (The Criterion Collection)
David Cronenberg has called his 1979 film The Brood a more-realistic Kramer vs. Kramer, which is an odd claim to make of a movie in which killer dwarfs terrorize the friends and family of a 5-year-old. Or is it? Inspired by the director's own divorce and custody battle, The Brood places a young girl named Candice (Cindy Hinds) at the center of a tug-of-war between Frank (Art Hindle) and Nola (Samantha Eggar), divorced parents leading extremely different lives. He's an architect. She's the seemingly permanent resident of a retreat run by experimental therapist Hal Raglan (Oliver Reed), whose signature approach, "psychoplasmics," causes his patients to undergo physical changes.
The Brood takes place deep in Cronenbergland — in other words, where the psychic and the physical are virtually interchangeable and where crackpot science allows monsters from the id to find their way into the real world. Of Cronenberg's early features, The Brood is both the grossest and the saddest. (The director has said it's the only one he's made without jokes.) It's also, as Carrie Rickey observes in the first-rate essay accompanying this new Criterion Collection Blu-ray and DVD edition, a film that can take on different meaning over time for some viewers. It's got scares aplenty and Cronenberg's signature chilly tone, everything a bloodthirsty horror fan could want from a Cronenberg film. But it's also extremely acute about the stakes of divorce, its impact on children, and how the brokenness of one generation gets passed down to the next one — and the next one. Like Kramer vs. Kramer only, well, more realistic.
Tomorrowland (Disney)
Tomorrowland's a tough film to hate, but an even tougher one to love. Directed by Brad Bird, it combines some visually stunning, space-age imagery with some memorable action sequences and a clever concept that eventually climaxes in a stirring confirmation of the power of optimism. Eventually. It lumbers on its way there, and there's a grumpiness about the state of the world today in contrast to yesterday that gives the whole film an unpleasant undercurrent. It's fascinating misfire, but a misfire nonetheless.
Dope (Universal)
A Sundance favorite directed by Rick Famuyiwa, Dope features a trio of fun performances from Shameik Moore, Kiersey Clemons, and Tony Revolori as a trio of Compton kids whose nerdy interests — old-school hip-hop, punk, comics — make them misfits in their own neighborhood. They're already endangered, even before they get swept up in the doings of a local criminal (A$AP Rocky). Though uneven, especially once the plot takes over, Dope's still a winning effort — and one whose soundtrack is sure to inspire some of the year's best playlists.
Justified: The Complete Series (Sony)
Mad Men: The Complete Collection (Lionsgate)
How do you cope with some of the best series of the last decade coming to an end in the same year? By drinking, apparently. Justified: The Complete Series collects all six seasons of the Kentucky-set, Elmore Leonard-inspired crime drama in a box that includes a flask. Mad Men: The Complete Collection comes with a pair of glass tumblers. We'll never see their likes again, but at least we can remember the good times through a boozy haze.
Call Me Lucky (MPI)
For his first documentary, Bobcat Goldthwait turned his camera on longtime friend, comedian Barry Crimmins, whose second career as an activist has roots in his own life. (For more, read our own Vince Mancini's recent interview with Goldthwait.)
A Special Day (The Criterion Collection)
Much-lauded in its day, this 1977 drama from prolific director Ettore Scola stars Marcello Mastroianni and Sophia Loren as two neighbors in 1938 Rome who form a bond on the day Hitler visits Mussolini.
San Andreas (Warner Bros.)
Dwayne Johnson takes on an earthquake in a disaster film released earlier this summer.
The Gallows (Warner Bros.)
Remember why everyone grew sick of found-footage films before the fall's The Visit? No? Then check out this summer dud about a haunted play (sort of) and the hateful teens killed by it.