Disney made a ton of live-action family films in the '90s, and Angels in the Outfield is one of the most enduringly popular, even inspiring a 30 for 30-esque spoof last week. Whether it is the themes of family and overcoming adversity, Joseph Gordon-Levitt's cherub face, or Christopher Lloyd doing his eccentric shtick once again, something about this movie sticks with '90s kids in a big way. And because '90s kids rule the world, and because this year's World Series pits two teams — the Mets and Royals — that aren't too far removed from needing their own bit of divine intervention to play competitively, we decided to look back and see what the cast has been up to. The now very famous cast.
Joseph Gordon-Levitt — Roger Bomman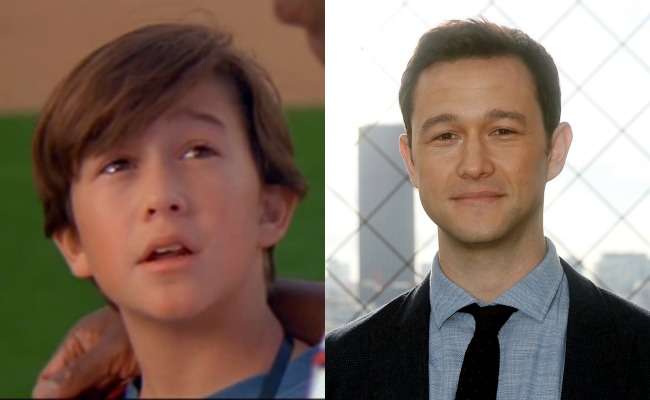 Angels in the Outfield was one of Joseph Gordon-Levitt's first roles beyond "Student #2" and "Boy #1." As Roger, Levitt was endearing as the kid who believed that one day he would have a real family. Oh, and that angels were helping his favorite (terrible) baseball team.
Soon after the release of the film, he booked 3rd Rock from the Sun, where he played Tommy Solomon for six seasons. He also did film work, putting in solid performances in 10 Things I Hate About You, Treasure Planet, Mysterious Skin, Brick, The Lookout, and (500) Days of Summer. However, his big break came when he was one of the dream team in Inception, which lead to higher profile roles in 50/50, The Dark Knight Rises, Looper, Lincoln, Sin City: A Dame to Kill For, and The Walk. He also wrote, directed, and starred in Don Jon and started the creative production company Hit Record.
Danny Glover — George Knox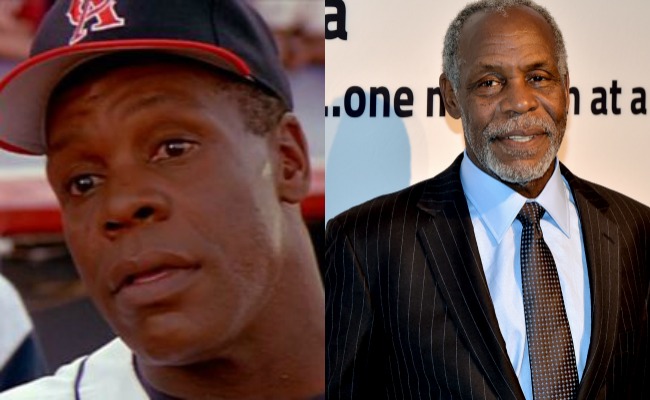 Danny Glover has been in a crazy amount of movies since playing Angels manager George Knox. He's done extensive film work, including (but not only) Operation Dumbo Drop, The Rainmaker, Beloved, Lethal Weapon 4, The Royal Tenenbaums, Saw, Dreamgirls, Shooter, 2012, and a movie called Bad Ass 2: Bad Asses with Danny Trejo. On top of all that, he's also done guest stints on televisions shows like E.R., Brothers & Sisters, My Name Is Earl, and Psych. And on top of all that,  he is an active humanitarian and activist, supporting causes like civil rights, unions, and international issues, especially in Africa. Despite being nearly 70, Glover shows no signs of slowing down.
Tony Danza — Mel Clark
Pitcher Mel Clark has to overcome his own shortcomings in order to lead the Angels to victory, but he eventually does it, even without celestial aid. Since walking off the diamond (for the second time), Tony Danza has found success in a variety of mediums. He starred in the (short-lived) television shows Hudson Street and The Tony Danza Show, and appeared on The Practice. He did film work, as well, including a small role as a condescending and racist producer in the Oscar-winning Paul Haggis film, Crash, and he played Joseph Gordon-Levitt's father in Don Jon. Danza also had a daytime talk show — also called The Tony Danza Show — from 2005 until 2006, and he starred in Broadway adaptations of The Producers and Honeymoon in Vegas. In 2008, he and his son, Marc, wrote a cookbook: Don't Fill Up on the Antipasto: Tony Danza's Father-Son Cookbook.
Christopher Lloyd — Al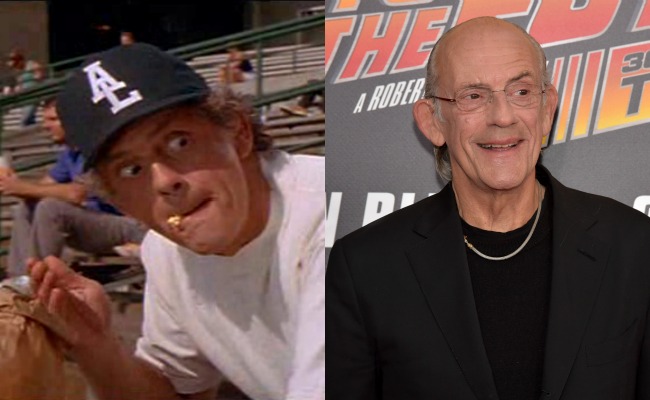 Christopher Lloyd's malleable face and outsized persona make him a perfect choice for kooky characters like Al the angel, and actually reprised the role in a pseudo-sequel, Angels in the End Zone. Lloyd frightened children in The Pagemaster, did voice work for Anastasia, acted beside baby-thesps in Baby Geniuses, and co-starred with Jeff Daniels in Disney's My Favorite Martian. He also appeared in Wit, The Tale of Despereaux, Piranha 3D, Piranha 3DD, Sin City: A Dame to Kill For, and a variety of televisions shows, including Malcolm in the Middle, The West Wing, Numb3rs, and It's Always Sunny in Philadelphia. Last week, Lloyd reunited with his Back to the Future co-star, Michael J. Fox, for some festivities for Back to the Future Day.
Jay O. Sanders — Ranch Wilder
Jay O. Sanders is one of the quintessential "Hey, I know that guy" character actors. After trying to destroy Danny Glover in Angels, he went on to be "that guy" in a number of films, including The Big Green, Kiss the Girls, The Matchmaker, Music of the Heart, Along Came a Spider, The Day After Tomorrow, Half Nelson, Revolutionary Road, Cadillac Records, and Green Lantern. He's done television work, too, putting in guest appearances on Damages, Body of Proof, The Good Wife, Blue Bloods, True Detective, Person of Interest, and Blindspot. Sanders is also active on the stage, as well, doing a variety of roles on and off Broadway. In fact, Sanders has the honor of having done Shakespeare in Central Park more than any other actor.
Neal McDonough — Whitt Bass
Neal McDonough is another recognizable character actor, popping up in films like Star Trek: First Contact, Minority Report, Timeline, Walking Tall, Flags of Our Fathers, The Guardian, The Hitcher, and Captain America: The First Avenger. He's also done extensive television work, including Band of Brothers, The X-Files, Desperate Housewives, Terriers, Justified, and both Agents of S.H.I.E.L.D. and Agent Carter, where he reprised his Captain America role as Dum Dum Dugan. Recently, McDonough  joined Arrow to play big bad Damien Darhk in season four.
Adrien Brody — Danny Hemmerling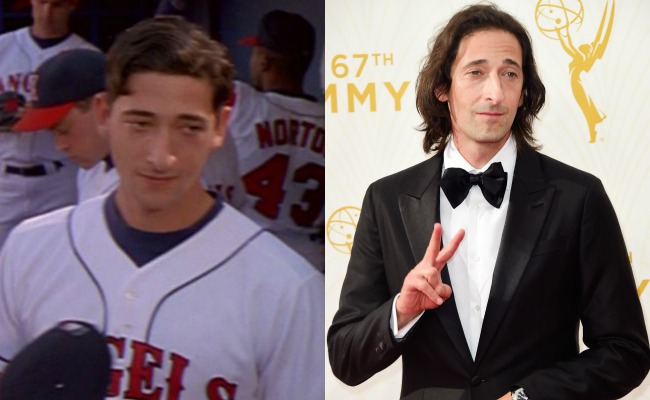 Who knew that this random Angels player would go on to become an Oscar-winner? Adrien Brody had a few movies after Angels, including The Thin Red Line, Summer of Sam, and Liberty Heights, and then he won an Oscar for his performance as Wladyslaw Szpilman in The Pianist in 2002. After that, Brody became a more high-profile talent, appearing in The Village, King Kong, Hollywoodland, The Darjeeling Limited, Cadillac Records, The Brothers Bloom, Fantastic Mr. Fox, Splice, Midnight in Paris, and The Grand Budapest Hotel. He was also nominated for an Emmy this year for his performance as Houdini in The History Channel's miniseries of the same name.
Matthew McConaughey — Ben Williams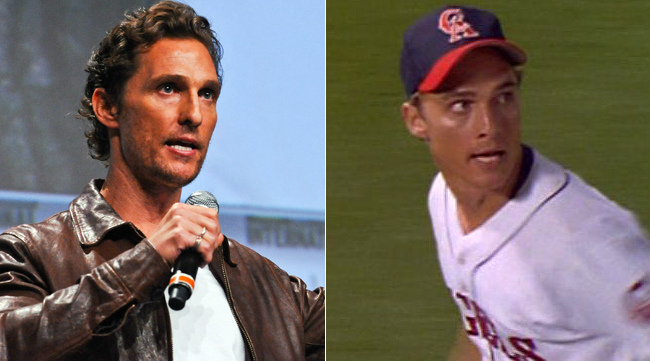 Angels was Matthew McConaughey's next high profile role after breaking out as Wooderson in Dazed and Confused, but while his role as Angels outfielder Ben Williams isn't a big one, he manages to make an impression. McConaughey went on to star in A Time to Kill, Contact, Amistad, Frailty, and Reign of Fire, before getting typecast as a romcom lead for nearly a decade. Thankfully, he was saved (divine intervention) and has been on a winning streak with darker and more complex roles over the last five years with Killer Joe, Bernie, Mud, Magic Mike, Dallas Buyers Club (for which he won an Oscar), The Wolf of Wall Street, True Detective, and Interstellar. Basically, McConaughey has kind of taken over Hollywood and has a number of projects in various stages of production. And this is to say nothing of those damn Lincoln ads.
McConaughey is also set to host Saturday Night Live on November 21.