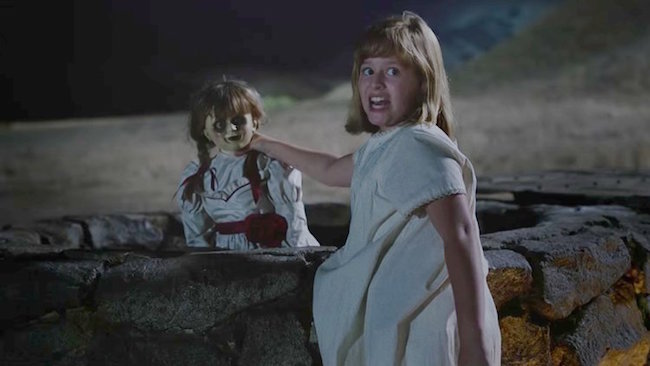 As we've learned from The Conjuring and George Costanza, dolls can be f*cking terrifying. We've also seen that haunted figurines can rake in obscene amounts of money at the box office. After two lucrative go-arounds, the notorious doll obtained by demonologists Ed and Lorraine Warren is set for another offering terror that might put you in the fetal position next time you walk by the American Girl store at the mall.
The Hollywood Reporter reports a third Annabelle film is on the way and will serve as the directing debut for in-demand horror screenwriter Gary Dauberman. Dauberman is already pretty familiar with this franchise serving as the screenwriter for both the first Annabelle offering and its sequel Annabelle: Creation. (The first film was sh*t on by critics, but Creation was much better received, so do with that what you will.) Quite possibly the most alluring part of Dauberman's résumé is his co-screenwriting credit for 2017's horror blockbuster event It and his name's place on the 2019 follow-up.
You have to hand it to James Wan (ahem, quiet MacGyver reviver James Wan) for his franchise savvy. The Conjuring has become a mini spin-off funhouse with this third Annabelle film on the way and the Annabelle: Creation spin-off (a spin-off within a spin-off!) The Nun earmarked to arrive in September. Toss in the likely future Conjuring threequel and we have an ongoing scary movie powerhouse on our hands.
(Via The Hollywood Reporter)