Last Updated: March 2nd
Netflix has no shortage of great options for movie fans who enjoy a good crime story. It's a genre that covers cops trying to solve a mystery, criminals looking to make a buck, and tasty burgers. They can be thrilling, hilarious, and/or action-packed. So enjoy a legally appropriate brush with danger and catch the best crime movies on Netflix right now.
Related: The Best Heist Movies On Netflix Right Now
Good Time (2017)
Run Time: 101 min | IMDb: 7.3/10
This gritty crime drama hailing from the Safdie brothers transforms star Robert Pattinson into a bleach-blonde sh*t-stirrer from Queens who's desperate to break his developmentally disabled brother out of prison. Pattinson plays Connie, a street hustler and bank robber with grand plans to break out of his urban hood while Benny Safdie plays his brother Nick, who gets roped into his schemes. When Nick is sent to Rikers Island for a job gone wrong, Connie goes on a downward spiral to get him back. Pattinson's manic energy carries this thing, and there's plenty of police run-ins, shootouts, and heists (however botched) to keep the adrenaline pumping.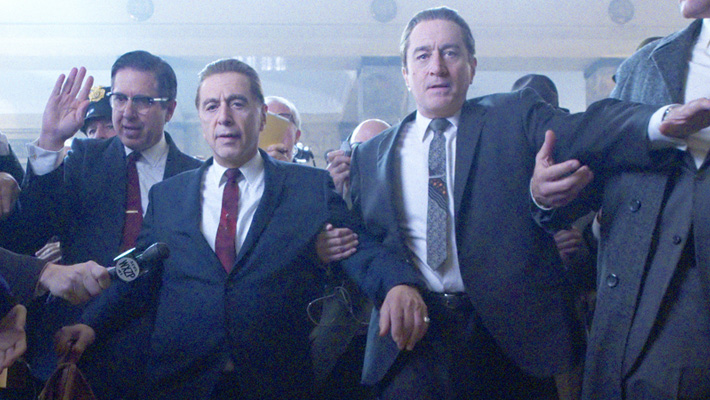 The Irishman (2019)
Run Time: 209 min | IMDb: 8.7/10
Martin Scorsese delivers another cinematic triumph, this time for Netflix and with the help of some familiar faces. Robert De Niro and Al Pacino team up (again) for this crime drama based on actual events. De Niro plays Frank Sheeran a World War II vet who finds work as a hitman for the mob. Pacino plays notorious Teamster Jimmy Hoffa, a man who frequently found himself on the wrong side of the law and the criminals he worked with. The film charts the pair's partnership over the years while injecting some historical milestones for context. It's heavy and impressively cast and everything you'd expect a Scorsese passion-project to be.