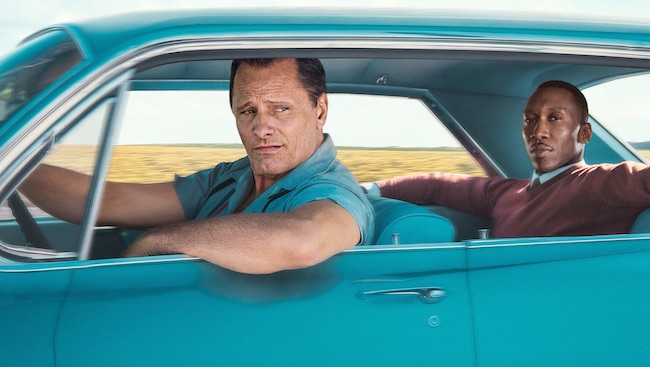 The "Oscar villain" phenomenon is fully intact this year, and it has plenty to do with whether we'll still be watching this year's nominees in a few decades.
Case in point: After Bohemian Rhapsody won Best Motion Picture – Drama, and Rami Malek took home Best Actor at the Golden Globes, Eighth Grade star Elsie Fisher tweeted, "IM SO HAPPY RAMI MALEK AND BOHEMIAN RHAPSODY WON GOLDEN GLOBES IM THRILLED TONIGHT IS THE BEST NIGHT!" Then, nine minutes later, "Why is everyone being so mean about this? I'm genuinely sorry if I did something wrong." Thirty-four minutes after that, "My thoughts on this — please educate me in the future if I do something problematic. I want to better myself and grow! I was also vaguely aware the director of said film was bad but had no other information as to why he was considered such or what he had done. I know now."
That's the internet outrage lifecycle in a nutshell.
1. Someone says something
2. Someone gets yelled at
3. Someone apologizes for the something
Usually, the internet scolding is deserved (especially when the Ratio Rule applies), but not here: Fisher was genuinely happy that a movie she enjoyed won two major awards. Little did she know that Bohemian Rhapsody was directed by Bryan Singer, who has been accused of sexual misconduct; she also may not have been aware of the film's alleged straight-washing of Queen singer Freddie Mercury. (To her credit, Fisher's response was mature, especially considering she's all of 15 years old. She didn't even use the word "hater," like every other no-good teen.) But others have picked up on Bohemian's misdeeds, and it, along with Green Book, have been dubbed this year's "Oscars villains."
What is an Oscar villain? I'll let Vulture explain.
The movie usually debuts at one of the fall festivals, where it earns rave reviews from the mostly white commentariat. It gets good buzz throughout the fall, and debuts to largely positive reception, but also some side-eyes on social media over its racial or sexual politics. These rumblings are often crystallized in a widely shared piece of criticism, after which viewers are forced to divide themselves into three camps: those who take pride in dunking on the film, those who defend it from the legions of haters, and those in the middle who consider it, at best, a problematic fave.
It wouldn't be the Oscars without a Best Picture villain — Three Billboards Outside Ebbing, Missouri in 2017, Hacksaw Ridge in 2016, American Sniper in 2014, Extremely Loud & Incredibly Close in 2011, the granddaddy of them all Crash in 2005, etc. — and it wouldn't be Best Picture without multiple films not passing the Driving Miss Daisy test. Before BlacKkKlansman, Spike Lee had never been nominated for an Oscar. "To be honest, after Do the Right Thing, I said, 'That's it.' You know?" Lee told GQ. "As far as Oscars, my thing has always been my body of work. What film won best film of 1989?" Driving Miss Daisy. "Driving Miss motherf*cking Daisy. Who's watching that film now?" To quote Mitski: Nobody, nobody, nobody. Meanwhile, Do the Right Thing is a much-beloved mainstay at my local Alamo Drafthouse.
This begs the following question: Which film from this year's group of Best Picture nominees has the best chance at being fondly remembered, or even remembered at all, in 30 years?
Here are all eight titles, ranked from least to most likely still be watched in 2049.
8. Vice
Vice is currently rocking a 64 percent "Fresh" rating on Rotten Tomatoes. That places it in the bottom-five of the worst reviewed Best Picture nominees of all-time. The Dick Cheney comedy-drama also inspired this headline, "Oscars: Are 'Bohemian Rhapsody' and 'Vice' the Worst Best Picture Nominees Ever?" It's safe to say that Vice is a regrettable Best Picture nominee, especially over First Reformed, Eighth Grade, Paddington 2, Leave No Trace, and Cold War, and it will only look worse in two years, let alone 30. At which point Liz Cheney will probably be serving her fourth term as president of the United States.
7/6. Bohemian Rhapsody / Green Book
I'm grouping these films together, because, well, see above. Of the two, I think Bohemian Rhapsody has better staying power — people love Queen, and there's already sing-alongs at theaters across the country — but when was the last time anyone talked about Ray or Walk the Line? These were the Bohemian Rhapsodys of the mid-2000s, then Walk Hard: The Dewey Cox Story came along and killed the rock biopic. (Ray is to Walk the Line as Bohemian Rhapsody is to Rocketman.) Am I suggesting we need a Dewey Cox sequel, Walk Harder? Yes, yes I am. This time with 60,000 didgeridoos! As for Green Book: the quicker this blandly corny film goes away, for forever, the better.
5. The Favourite
The Favourite is my pick for Best Picture, but will it win? Probably not, even with those 10 nominations (and it should have been more — it's time to show Nicholas Hoult some love!). It's hilarious, it's historical but also extremely of its time, and there's an extremely good duck and rabbits. But it's also, for better or worse (mostly worse), not the film one of its stars, Emma Stone, is going to be remembered for. That would be La La Land, then maybe Aloha (definitely for worse), then The Favourite. The period-piece could jump up a spot if Olivia Colman wins Best Actress, but unfortunately, The Favourite doesn't fit into any specific memory category: It's not considered a modern-day masterpiece like Moonlight, but it's also not a crowd-pleaser that's going to play on HBO on a Sunday afternoon, like The Departed. It's too specific of a taste to rank higher.
4. BlacKkKlansman
BlacKkKlansman wasn't the first superhero movie to be nominated for Best Picture, and it wasn't the highest-grossing movie in the United States in 2018, and it didn't make over $1.3 billion at the worldwide box office, and it wasn't dubbed a "defining moment for black America." Instead, it's the "other" really good, Best Picture-nominated movie from 2018 with "black" in the title.
3. A Star is Born
The original A Star is Born came out in 1937, with Janet Gaynor and Fredric March in the Lady Gaga and Bradley Cooper roles, and people still watch it. The second A Star is Born (Judy Garland and James Mason) came out in 1954, and people still watch it. The third A Star is Born (Barbra Streisand and Kris Kristofferson) came out in 1976, and… you can see where this is going. A Star is Born is a tried-and-true format (a washed-up male star helps an undiscovered female talent become famous) that has worked for decades now, and the Gaga-and-Cooper joint might age the best — that's the power of "Shallow," an instant karaoke classic that's the presumed frontrunner for Best Original Song.
Hey? What. I just wanted to take another look at you, for the next 30 years.
2. Roma
Roma isn't a "villain," but it is the most controversial selection among the Best Picture-nominated films, for a wildly different reason than Green Book or Bohemian Rhapsody. Due to the black-and-white masterpiece debuting on Netflix, instead of traditional theaters, AMC and Regal have refused to screen it during the chains' annual Best Picture showcase ("Netflix has yet to learn that it isn't theatrical vs. streaming — it's theatrical and streaming, properly sequenced," the National Association of Theatre Owners wrote), and it's led to pseudo-philosophical questions like what is a movie, even? Look beyond the controversy, though, and you have a breathtaking, devastating, and stunning (and stunningly personal) film from one of the greatest living directors. Roma, along with Alfonso Cuarón's other works like Gravity, Y Tu Mamá También, and Children of Men, will all appear on "best movies since 2000" lists and film school syllabi for many years to come.
1. Black Panther
The day after the nominations were announced, T'Challa's Black Panther mask was on the cover of Entertainment Weekly. "How the film nabbed 7 noms — and made awards show history," the subhead reads. In the article, Marc Bernardin calls the movie "the first [Marvel Cinematic Universe title] that carried with it the hopes and dreams of a demographic who've never seen themselves on screen like this," and notes that although Black Panther probably won't win Best Picture, it will "sparkle in the eyes of every lost child who discovers a home on the screen, a luster that will never fade." This is not your average contender.
Many Marvel Cinematic Universe movies are cogs in a multi-corporate wheel — when was the last time you thought to yourself, "Boy, I sure feel like watching Thor: The Dark World tonight!"? — but not Black Panther. It works as the 18th movie in the MCU, but it's also successful as a standalone film, without context. Black Panther is the critically-acclaimed jewel in one of the biggest movie franchises ever (it's hard to imagine Doctor Strange 2 topping it), with countless articles praising it as a "groundbreaking celebration" or "major milestone." The Academy even nearly created a brand-new category in its, uh, favor.
Wakanda forever, and Black Panther for 30 years. But probably a lot more.