1989 was a banner year for film. Driving Miss Daisy won the Oscar for Best Picture, The Little Mermaid ah-ah-ahhhhhed her way into our lives, and (based on his IMDb credits and pure speculation) Dorian Walker folded up his director's chair, shot a wistful glance out the window and decided to stop making movies for a while. Why? Because he'd just directed the most perfect film in all of history. Nothing, not even Baby Songs: ABC, 123, Colors & Shapes (which he directed in 1999) would ever top the magic of Teen Witch.
Over 25 years later, the film is still as beloved as ever. Now on Netflix streaming and capturing the hearts and minds of audiences that may have missed its initial release, it's become a cultural phenomenon that refuses to quit. And with the cast reuniting for a surprise photo-op last week, more and more people are wondering what the hell happened to the world's favorite witch, her rapping best friend, and the dudes who were always inexplicably hanging outside the school and dropping hot rhymes in front of the most reasonably-priced family cars being driven that year. Worry not, fellow members of the Latin club at Generic American High School, we know all, see all, and tell all.
Robyn Lively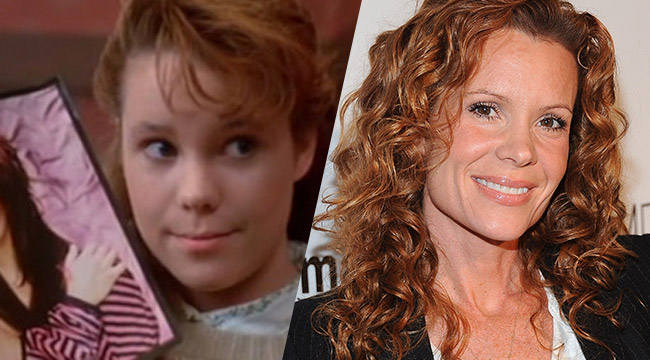 The role of Louise Miller was originally slated for a teen star with name recognition and the ability to dance, but Lively beat out the likes of Debbie (or is it Deborah now?) Gibson for the chance to fulfill her dreams of wearing a tutu over fishnets in the quasi-musical. Missed Lively in Teen Witch?  You've seen her in everything else. She's continued to work steadily since her days as Louise Miller, appearing on the criminally short-lived Savannah (an Aaron Spelling-produced soap opera which included at least one instance of someone being hit over the head with a bottle), landing a recurring role on Doogie Howser M.D. (the pic is worth it!), and charming audiences in a 2004 commercial for Arbor Mist. (Why does no one ever talk about the Arbor Mist commercial?)
Yep, she's the one who said "now that deserves an Arbor Mist!" And it did!
Think there's one show you watched that Lively didn't infiltrate? Think again! She's been on Punky Brewster (the tough kid in the orphanage in the first episode), The X-Files, Chicago Hope, Twin Peaks, and CSI:NY. 30 Rock? She's done it. The Mentalist, too. (Wonder if she and Robin Tunney exchanged witch tips during filming?) And in 2008, many of us screamed and screamed in delight as Lively appeared on the small screen in a memorable episode of Criminal Minds, where she showed off her dramatic chops as a terrified woman trying to get her marriage back on track while being trapped by a maniac in a murder cabin.
These days, Lively is still going strong. In 2014 she made an appearance in Ouija (the only reason the movie is even remotely worthwhile) and an episode of Major Crimes, did the voices of Claire and Grace Gibbon in Gortimer Gibbon's Life On Normal Street in 2015 (second season out in July!), and appeared on an episode of Rush Hour in 2016 (with more projects on the horizon).
Lively's married to actor Bart Johnson (Coach Bolton from High School Musical) and has three kids — Baylen, Kate, and Wyatt Blake. (Lively is also the older sister of Blake Lively, who is a huge fan of the film.)
Mandy Ingber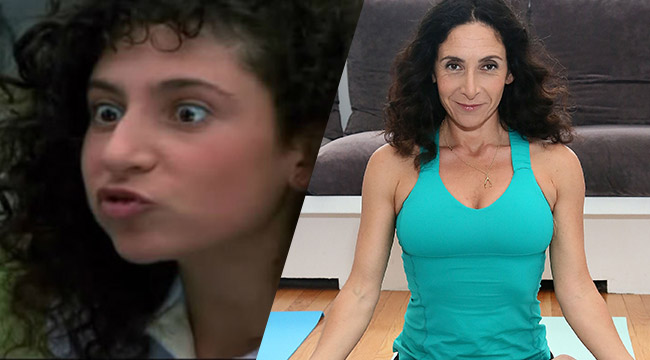 Polly may not have been a success in high school, but Mandy Ingber — who will forever be known as "that tiny Jewish girl with the big hat who goes 'all that, all that'" in some circles — has more than made up for it by taking on the role of yoga guru to the stars. She's appeared in a few things since Teen Witch — you've seen her in The Relic and as herself on After Lately — but she's mostly been busy training almost every Jennifer in Hollywood — Aniston, Lawrence — and bringing yoga to the people for over 20 years.
Ingber's not just some flash-in-the-pan guru, either: Her first book, Yogalosophy, is a bestseller and she's padded that success with a very well-reviewed yoga workout DVD. Her latest book, a follow-up to Yogalosophy, just dropped in early May.
Dan Gauthier
Dan Gauthier, the man who played (possibly) the hottest romantic hero of the '80s (see above), didn't disappear after prom. Gauthier's appeared on a plethora of legit soap operas — including 23 episodes of One Life to Live and recurring spots on All My Children and Melrose Place. You may also remember him from the WB show Muscle (which is, unfortunately, not on DVD). More recently, Gauthier had a role in Faking It and popped up on The Mentalist and Hot In Cleveland. (He's also been on Star Trek: The Next Generation.)
While Brad may have loved Louise at the end of the movie, his heart has always belonged to Randa. Gauthier married Lisa Fuller in 1990 after meeting her on the set of the film and the two have been married for the past 26 years. The two share a son and have come through some of the roughest times together. We're speaking, of course, about some of the haircuts in the below pictures.
Joshua John Miller
As Louise's bratty little brother Richie, Joshua John Miller was one of those characters you loved to hate, even on repeated viewings. How many of us felt utter heartbreak every time Miller spat out "No one wants to date you because you are a dog! A dog!" at his geeky older sister? And how happy were we when he was turned into a dog and then (either out of fear or another magic spell, it wasn't ever clear) suddenly became Louise's valet? He actually ironed her homework!
Since his iconic turn in the film, Miller's taken a turn towards horror rather than teen comedy. In 2007, he appeared in a film entitled The Wizard Of Gore and then made a splash with The Final Girls, a horror comedy that he wrote and produced with his partner M.A. Fortin. He also co-created Queen Of The South. Openly gay, Miller is a staunch supporter of both LGBT rights and of Bernie Sanders, whom he tweets about passionately. According to a 1998 article by Nancy Jo Sales, Miller was also part of the group famously known as "Leo's Pussy Posse."
Noah Blake
Did you know that Rhet, the funkiest guy in school, is the son of Robert Blake? Yep, the guy who made the Hawaiian shirt/tank top combo cool made headlines in 2001 after his father was accused of killing Bonnie Lee Bakley and Blake came out in support of his dad's innocence.
After Teen Witch, Blake continued to act, appearing on numerous television shows (including 48 episodes of Harry and the Hendersons) and doing voice work on video games. In 2012, he appeared in the SyFy film Pirhanhaconda and, as of 2015, teaches classes on how to ace acting auditions, billing himself as "The Audition Doc."
No word on whether Blake keeps in touch with the rest of Dude-atude, but here's a vintage Behind The Music-style documentary that The Lonely Island did on the group before SNL turned Lonely Island into the hit sensations they are now.
Cindy Valentine Leone
Now known as Valentine Leone (although she appeared as Cindy Valentine in the film) (yes, she's related to Sergio Leone), the actress best known for playing Shana has been composing and recording music ever since. While she was only in the film for a few moments — just long enough to bless Louise with that hidddddeeeeoooouuuusssss jacket — Leone actually had a big hand in the film. Not only did she co-write "Finest Hour" and "Never Gonna Be the Same Again," but she performed them on the soundtrack as well.
What most people don't know is that Leone was a pop star way before she played one in the film. She released an album in 1984 (Rock And Roll Heart Attack) that she says had critics comparing her to Joan Jett and made some pretty cool music videos like the one below.
100 percent unapologetic '80s goodness:
After Teen Witch, Leone wrote the music and lyrics for "Pick Up the Pieces to My Heart" for the film Mannequin: On the Move (it charted!) before moving on to write and perform songs for the TV show Due South and Just Can't Get Enough, a 2002 film about the men of Chippendale's. She's also provided music for shorts and documentaries, most notably Lisa Loeb's Songwriting: Just Like You, a short she appeared in in 2008.
You can find some of her work on Spotify.

Honorable Mentions
While the main actors in the film were relative unknowns before Teen Witch elevated them to cult icon status, the film also featured a great many cameos by some famous and beloved actors. Dick Sargent, who played Louise's father, was the second Darrin (the one in color) on Bewitched. Shelley Berman, who played Louise's sadistic English teacher, and whose face you'd recognize from his turns on every show from Friends and Living Single to Curb Your Enthusiasm (Larry's Dad!) went on to have a steady film and television career, although he seems mostly retired at 95. Zelda Rubinstein, who played Madam Serena in the film, was already a familiar face on the big screen by the time she began helping Louise discover her powers thanks to star turns in Sixteen Candles and the Poltergeist series. Before her death in 2010, Rubinstein appeared on Picket Fences and narrated the absolutely terrifying Scariest Places On Earth.

Aside from Rubinstein, whom most of us would be able to pick out in a line-up, one of the best performances of the film comes from Louise's drama teacher, Mrs. Malloy, who was played by Marcia Wallace. Wallace's touching performance (and amazing outfits) were partly delightful because the happy and enthusiastic Mrs. Malloy was a complete 180 from Wallace's best-known role, that of Edna Krabappel on The Simpsons.
IMDb also insists that Rita Wilson appeared in the film as a dancer. Let us know if you spot it!