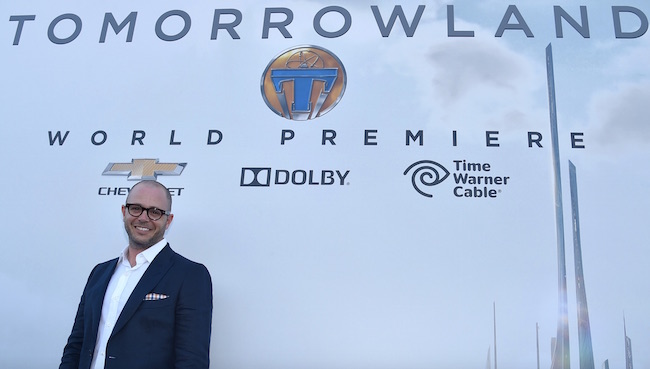 About halfway through Tomorrowland, leading up to a scene in which the Eiffel Tower turns into a rocket ship (which you've probably seen in the trailer), George Clooney's Frank Walker turns to an inquisitive Casey Newton (Britt Robertson) and says, "Do I have to explain everything? Can't you just be amazed?" Even though screenwriter Damon Lindelof doesn't remember if he wrote that line or not (he does remember that he was present when the line was written), this sounds like a direct response to his fans and critics alike — after all, Lindelof has been explaining things since the premiere of Lost — coming up on 11 years now. Whether it was questions about Smoke Monsters or Mysterious Island Gods or, later, if Benedict Cumberbatch was playing Kahn in Star Trek Into Darkness… it would be understandable if he'd like us to stop asking him questions. (Of course, this is an intro to a piece in which I ask Lindelof a lot of questions.)
Though, as Lindelof explains, the reason for that line doesn't exactly fit my own personal narrative that I assigned. And to be fair, at least from my experience (I've been covering Lindelof since the Lost days), Lindelof kind of seems to like answering questions. Yes, just like Joss Whedon's recent exodus, Lindelof famously left Twitter. Even today, it does seem there's an aspect of it that he misses. So, the truth is probably somewhere in between "Can't you just be amazed?" and "Ask me anything," because Lindelof still does like being part of a fanboy community that discusses things (as busy as Lindelof is, he's never turned down one of my requests for a quote about Star Wars, which I seem to ask him for quite often). But, his work, in particular, always does seem to spark debate.
In Tomorrowland, George Clooney plays Frank Walker, a former golden boy inventor who has become a sort of curmudgeon of late. He meets a young girl named Casey (Robertson), and the two try to get to a magical city in an alternate dimension in an effort to save the world. It's a movie about optimism, with the underlying theme that there's just no optimism for the future any longer. I spoke to Lindelof (an admitted Uproxx reader) on Wednesday afternoon by phone to discuss this film that he co-wrote with director Brad Bird, why today's films always have to be "dark," and why everything always comes back to The Empire Strikes Back.
This is the first time I've interviewed you since Lost.
Are you serious?
You've given me approximately 100 Star Wars quotes since then, though.
It turns out, I'm not a bot that just sends out pithy email responses. I live and breathe, Mike.