By all accounts, this Fifty Shades of Grey meme is about seven months old. At least that's when one of the first of its kind popped up on Imgur, soon after the first trailer for the adaptation of E.L. James' Twilight message board erotic fan fiction was released and everyone freaked out over whether or not Jamie Dornan had "the look." Now, we're just three days away from the theater release of this presumed February blockbuster, as Fandango is selling tickets for the film's premiere like crazy and the expectations for Fifty Shades are so high that even IMAX stepped in and was like, "SPLOOSH!" This meme is seeing a rebirth on Twitter and across the Internet, which is a good thing since we've been in a bit of a meme rut lately.
Meme purists out there might point out that there's a crucial flaw in the main focus of this particular parody. The lines from most of the memes are as follows:
Christian Grey: My desires are… unconventional.
Anastasia Steele: So show me.
However, the actual lines from the trailer are:
Christian Grey: My tastes are very… singular. You wouldn't understand.
Anastasia Steele: Enlighten me then.
No big deal to most people, but there are others out there who would poison the fun for the sake of accuracy. For them, we'll start with one that gets it right, as the people breathing life into this meme have been quite fond of mocking boy band fanatics…
That's a boy band known as Got7. I have no idea who they are, so I feel great about myself right now. Next is Super Junior. I don't know who they are either, but I bet they're Super!
One Direction I've heard of, because those boys have the dreamiest hair that any person has ever grown on a human head.
Now a little something for the fellas out there who can't get enough of Katy Perry…
Let's get weird now.
No, really weird.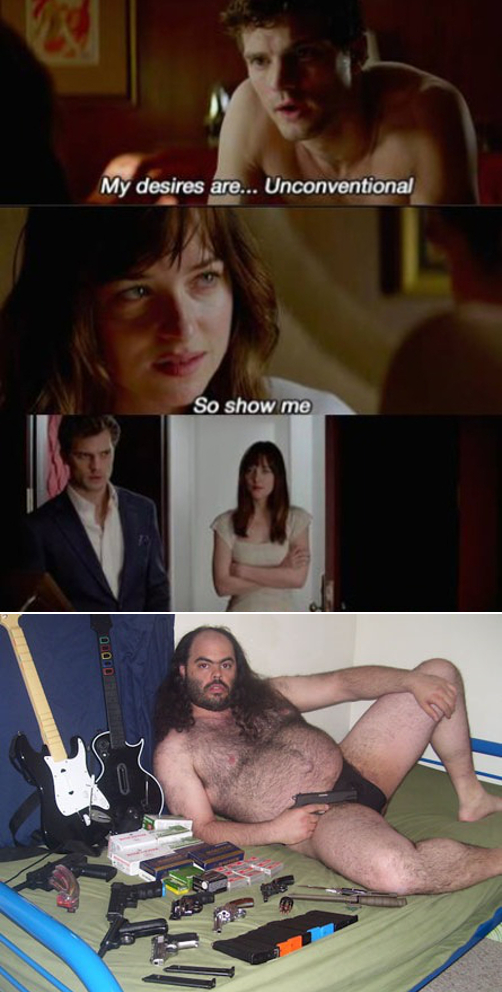 Come on — REALLY, REALLY WEIRD.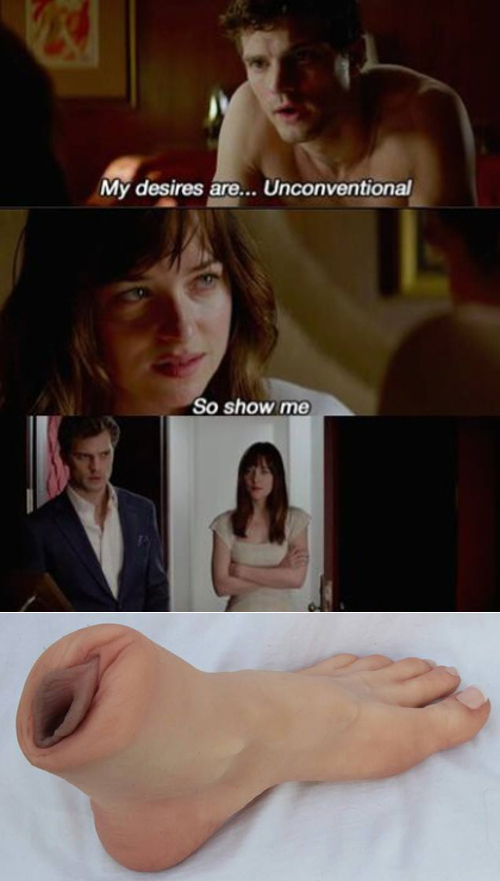 WEIRDER AND WEIRDER!
Dude, I'm talking so weird that you'll pee nacho cheese out of your eyes.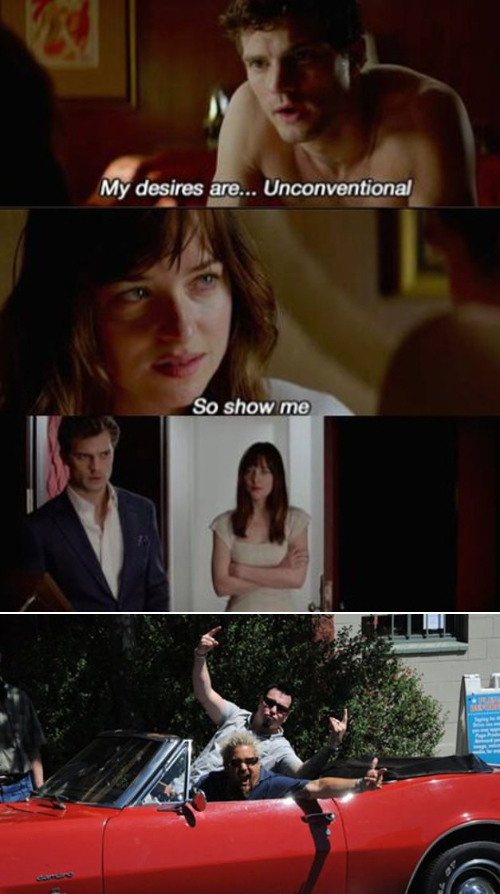 Whoa, way too weird. Safe word.
Okay, give me equal parts weird and familiar.
Better. But let's keep it equally freaky at the same time.
Come on, this is Fifty Shades of Grey we're talking about. Let's get really freaky and naughty already.
I don't think we can get much more perverted than man-on-alien porn. Unless…
But if you're going to invoke the Brony love, you might as well just stick with the original that did things best.