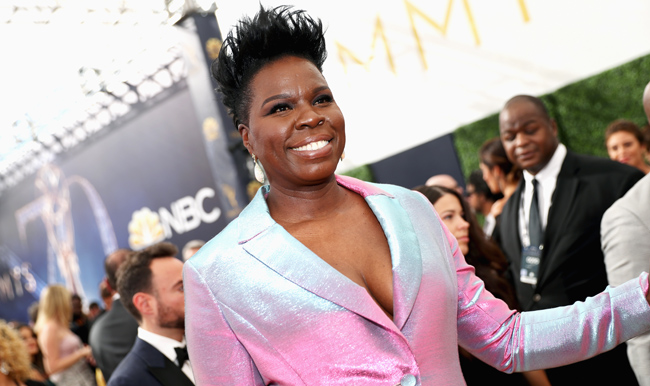 On Saturday, Leslie Jones had some choice words about the new Ghostbusters reboot. It was announced last week that the franchise would be once again revived, only three years after the version that starred her, Melissa McCarthy, Kristen Wiig, and Kate McKinnon. Sure enough, the new one would act as though that one never happened. Upon hearing of this, Jones was, to put it mildly, nonplussed. But a day later, she offered more a reserved take on the project.
But first to the inciting tweet: Jones, in a reply to a fan, rather went off about the news.
"So insulting. Like f*ck us. We dint count," Jones wrote. "It's like something trump would do. (Trump voice)"Gonna redo ghostbusteeeeers, better with men, will be huge. Those women ain't ghostbusteeeeers" ugh so annoying. Such a d*ck move. And I don't give f*ck I'm saying something!!"
The tweet spread like wildfire. Jones then offered a follow-up response, again in a reply. As caught by EW, wrote the same response, down to the character, to three separate people asking after her.
"It's very sad that this is response I get," Jones wrote. "When the point is if they make this new one with all men and it does well which it will. It might feel that 'boys are better' it makes my heart drop. Maybe I could have use different words but I'm allowed to have my feelings just like them."
There's still no official word on who will play the head ghostbusters, though there has been speculation that it will be a young group of mixed genders, or even that it will reunite the surviving cast of the 1984 original.
The film's director, Jason Reitman — whose dad, Ivan, helmed the first two in the series — has commented on the project and its relationship, so to speak, with the 2016 version, directed by Paul Feig. "I have so much respect for what Paul created with those brilliant actresses, and would love to see more stories from them," Reitman said. "However, this new movie will follow the trajectory of the original film."
Hopefully Reitman and company know not to mess with Jones, who has a way with words.
(Via EW)