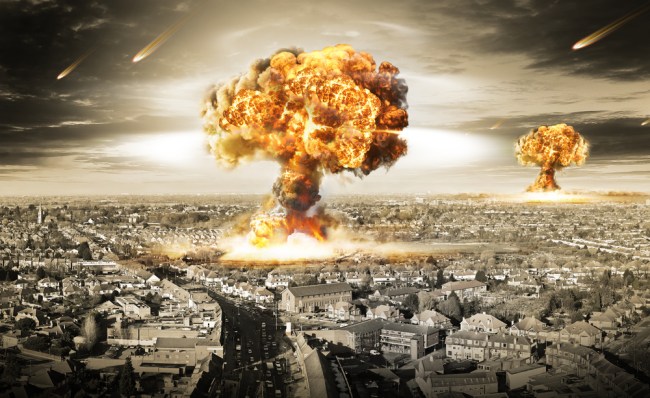 "I know not with what weapons World War III will be fought, but World War IV will be fought with sticks and stones." – Albert Einstein.
There was a good period of time – pretty much the entire second half of the twentieth century – where it seemed like it would start raining down nuclear missiles from the sky at any minute. Because of this, movies about nuclear war were a staple in theaters and on TV.
Whenever there's a conflict – or potential conflict- that shapes the country's collective consciousness, entertainment and art inevitably gravitates towards the portrayal of that conflict. Consider the number of films about terrorism after 9/11. Does this mean that we are obsessed with our own end, or are our artists simply discussing the themes that are foremost in our minds? It's a bit of a chicken or the egg kind of question, but the bottom line is that from the start of the cold war, to the Cuban Missile Crisis, and the fall of the Soviet Union, America had a massive threat hanging over its head and it surely influenced our art. So, with that in mind, let's take a look at ten movies revolving around the nuclear era.

Planet of the Apes (1968)
Three astronauts fly what they think is billions of miles away from Earth only to land on a planet ruled by talking apes. It's only at the end of the movie (spoiler alert? Come on guys, this movie is, like, a million years old) that we learn that the planet is actually Earth – civilization had been decimated by nuclear war. Dun dun dunnnnnnnnnn.

War Games (1983)
Matthew Broderick is a young computer geek in the 1980s who manages to hack into a military computer system because this is a movie about computers in the 1980s. He starts a game of Global Thermonuclear War (it's a real game, look it up) which the computer thinks is real and OMG we're all gonna die.

Fail Safe (1964/2000)
Following the Cuban Missile Crisis, where the world seemingly sat on the brink of all-out nuclear war, the Sidney Lumet directed Fail Safe brought us a story of a world sitting on the brink of all-out nuclear war. In 2000, Stephen Frears (The Queen, High Fidelity) directed a live TV version starring George Clooney. The original didn't do so well at the box office, however, as it was released around the same time (and had a similar plot) as…

Dr. Strangelove or How I Learned To Stop Worrying and Love the Bomb (1964) 
A bomber containing a nuclear payload has been given unauthorized instructions to bomb the Soviet Union. The United States military scrambles to find a solution before nuclear war erupts. Hilarity ensues. It's one of Stanley Kubrick's best films and a brilliant satire to boot.

The Day After (1983)
Most of the movies dealing with a subject like nuclear war only touch upon a few areas. They showcase the events leading to the eventual Armageddon or what society is like years after the war is over. This 1983 TV movie presents exactly what its title says : the day following the launch of a nuclear strike on the United States.

Miracle Mile (1988)
Just when you finally meet the love of your life, that's when the bombs start falling. Anthony Edwards plays a man who is trying to find the woman he is in love with… before nuclear missiles hit Los Angeles.

Countdown To Looking Glass (1984)
One of the things you really don't see anymore is the movie-as-fake-TV-news-broadcast. In 1984, this Canadian made-for-TV flick combined TV news "footage" along with talking head "interviews" to simulate what it would actually be like during a nuclear standoff.

Thirteen Days (2000)
We mentioned the Cuban Missile Crisis earlier and it can't be overstated just how scary that time was. Thirteen Days dramatizes the events happening in the White House as President Kennedy and his advisers attempted to defuse the situation. Tense stuff.

Testament (1983)
Man, the 1980s were really big on depressing nuclear war dramas, weren't they? #ThanksReagan
Anyway, Testament is a look at how one family copes with the aftermath of a nuclear blast. Not only was it an early role for Kevin Costner, but Jane Alexander was nominated for a Best Actress Oscar for this film, too.

Terminator 2: Judgement Day (1991)
"Judgement Day" refers to the day in fictional movie history where SkyNet becomes self-aware and launches a nuclear attack on humanity. So, while T2 may not be about nuclear war per se, the events of said film revolve around the attempt to prevent said nuclear war from happening, therefore it counts.

Honorable Mention (sort of) – Indiana Jones and the Kingdom of the Crystal Skull (2008)
Well, no, Indiana Jones and the Kingdom of the Crystal Skull wasn't about nuclear war per se, but it was set during a time when nuclear tensions were just starting to build as Cold War paranoia reached a fever pitch. It also had Indy surviving a nuclear blast by hiding inside a fridge. That's pretty ridiculous. Someone should make a meme or something out of that