While many have tried, no other movie musical has really reached the heights of success and cultural relevance achieved by Grease. It was not only the highest grossing movie of 1978 earning $188 million, but it is still the highest grossing movie musical of all time. It's the quintessential tale of summer love, car races, poodle skirts and a good girl gone bad that danced from Broadway to the silver screen and into the hearts of musical fans everywhere. Sure, it's a bit dated and is probably racier than you remember it being when you were a kid, but it still holds up as a classic.
While many years have passed since their days at Rydell High, John Travolta and Olivia Newton-John are still making weird music videos together and Fox is mounting a live production to air in January, so now is as good a time as any to go back to high school and revisit some of the crazy facts that surround the release and production of Grease.
Not a single member of the cast was actually high school aged. 
Continuing in the grand tradition of casting actors decades older than actual high school students, most of the cast members were way older than their fictional counterparts. Lorenzo Lamas, who played Sandy's jock boyfriend, Tom, was the closest at 19. Travolta was 23 and Newton-John was 30. Stockard Channing, while an excellent Rizzo, was 33.
Some of the cast originally performed Grease on Broadway, but not the same roles that they played in the film.
Jeff Conaway, who played Kenickie in the film, played Danny Zuko on stage, and Travolta played Doodie during a traveling production before becoming the iconic Zuko in the movie. Additionally, Barry Pearl played Sonny on Broadway and Doodie in the film, and Jamie Donnelly played the role of Jan on stage and screen.
Stockard Channing's hickeys were real. 
Jeff Conaway insisted on planting the "hickey from Kenickie" himself. You know, for authenticity's sake.
Henry Winkler was originally offered the role of Danny Zuko.
He turned down the role because he didn't want to be typecast after also playing The Fonz on Happy Days. Sure, he'll water ski over a shark, but donning the T-Birds signature leather jacket was a bit too far. He wasn't the only first choice that fell through: Harry Reems, star of Deep Throat, was the original choice to play Coach Calhoun, but producers decided to go with a less controversial choice.
A bunch of cast members got sick after the drag racing scene. 
The water under the bridge was contaminated, and exposure to the filthy water made everyone sick. Sure, Danny won the race against Kenickie's Scorpion nemesis, but at what cost? At… what… cost?
Director Randal Kleiser cut a fight scene between Rizzo and Kenickie for being too "gritty".
An intense fight before the milkshake climax was cut because it didn't fit with the lighter tone of the film. Apparently, it resembled something from a Scorsese film.
Kenickie sang "Greased Lightning" in the stage version of Grease. 
However, John Travolta convinced Kleiser to let him sing it instead, since he was the leading man. Conaway also had to hunch over during scenes with Travolta so that Travolta would look taller. What a diva.
Censors kept a lot of the sexual references from the stage play from making it into the movie. 
However, they did manage to sneak in a birth control reference, with Danny pulling some plastic wrap from the car and rubbing it all over his business. Sure, you can't talk about condoms, but "pussy wagon" is ok. That makes total sense.
Elvis was supposed to be the Guardian Angel.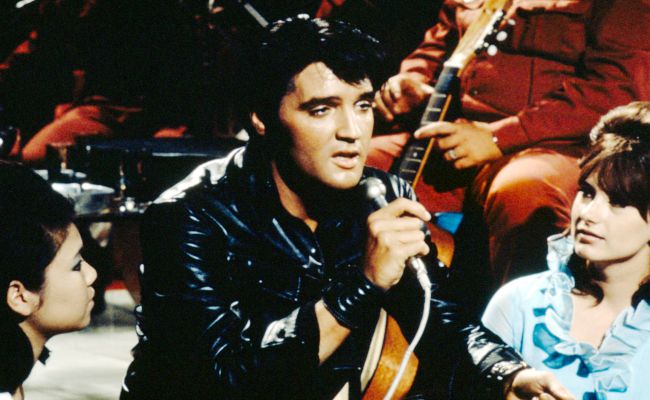 Ultimately, negotiations fell through, and it was Frankie Avalon who sang "Beauty School Dropout" instead. This is not the only Elvis connection to Grease: allegedly, "Look At Me, I'm Sandra Dee", which contains a lyric about Presley, was filmed on the same day that he died.
John Travolta was the one who convinced Olivia Newton-John to take the role of Sandy. 
Travolta, who was not a star at the time, was a Newton-John superfan, and actually showed up at her house to convince her to take the role. The film version of Sandy was then modified for the film to suit her style: Sandy became Australian, and her last name was changed from "Dumbrowski" to "Olsen."
Newton-John had to be sewn into her black leather pants. 
To the surprise of absolutely no one, those pants were so tight that the zipper broke, and Newton-John had to be sewn into the pants. Luckily, the entire finale was shot in a single day. Can you imagine the unbearable chafing?
"Hopelessly Devoted To You" was actually written and filmed after the movie was wrapped.
The producers felt that they weren't properly utilizing Olivia Newton-John's pop star roots, so they brought her back in to film and record the power ballad. It turned out to be a smart move, because the song actually snagged an Academy Award nomination.
(Via IMDb, Broadway.com, and Hollywood.com)