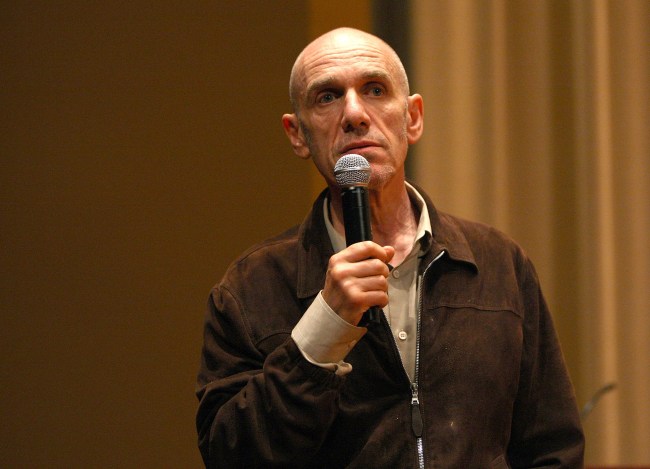 Everything Tony Kaye does is brash. From the hair he sometimes grows out, until he looks like a skinnier version of Rick Rubin, to his adequate stack of films, to the music he creates, it all screams bold streak. If you were to learn anything from listening to the director strum his guitar and wail into the atmosphere, it would be that compromise is a hell, one he refuses to visit. Once a shoo-in for one of the more talented directors of our time, Kaye moved from commercial work to a breakout feature film debut with 1998's American History X.
As good as that film was, Kaye disowned it, wanting to rather position his dog or Humpty Dumpty in the "directed by" credit. He clashed with actors, studios, producers, editors, and ultimately himself. It's a story that continues today. Kaye has softened, but according to several co-workers (including Bryan Cranston), not by much. His antics, controversial and incendiary, have placed him on Hollywood's list of the ex-communicated, and it's hard to tell when or if he'll be scratched from it.
The trouble with Tony didn't really begin on the set of American History X, it happened in the preceding months during post-production. According to Kaye — who was considered "hot-headed" even during his brilliant commercial work era — he received the script for the film, and immediately began rewriting large portions of it. When New Line was pushing for Edward Norton to receive the lead role of a violent skinhead who goes through a rehabilitation process in prison, Tony pushed back. Eventually, after he couldn't find anyone "better" to take the role, he agreed to direct Norton with an air of begrudgery.
"He's a phenomenally talented guy," Kaye said in a 1998 interview. "And if I had a project that I thought he was right for, I would most certainly work with him again. Even though I have described him as a narcissistic dilettante, which is exactly what he is…"
After the film finished wrapping, Kaye handed in a 96-minute cut, and that's when things slid downhill faster than a greased up boxcart. New Line gave Kaye pages of notes, the producers gave him a stack of questions, Norton handed him pages of editing changes, and it was more than Kaye could handle. The director threw what he calls a "hissy fit," and New Line in response banned him from the editing room while giving Edward Norton the keys. In 2002, Kaye wrote a piece in the Guardian detailing his time on the film:
My problem all through American History X was that I could never tell anyone what I wanted to do with the film. Sometimes I didn't even know myself. More often, I was so intimidated by the process that I went into meltdown if I wasn't left alone to work things out. Of course, if you actually listened to what Norton was saying, you could hear that none of it made sense in film-making terms: that's not his forte, as you'll know if you saw the movie that he directed, Keeping the Faith. "Pretty f*cking awful" hardly covers that one.
Despite Kaye's attempts to get back in the editing suite, New Line produced its own cut of the film that was roughly 40 minutes longer than the one Kaye created. He took this as a renegotiation and ruining of his work, and his antics began escalating. When the studio asked him to discuss coming back for the marketing and press surrounding the film's release, he showed up to the meeting with a rabbi, a priest, and a monk. When the film was set to premiere at the Toronto International Film Festival — a large launching pad for many smaller films — Kaye disrupted the proceedings by convincing TIFF not to screen the film.
At one point, Kaye stopped speaking to the studio and producers, hiring an intermediary to take his phone calls and communicated with New Line through paid ads in Hollywood trades like Variety. He showed up at interviews proclaiming he was better than Hitchcock, and said in one interview, "I've been playing with film for 15 or 16 years and to be honest with you, I consider myself the greatest craftsman/director/imagemaker on this planet and I defy anyone to try and create film like me when I'm allowed to work in a way that suits my style and my personality." Between the ads and the extra editing suite time, Kaye had spent over $1 million of his own money trying to see his cut of the film to fruition. It was all for naught when the studio released their cut.
Afterwards, Kaye fell into debt, his marriage began crumbling, and even the Hollywood friends he did maintain wouldn't work with him anymore. Marlon Brando had taken him under his wing during this time, finding a kindred, rebellious spirit in the director, but Kaye managed to sully that relationship, as well.
When I decided to start using the phone again, (Brando) called and asked me to direct an acting masterclass that he wanted to film for a DVD. He intended it to be a tutorial in how to use acting, performance, lying, in your everyday life; it was really a genius idea. After asking me to direct, he then decided we should co-direct, which sounded like hell to me. So I said: "No, Marlon, I'll just be in it." On the first day, I turned up dressed as Osama bin Laden. He wasn't too happy. He phoned me the next morning and said, "I didn't like that. This is my show, not yours."
The next day, Kaye dressed appropriately, but led a revolt of the students — against Brando — right out the front door. Believing that he was doing the kind of farcical work that Charlie Chaplin did with Hitler, Kaye took the bin Laden bit to comedy clubs and poetry readings — right after 9/11 — where he was overtly chastised. After several years of being blackballed and falling into bankruptcy, Kaye finally got in the good graces of a few names in Hollywood, and he was offered some directing work only to be fired from two separate projects after throwing a tantrum. In the mid-2000s, Kaye went back to commercial and music video work, directing the video for the Red Hot Chili Pepper's "Dani California" among others.
These days, Kaye said that he's learned from his mistakes. He's directed a handful of shorts, documentaries, and features, but nothing close to the bravado that came with American History X. "I'm trying to work with great actors and get performances that are different," he told the Guardian. "I like to think I'm going to be more successful in the future – and have the things I could have had if I'd contained my passion better than I did with American History X. Now I've learned. Now I hope I'm having a moment."
Yet, not everyone agrees with the new Kaye. In 2012, Bryan Cranston worked with the temperamental director on Detachment and seemed less than enthusiastic about his time on the set. "…I felt that Carl Lund, the writer of Detachment, wrote a really beautiful, haunting script. And I didn't feel that it was honored. I was upset with that. I really was. And so I didn't see the movie. Tony Kaye is a very complicated… interesting fellow. I don't believe that I'll be working with him again… And I'm not the only actor on that film to feel that way."