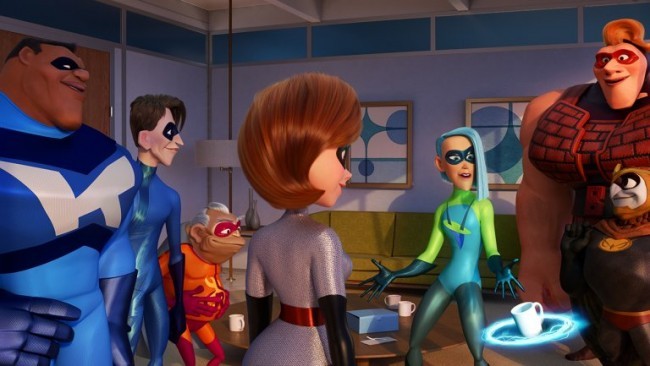 Despite the fact that The Incredibles graced theaters with its presence 14 years ago, the Disney/Pixar animated film's sequel, Incredibles 2 is having a smashing opening weekend at the box office. The delay, which was briefly shortened by the studio's decision to swap release dates with Toy Story 4, has proven to be one of Incredibles 2's biggest power plays. Why? Because audiences young and old are flocking to the movie, which many consider to be a "delight." In other words, whether you're a kid now or were a kid 14 years ago, this one's for you. So what about Incredibles 3?
According to director Brad Bird and others who worked on Incredibles 2, it's quite possible, and as they explained it to Entertainment Weekly, the Toy Story 4 schedule bump is partially to blame. Just as scheduling constraints on The Incredibles allowed story ideas "planned for the first film" to become "prime narrative real estate for… the follow-up," the release date change forced Bird's team to abandon some choice items:
"It's like the episode of I Love Lucy when she's got the candies piling up on the conveyor belt. This film was like that. They took a year off our schedule, so if an idea didn't work quickly, you had to just kill the darling and move onto the next. And I killed like a city full of darlings."
"We storyboarded, and we designed characters, and they're really good! Some of them were really funny and cool and explored certain things," Bird continues. "You know, you never say never, because there might be an opportunity to use it… There were a lot of ideas that we had on this film that could be [used]… whether it's another Incredibles film, or something else."
Some of the Incredibles 2 cast are for another sequel, too. Samuel L. Jackson (Frozone) wants "to know why Lucius is this lovable uncle figure, and how long he and Bob [Craig T. Nelson] have known each other and what kind of things did they get into." Meanwhile, newcomer Sophia Bush (Voyd) is keen on possibly exploring her and young Violet's (Sarah Vowell) future heroic collaborations. Either way, let's hope whatever becomes of Incredibles 3 doesn't take another 14 years to make.
(Via Entertainment Weekly)