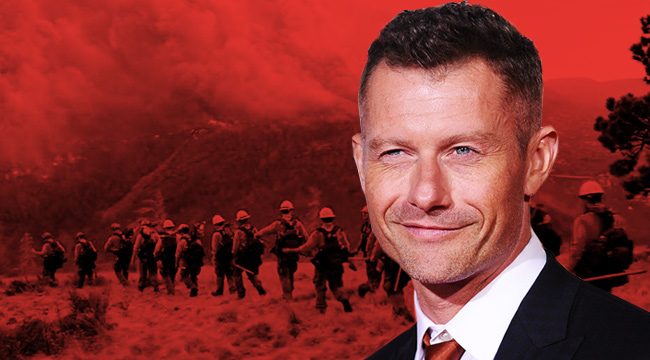 Full disclosure: I am a little obsessed with James Badge Dale. (To the point I once wrote "50 Things We Love About James Badge Dale," to which I find out below that many of James Badge Dale's family members sent him that piece.) It started with Rubicon, in which James Badge Dale plays Will Travers, a mild-mannered genius who worked at a mysterious government think tank. Rubicon was moody, weird, deliberate and brilliant. It was the first AMC series not to be renewed for a second season, which was incredibly disappointing for the people who loved that show.
But then James Badge Dale started showing up in movies, and none of them were ever anything like Will Travers. Comparatively, he was unrecognizable in The Grey. He then had his heart cut out in The Lone Ranger (I witnessed first-hand many parents leading their children to the exits right after that scene). He's become one of those actors who always makes a movie better, even though people probably don't even realize it.
He can soon be seen playing Jesse Steed in Only the Brave, the true story of a group of firefighters, the Granite Mountain Hotshots, who lost 19 members fighting the Yarnell Hill Fire in 2013. It's a harrowing film to watch, knowing how it all turns out. But with wildfires raging across the western United States, it's also a timely film that shows just how dangerous this situation really is.
Ahead, we take a deep dive with James Badge Dale who discusses Only the Brave, then tells us about a Rubicon ending we never got to see. And then he takes us back to The Departed, and what it was like to film one of the most shocking movie scenes of this century.
You're playing this happy, fun-loving guy, but we also know how this true story turns out in the end. That has to be difficult.
Well, listen, in any story you drive towards the ending. But the truth is this is a celebration of these guys when they were alive. And Jesse James Steed was kind of a larger-than-life human being. And I'll never forget, his wife would talk about how this man could go work 16 hours a day, how he was a large man and he'd give everyone a hug and he'd tell them, "I love you." He had no fear about his own emotions and laughing and joking and smiling. And then he would come home and spend time with his wife and kids as if he hadn't been at work at all. He lived life to the fullest in the best way. He gave everybody attention. He was present. And that's why I tried to focus on.
Were everyone in their lives 100 percent on board with this movie?
You know, this story is still pretty fresh, and rightfully so. I think we can all understand the grieving process. Everyone has a different time period and a different take on it. But this movie, it really is a celebration of these guys and their lives and their families – and the family members of all these guys have been very supportive, and we're taking a lot of care to do it the right away. That's what this is about.

As a viewer, you really start to like everyone, but you also know what's coming and that it's going to be so crushing…